Jordan Peele's Movie Budgets Keep Getting Bigger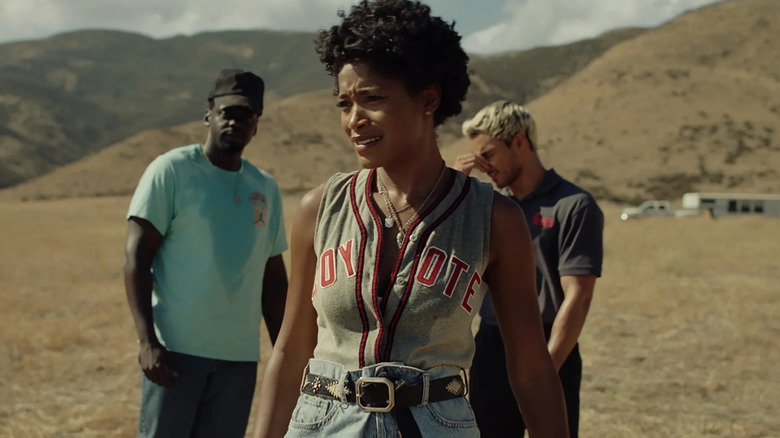 Universal Pictures
With the early reviews for "Nope" looking great so far, and with Jordan Peele's name having already proven to be box office gold, it looks like the film is on track to earn back its production costs and then some. Variety predicted that the film will make $45 to $55 million on its opening weekend, but it could easily perform better than that. After all, Peele's second film "Us" was expected to open somewhere between $35 to $40 million, but it ended up making twice that number. In a film landscape where franchise sequels are increasingly seen as the only safe box office bets, Peele's name is still enough to get people into theaters for movies that tell an original story.
Percentage-wise, however, a $55 million opening for "Nope" won't be as impressive as Peele's $33 million opening for "Get Out." Even though his first movie's earnings were smaller, they feel more impressive because of how small the budget was. "Get Out" cost only $4.5 million to make, which means it made seven times its budget straight out of the gate. Meanwhile, "Nope" had a budget of $68 million, which is exceptionally high for an R-rated movie. Obviously, it doesn't need to earn back seven times its budget within a single weekend, but the budget jump is a clear sign of the much higher expectations Peele now has to work with.
More budget, more problems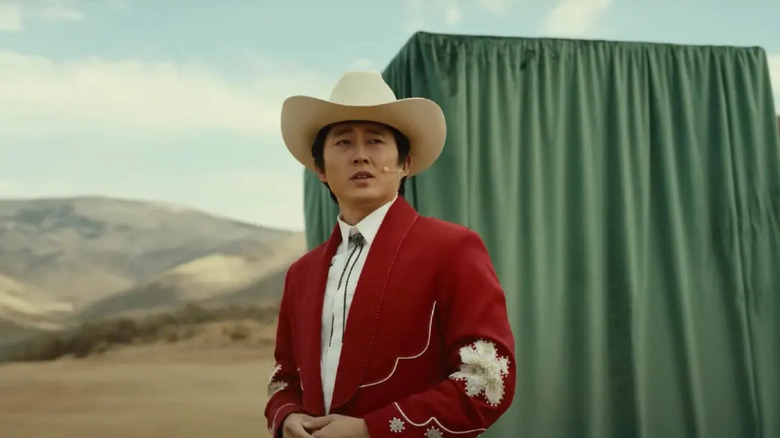 Universal Pictures
It looks like Peele's taken full advantage of his growing budgets. Whereas "Get Out" had a small cast and took place almost entirely within a single location, "Us" was both more star-studded and larger in scale. "Nope" continues the trend, being described by critics not as a horror movie but as a "grand, sci-fi spectacle."
This has, however, been seen as cause for concern to some viewers who still consider "Get Out" his best work. "Us" was more ambitious, but it was also received with less universal praise than its predecessor, and even the positive early reviews for "Nope" have often come with the caveat that the film's expected to be divisive. There have already been plenty of naysayers predicting that Peele will be the next M. Night Shyamalan, another director who had a breakout horror hit followed by a string of increasingly poorly received films. 
While those sorts of critiques seem premature at best and completely unfounded at worst, the logic behind them is understandable: the more creative freedom an artist has, the more opportunity they have to become overly indulgent. Not only that, but the more successful movies they have under their belt, the higher the expectations are set for future films. For Peele to maintain his current reputation, "Nope" can't afford to simply be good; it has to be amazing. 
As "Nope" hits theaters on July 22, we're hoping Peele pulls off a beloved masterpiece yet again. We need Hollywood executives to know beyond a doubt that there is in fact plenty of money to be found in original storytelling. That alone should be reason enough to go and see Peele's new film, but if it isn't, may I remind you: the early reviews look very, very promising.