How The Black Panther: Wakanda Forever Cast Coped With Chadwick Boseman's Absence On Set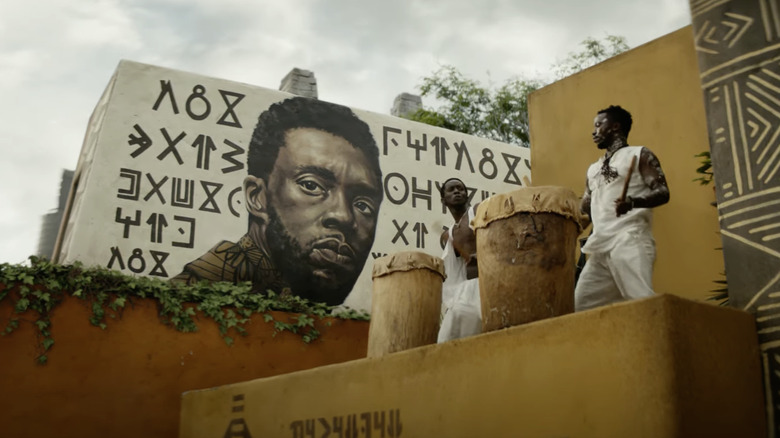 Marvel Studios
On August 28th, 2020, Chadwick Boseman passed away after a private, four-year battle with colon cancer at the age of 43. Boseman's passing was a shocking tragedy, and in an already politically-charged year, he became a symbol for the collective feeling of grief felt around the world. Since his first appearance as Black Panther in 2016's "Captain America: Civil War," Boseman portrayed T'Challa multiple times in numerous Marvel Cinematic Universe projects, but his starring role in "Black Panther" is what cemented the actor as a trailblazing icon. It was the first MCU film with a majority Black cast, a box office smash, a historic Best Picture nominee, and one of the most culturally significant comic book films ever made.
It's easy to see why after his passing, director and close friend Ryan Coogler considered not just stepping away from "Black Panther," but also leaving filmmaking as a whole behind. But after some soul searching, Coogler decided that it made more sense to honor Boseman's memory through a continuation of what they started together.
"Black Panther: Wakanda Forever" is only weeks away from release, and in a conversation with Entertainment Weekly, the cast and crew shared their own anecdotes of how they kept Boseman close to their hearts while aiming for a sequel that was fit for his legacy.
Letitia Wright kept a spiritual connection to Chadwick Boseman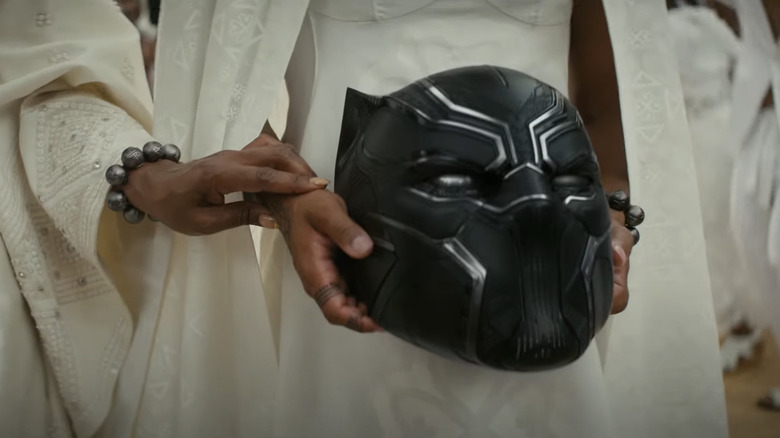 Marvel Studios
When "Black Panther" introduced us to the Afrofuturist society of Wakanda, it was a spectacle to behold — a unique sci-fi aesthetic that mixed technological advancement with cultural tradition. For the returning cast of "Wakanda Forever," however, stepping back into these sets was an emotional challenge as it was hard not to feel the weight of Boseman's absence. Danai Gurira, who is reprising her role as Okoye, confessed to EW that the tribal council room "was hard to step back into because the last time we'd seen that throne, it was with Chadwick."
In those difficult moments, it's nice to know the cast and crew had each other's backs. Winston Duke, returning as M'Baku, added, "When one person was having a hard day, everyone else would galvanize around them. We would take turns doing that."
For Letitia Wright, inheriting the leading role of this great ensemble piece as T'Challa's younger sister, Shuri, was a great amount of responsibility. When she felt like she needed some guidance, it brought Wright comfort to consult him spiritually. "I always carried him in every scene," she explained. "I always would ask, 'Bro, what do you think?' and just try to keep a spiritual connection. He meant everything to me, and he's the reason why I'm here. He picked me to be his sister, so I couldn't have done this journey without him."
For Ryan Coogler, honoring Boseman meant ingraining his legacy in the vision of the film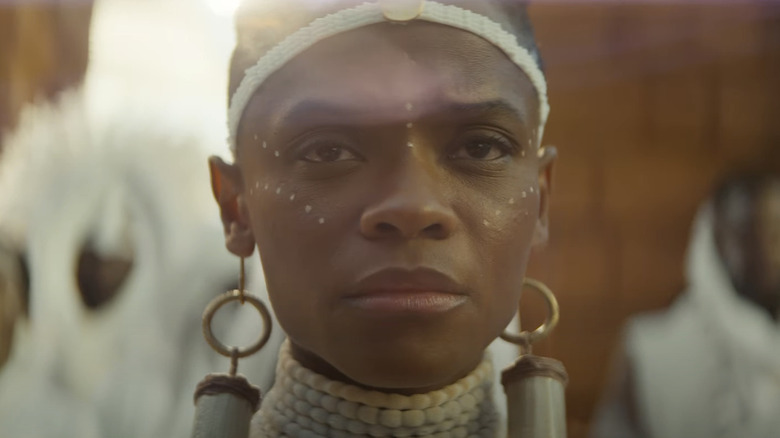 Marvel Studios
Keeping a positive and supportive environment was key throughout a long, emotional shoot, and Coogler stayed determined to keep that spark alive, leading by example as a confident and fearless leader. Coogler's strong vision for the film is how he's honoring Boseman; that's why every single part of "Wakanda Forever," from its story, themes, and little flourishes of detail is informed in some way by Boseman's legacy. It was vital that they made the decision to not recast T'Challa, to let that character be allowed to rest with Boseman and expand what he and Coogler built together with integrity, rather than settle for less.
Lupita Nyong'o admitted she "dreaded the start of this shoot" because proceeding without Chadwick Boseman felt "unfathomable" to her. "But Ryan managed to honor his life and his role in both the film and our lives with his moving, truthful, and clear vision," she said.
That probably explains why "Wakanda Forever" stunned the internet with its first trailer, showing off what seems to be one of the most visually powerful and emotionally poignant MCU entries yet. Coogler seems to have gained a lot of trust from Marvel Studios over the past few years since "Black Panther," and it certainly is well-earned. Producer Nate Moore elaborated on the amount of loyalty and dedication from everyone involved with the film, saying, "I think our crew would follow him off a cliff, to be quite honest."
The film's motif of the ocean is symbolic of the cast and crew's collective grief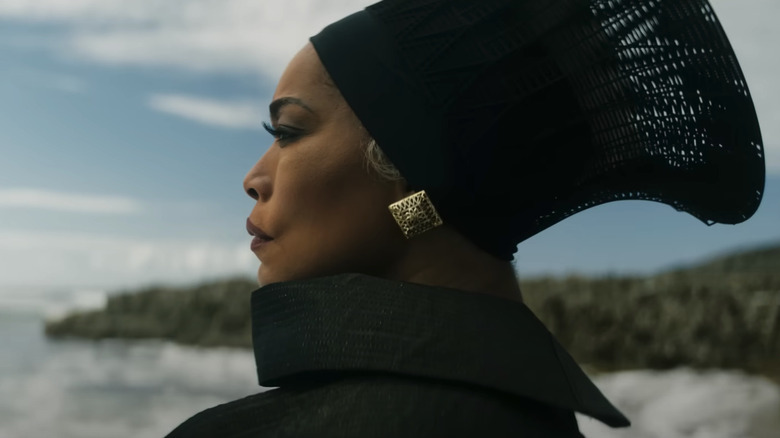 Marvel Studios
"Wakanda Forever" is now closer than ever, and even with a second trailer released today, most of the details around the film's plot and its secrets are still under wraps. But with the introduction of mutant "sub-mariner" Namor as one of the film's main antagonists, the ocean is one of the driving visual motifs of the film. For Coogler, this has great significance to his own journey with grief, and how it manifests within the film through themes of loss and nature's relentless unpredictability.
"There's that idea of grief and intense emotion feeling like it comes in waves," he told EW. "Sometimes a wave can take you away where you lose control of it. You think you're in control, but the water can always remind you that you're not."
Whatever direction Coogler decides to take this story, we can be assured that he has Boseman's memory and his best interests at heart.
We're ready to watch the Wakandan royal family forge a new beginning when the film opens on November 11, 2022.