Black Panther: Wakanda Forever Trailer Breakdown: Everything's Gonna Be Alright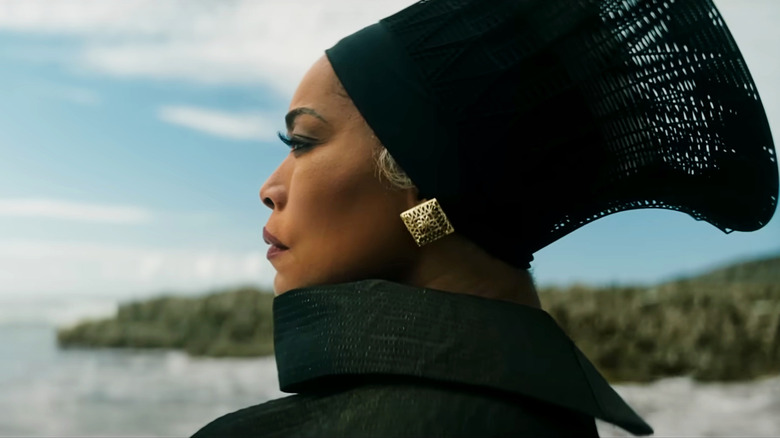 Marvel Studios
"Black Panther: Wakanda Forever" seemed to be in a precarious position. Considering it was a sequel to one of the Marvel Cinematic Universe's greatest home runs, and director Ryan Coogler was back at the helm, it should've been a surefire success. But the tragic passing of star Chadwick Boseman put the movie in an awkward position: a film without an obvious lead. Marvel Studios made the smart move and confirmed that Boseman's character, T'Challa, would not be recast. The burning question then became how the film would handle his absence.
According to the first "Wakanda Forever" trailer, which premiered on Saturday at San Diego Comic-Con, T'Challa's absence is very much central to the film. Encompassing themes of grief, celebration, and hope, the trailer does not reveal which character will be taking up the mantle of Black Panther next, but it does highlight the strength of T'Challa's family, friends, and allies, and serves as a reminder of just how powerful the supporting cast of the first "Black Panther" movie was. As Wakanda faces a conflict with Namor, the Sub-Mariner (Tenoch Huerta), there are a number of worthy candidates who could become the next Black Panther.
Let's take a deeper dive into what the "Black Panther: Wakanda Forever" trailer promises for the film.
The War Dog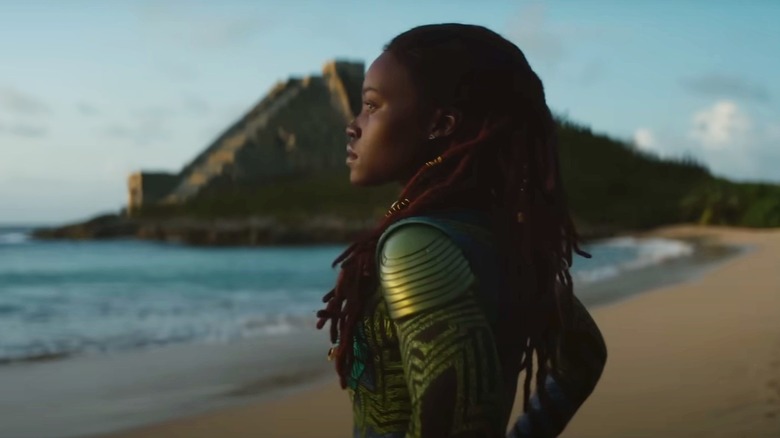 Marvel Studios
The first character seen in the "Black Panther: Wakanda Forever" trailer is Lupita Nyong'o's Nakia. While we won't dedicate too many words to speculation about who the next Black Panther will be, Nyong'o has certainly proven herself many times over as a leading lady in movies like "Us," "Queen of Katwe," and "12 Years a Slave."
Nakia is a War Dog, one of Wakanda's highly-trained spies, who serves the country by carrying out covert intelligence missions on foreign soil. Such is the case in this shot, where she is seen on a beach with a Mesoamerican pyramid visible in the background. Huerta's Namor has a Mayan background in this adaptation, so Nakia may be on a diplomatic mission ... or carrying out reconnaissance on a new enemy. 
The Queen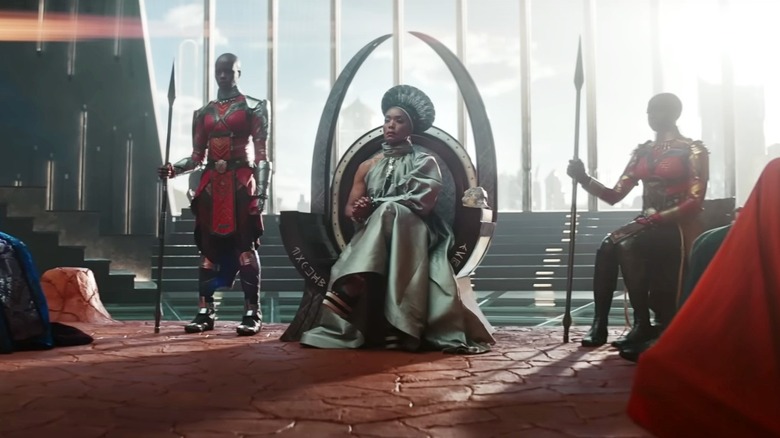 Marvel Studios
While the Black Panther and the ruler of Wakanda are often the same person, that isn't always the case; T'Challa took up the Black Panther mantle while his father, T'Chaka (John Kani) was still king. The "Wakanda Forever" trailer quickly answers the question of who now sits on the throne, with Queen Ramonda (Angela Bassett) now leading the country. Given that Wakanda no longer has the same veil of secrecy that it once enjoyed, Ramonda is carrying a significant burden while her grief is still fresh.
Gone, but not forgotten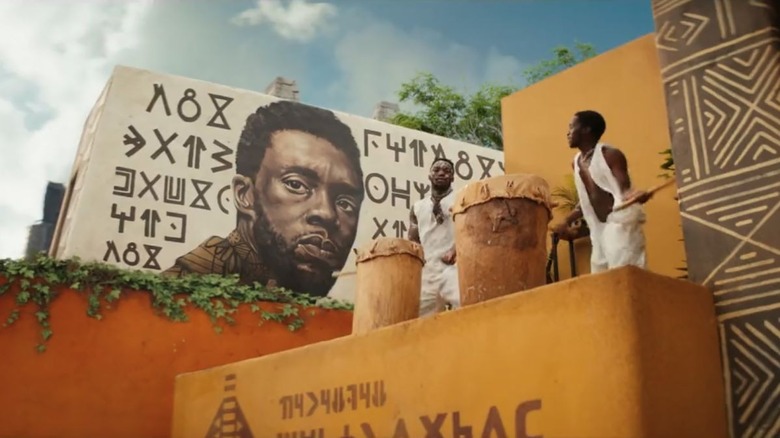 Marvel Studios
What's most interesting about this trailer is how quiet and restrained it is. There's no dialogue for the first minute, with the mood instead being carried by the music: a cover of "No Woman, No Cry" (originally by Bob Marley and the Wailers', here performed by Nigerian singer-songwriter Tems), which transitions halfway through into Kendrick Lamar's "Be Alright."
When the first dialogue breaks out, it's courtesy of Ramonda: "I am queen of the most powerful nation in the world, and my entire family is gone! Have I not given everything?!" The ending of this speech plays over a closer shot showing the mural of T'Challa; the text of the art translates to, "The king lives and the panther ... forever in us..."
Two things are clear from the teaser. One: this film is a memorial for T'Challa, and by extension Chadwick Boseman himself. Second, instead of focusing on trying to find a single person who can step into his shoes, "Wakanda Forever" is an ensemble picture. It shows how each of the previous film's supporting cast is managing the void in their lives. In other words, the main character is Wakanda itself, a nation mourning the loss of its king like the "Black Panther" cast and crew mourns the loss of their leading man.
A funeral worthy of a king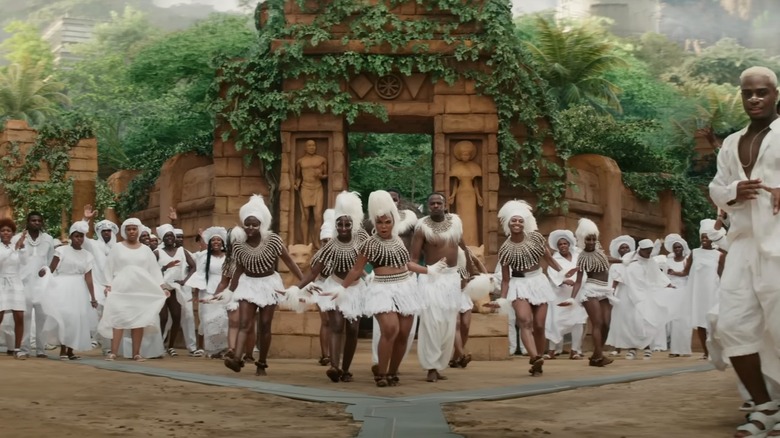 Marvel Studios
Despite the moments of quiet grief in the trailer, we also get a glimpse of a Wakandan funeral ceremony that looks like a joyful celebration of T'Challa's life. The dancers are dressed in white, smiling as they dance. Many cultures around the world use dancing as an expression of mourning and there are a number of such traditional dances performed across Africa, such as the dodi or mutu dances of the Kenga people. 
Benjamin Aidoo, the leader of the Nana Otafrija pallbearers in Ghana whose "coffin dance" went viral in early 2020, has said that when his team is hired to carry a loved one to their resting place, "Most people love the display, because they want to be happy." Rather than focusing on the person's absence, the dance is a celebration of "the life that he or she spent before dying."
A baby with winged feet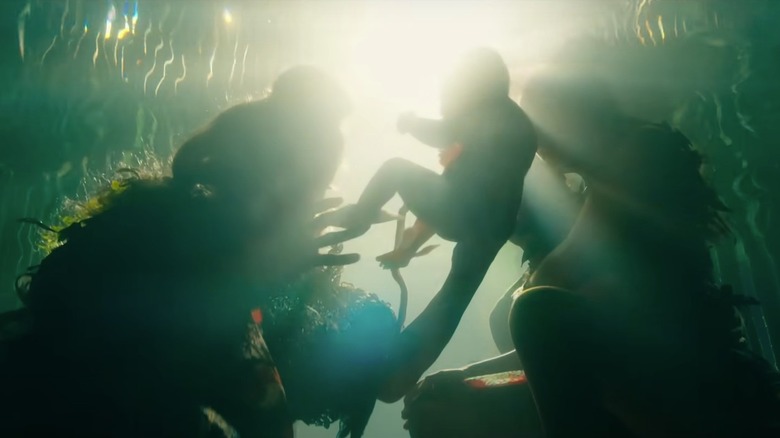 Marvel Studios
A significant outcome of the first "Black Panther" film was T'Challa deciding that Wakanda's isolationism was a way of the past and leading his nation to a less insular future. It's fitting, then, that the sequel will feature new characters from the outside world. The 50-second mark of the trailer features a couple underwater welcome a newborn baby into their family. Based on the wings adorning his feet, that baby is none other than Namor, the Submariner.
The Dora Milaje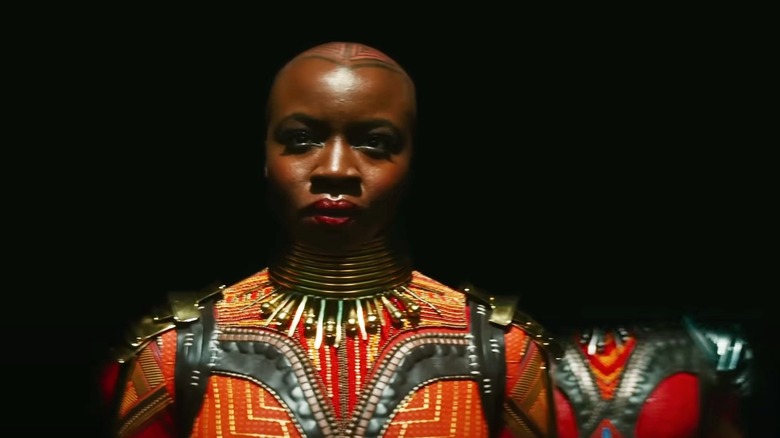 Marvel Studios
The Black Panther might be Wakanda's protector, but they also have protectors of their own: the Dora Milaje. This all-female group of elite warriors serve as bodyguards for the Black Panther, and are led by Okoye (Danai Gurira). Since she has devoted her life to protecting the life of Wakanda's resident superhero, Okoye was devastated when it appeared that T'Challa had died in "Black Panther," and we can expect her to be similarly deeply affected by his death in "Wakanda Forever." 
As one of Wakanda's most powerful warriors, and someone with intimate knowledge of a Black Panther's duties, Okoye is another strong candidate to take up T'Challa's former role. It was reported last year that a spinoff series about Okoye's origins was in the works for Disney+.
The ruler of Atlantis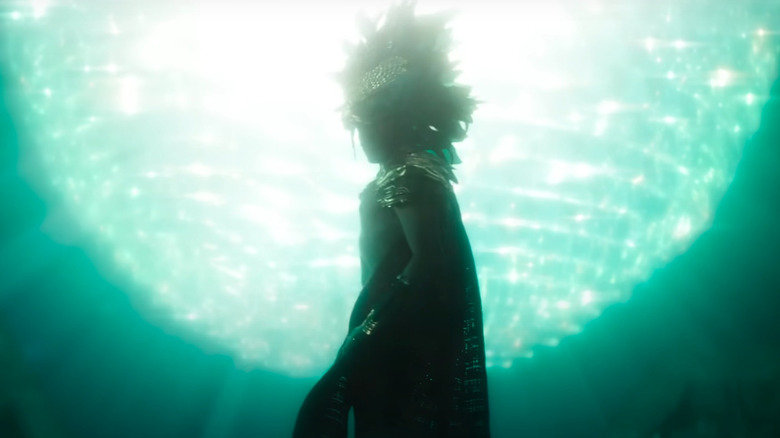 Marvel Studios
In "Black Panther: Wakanda Forever," Namor and his people, the Atlanteans, are being reimagined as having a connection to Mayan culture; Huerta even learned the Mayan language for the role. The Atlanteans' outfits, steeped in Mayan iconography like the headdress seen above, reflect this revised origin.
One thing that is comic-accurate about the Atlanteans is their skin color; Namor closely resembles a human while many other Atlanteans, including his cousin Namora (Mabel Cadena), are blue-skinned. In the comics, Namor is the result of a relationship between a human father, Leonard McKenzie, and an Atlantean mother, Princess Fen. While Namor only embraces his Atlantean heritage, some of his subjects consider him an outsider. This should absolutely inform his MCU depiction, and I'm confident it will since Killmonger (Michael B. Jordan), the antagonist of Coogler's last film, faced similar internal conflict (and, to date, remains the best villain in the MCU).
A war of land and sea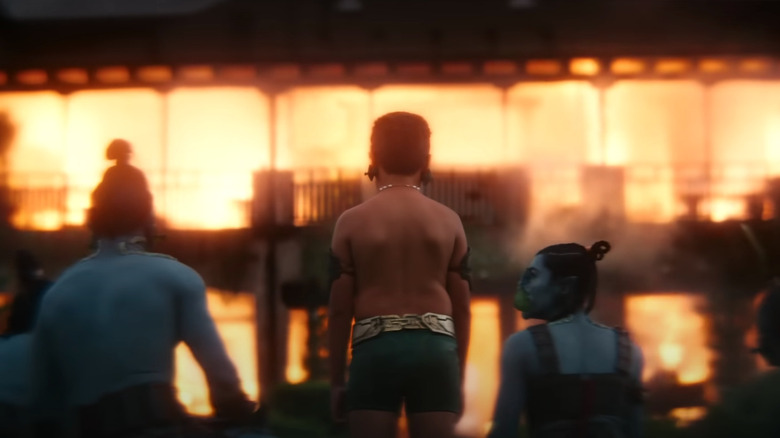 Marvel Studios
Comics Namor has traditionally been antagonistic towards the surface world, especially when we pollute his domain. The first "Black Panther" was one of the more overtly political Marvel movies, so this one potentially having environmental themes tracks. Between shots of a Wakandan city flooding and both Winston Duke's M'Baku and the Dora Milaje fighting Atlanteans, the nation seems to be gearing up for war with Wakanda ... or perhaps Wakanda simply gets in the way of Namor's vendetta against the rest of the surface.
One shot in particular, which shows a young Namor standing among blue-skinned Atlanteans staring at a building engulfed by flame, suggests that the war might originate with an old grudge. In the comics Namor revealed that his name translates to "avenging son," and it's possible that the event we see here is the death of one or both of his parents. That would be somewhat repetitive, though, since Killmonger was seeking revenge for the death of his father at T'Chaka's hands. Based on the scene where Wakandans are operating a ship out at sea with two people in deep sea diving suits, preparing to descend into the water, it seems more likely that the conflict begins because of the surface-dwellers encroaching on Namor's domain. 
The flooded throne room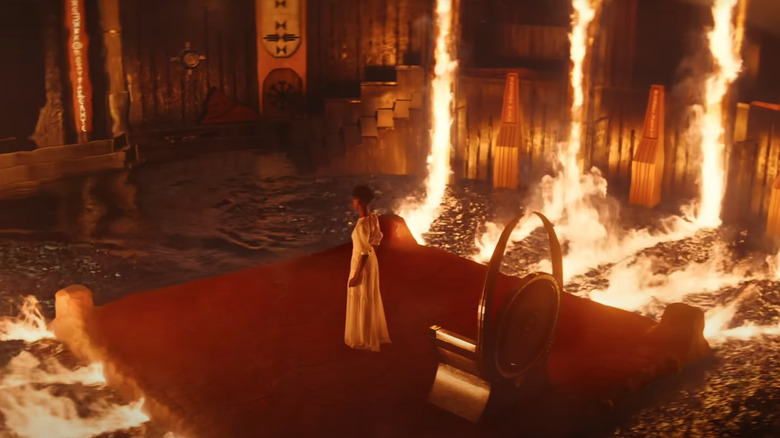 Marvel Studios
The war, it seems, will make its way to the very heart of Wakanda: the throne room. One striking shot in the trailer shows T'Challa's younger sister, Shuri (Letitia Wright), standing on the throne platform surrounded by both water and flame. The implications of Shuri standing alone in front of the throne are considerable: if Ramonda doesn't survive the events of the film, Shuri would be next in line to ascend to the throne. She's currently the leader of Wakanda's advanced technological development team, and being queen would take time away from inventing ... but we see a potential successor to Shuri's current job elsewhere in the trailer.
Meet Riri Williams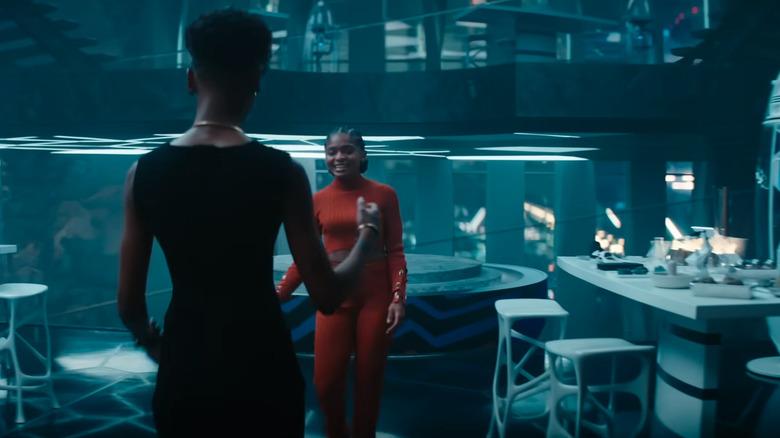 Marvel Studios
In Marvel Comics, Riri Williams is a teenage super-genius who is discovered by Tony Stark and invited to become his protégée after she invents an armored suit of her own. In "Black Panther: Wakanda Forever" Riri will be played by Dominique Thorne, and she makes a few appearances in the teaser. She's first seen enthusiastically greeting Shuri in Wakanda's tech workshop, in a scene that echoes T'Challa's visit to his little sister in the first "Black Panther" film. 
Riri is from Chicago in the comics, and we don't yet know how she ends up in Wakanda, but there is one explanation set up by the ending of "Black Panther." As a way of paying tribute to Killmonger after his death, and acknowledging Killmonger's legitimate arguments about Wakanda hoarding its knowledge from the rest of the world, T'Challa established up the first Wakandan outreach center in Oakland, California, in the building where Killmonger grew up. Riri may have been talent-scouted by one such outreach center and invited to Wakanda as a student, with Shuri serving as her mentor rather than Tony Stark.
Namor arrives in Wakanda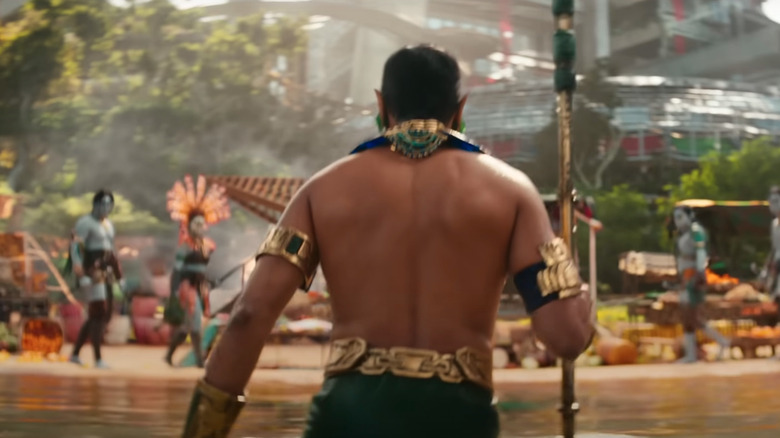 Marvel Studios
Wakanda isn't a coastal nation, but that doesn't mean it's safe from Namor. The country is located on the northern end of Lake Turkana, making it vulnerable to attack by the aquatic warriors of Atlantis. A shot of Namor emerging from the water shows Namora and several other Atlantean warriors gathered at a Wakandan lakeside market, where a fight between them and M'Baku's warriors is seen taking place at another point in the trailer. The blue-skinned Atlanteans have to wear special breathing apparatus on the surface, but Namor's half-human genetics mean he can breathe unaided both on water and on land.
M'Baku joins the fight again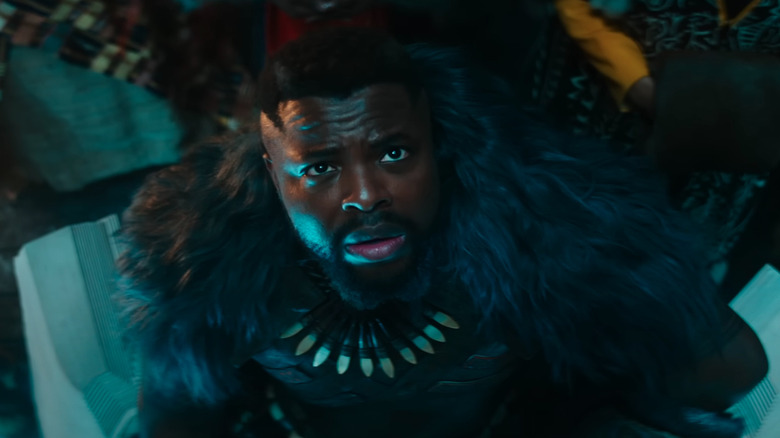 Marvel Studios
Winston Duke's charismatic performance as M'Baku was one of the highlights of "Black Panther," and he reportedly has an expanded role in "Wakanda Forever." M'Baku is leader of Wakanda's Jabari Tribe, which splintered off from the rest of society and embraced the gorilla god Hanuman instead of the panther god Bast (who serves as the spiritual guide for the Black Panther and most of Wakanda's people). 
At the start of "Black Panther," M'Baku challenged T'Challa for the throne, decrying the young king's ideas about embracing the outside world, and lost. But after Killmonger defeated T'Challa and became Wakanda's new king, M'Baku and the Jabari agreed to a temporary alliance in order to restore T'Challa as king, and they later fought against Thanos' forces in both "Avengers: Infinity War" and "Avengers: Endgame."
The trailer for "Black Panther: Wakanda Forever" shows aircraft approaching the Jabari home base in the snowy mountains, and M'Baku is then shown staring up at something with a rare look of trepidation on his face. The Dora Milaje are also present (with fur added to their traditional uniforms to combat the cold), so it's likely that they've come to ask for M'Baku's help in fighting the Atlanteans.
Wakanda vs. the world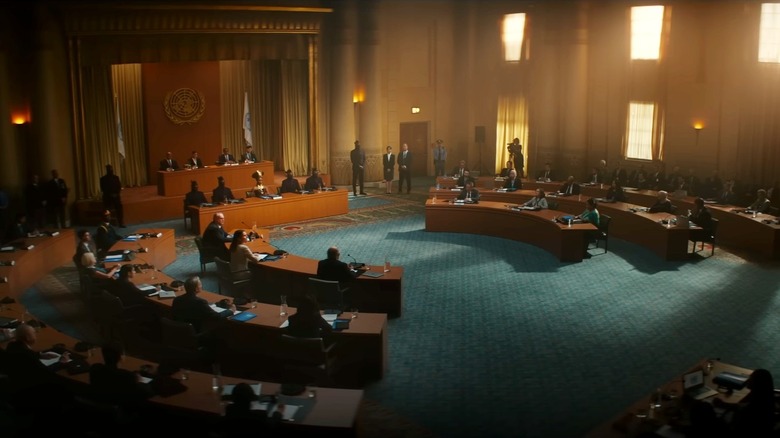 Marvel Studios
The newly-released synopsis for "Black Panther: Wakanda Forever" says that the movie will find Queen Ramonda, Shuri, M'Baku, Okoye, and the Dora Milaje "fight[ing] to protect their nation from intervening world powers in the wake of King T'Challa's death." T'Challa had hoped to build a strong relationship between Wakanda and the rest of the world by revealing just how technologically advanced his nation is, but people being people, there was always a danger of the world reacting with paranoia and hostility.
Two moments in the trailer are indicative of the fact that all is not well. First, the moment where the Wakandan ship is seen being attacked by soldiers wielding guns. Second, the moment where Queen Ramonda is seen leading a delegation of Wakandans at a United Nations conference. This could simply be an announcement of T'Challa's death (serving as a way of explaining how the king of Wakanda died for the audience), but the shot also conveys a sense of "Wakanda vs. the world" in the way that Ramonda is surrounded on all sides by other nations' representatives.
Atlanteans on land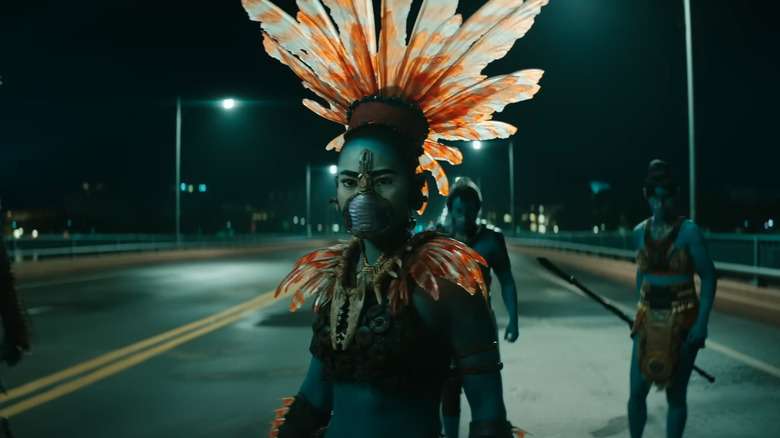 Marvel Studios
We get our best look at Namora as she leads several Atlantean warriors in battle on a bridge, looking ready for battle. At a guess, this clash may take place during Queen Ramonda's visit to speak with the United Nations, with the Atlanteans using the opportunity of Wakandans being far away from their well-defended home country to launch an ambush. Namora's headdress marks her as royalty, and we also get a good look at the breathing apparatus used by the Atlanteans on land.
The origin of Ironheart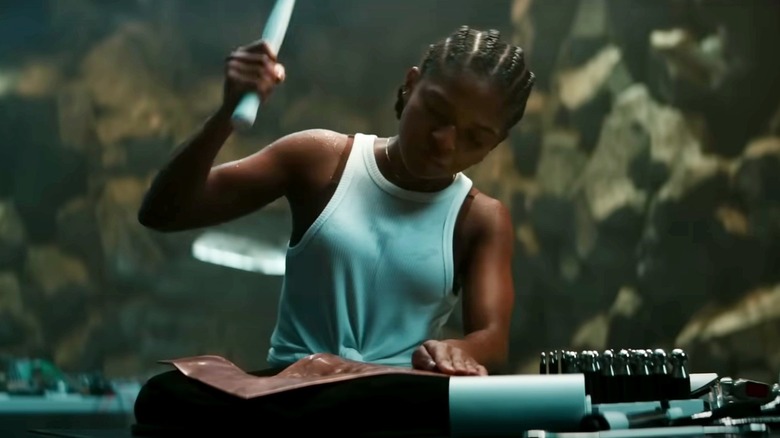 Marvel Studios
As Obadiah Stane fumed in the first "Iron Man" film, with regards to the original suit of Iron Man armor: "Tony Stark was able to build this in a cave! With a box of scraps!" A particularly tantalizing shot from the "Wakanda Forever" shows Riri Williams building her Ironheart armor. While she appears to be in Shuri's lab rather than a cave, the rocky walls and labor-intensive approach of hammering the metal into shape are evocative of Tony Stark's superhero origins. 
The use of nanite technology in later MCU films featuring Iron Man took some of the magic out of his armor, making the Iron Man suit feel less tangible, so it's promising to see Riri taking a more old-school approach. After making her debut in "Black Panther: Wakanda Forever," Riri is set to lead her own "Ironheart" series on Disney+.
Meet Aneka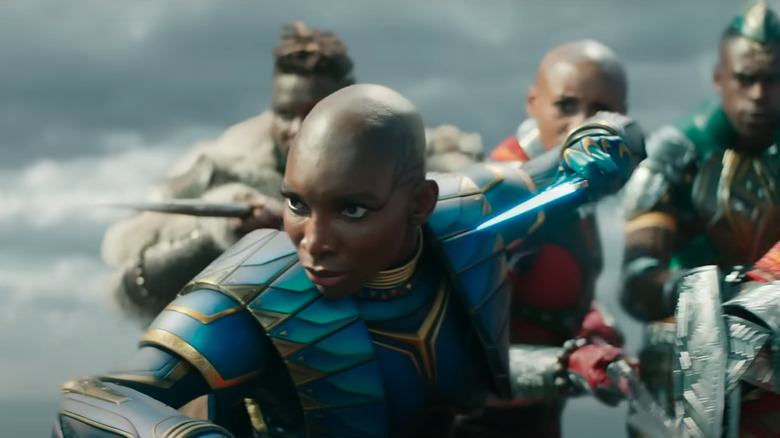 Marvel Studios
Another new face in "Black Panther: Wakanda Forever" is Aneka (Michaela Coel), combat instructor of the Dora Milaje. She is seen fighting alongside established members of the warrior woman brigade, as well as M'Baku's fighters. 
Aneka is another potential candidate to become the new Black Panther: so much of the fan discussion leading up to the movie has debated whether Shuri, Okoye, or Nakia would be the best fit, but quietly introducing a new character and having them become the new franchise lead would be a less predictable move. Coel certainly has the acting chops to lead a franchise, having created and starred in two shows that both garnered widespread critical acclaim and numerous awards: "Chewing Gum" and "I May Destroy You."
Wakanda's new protector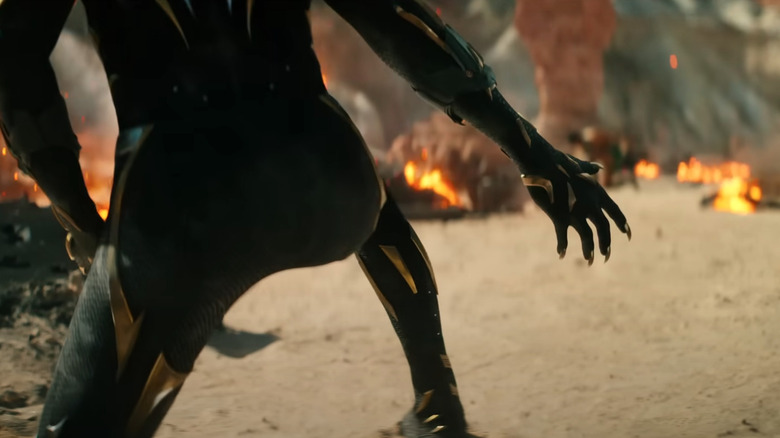 Marvel Studios
Most intriguing of all is the trailer's final shot. Someone is wearing a gold-accented Black Panther suit, but it's unclear who. With how little of the figure's body is in the frame, it's even unclear if they're a man or woman. This makes the suspect list even longer, though given the prominence of female characters in the cast of "Black Panther: Wakanda Forever," and given the slim figure of the new Black Panther, a woman seems most likely (that's definitely not M'Baku).
"Black Panther: Wakanda Forever" releases on November 11, 2022 in theaters.