The Best TV Shows And Movies Leaving Netflix In October 2022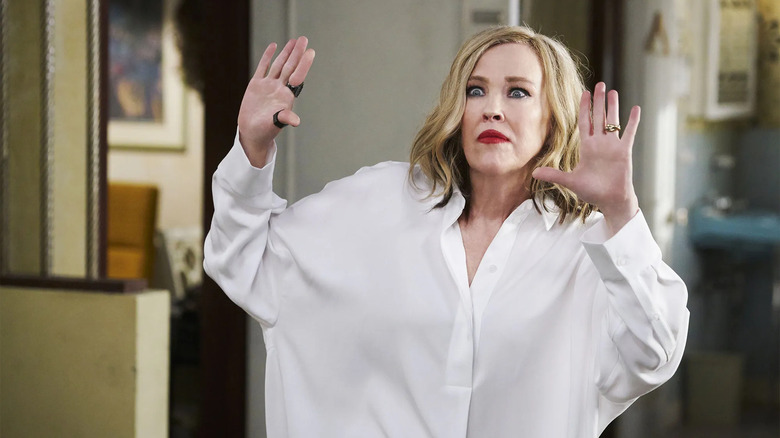 Pop TV
Another month, another slew of movies and TV shows take their final bow before leaving Netflix for different digital pastures. Usually, these exits come as the result of an expiring licensing agreement and indicate the project will end up on a different service or on VOD, but this month has one program exiting that may end up being catapulted into the virtual void. With the spooky season well underway and horror taking the front seat, don't forget about some of these other goodies you keep telling yourself you'll get around to watching because they might not be there when you're ready. Here are some of the best shows and movies leaving Netflix in October of 2022.
Schitt's Creek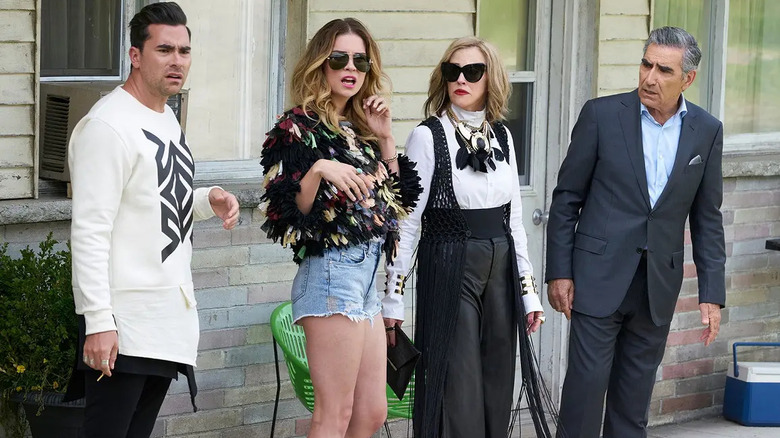 Pop TV
The majority of American audiences have been enjoying the record-breaking Emmy award-winning series "Schitt's Creek" since PopTV licensed the hit Canadian comedy with Netflix, but those days are numbered. If you've somehow still not gotten around to binging six seasons of one of the best comedies in TV history, act now or ... wait until it heads over to Hulu, I guess. Eugene Levy, Catherine O'Hara, Dan Levy, and Annie Murphy star as the wealthy Rose family, who after losing all of their fortune, find themselves forced to live in the highway motel in the rural town of Schitt's Creek, a city they once purchased as a gag. Now, the Rose family must learn how to adjust to a life without luxury, and hopefully find a new form of happily ever after. "Schitt's Creek" is wickedly funny, but filled with a genuine heart that may offer some peace during these continually trying times. You'll be saying "Ew, David!" and naming all of your wigs before you know it.
Yes, God, Yes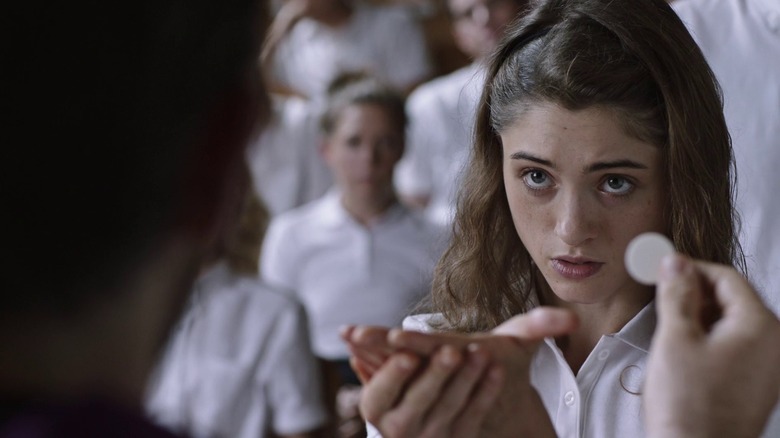 Vertical Entertainment
If you've binged all of "Stranger Things" and wish that Nancy Wheeler had a little more screen time, then do I have the movie for you. Based on director Karen Maine's viral short film of the same name, "Yes, God, Yes" sees Natalia Dyer as Alice, a young Catholic girl in the year 2000 Iowa coming to terms with her budding sexuality and how they directly conflict with her Catholic school curriculum. Alice has been told her entire life that sexual urges and sexual actions outside of a heterosexual marital bed are sinful, so why does it feel so good to cyber with strangers in AOL chat rooms? In an attempt to overcompensate for her burgeoning urges, Alice attends a rigorous Catholic retreat hosted by her teacher, Father Murphy (Timothy Simons), and many of her classmates who harshly judge each other despite being total hypocrites. "Yes, God, Yes" is a fantastic millennial coming-of-age film, with a fantastic performance by Dyer who proves she's so much more than a "Stranger Things" kid.
Hemlock Grove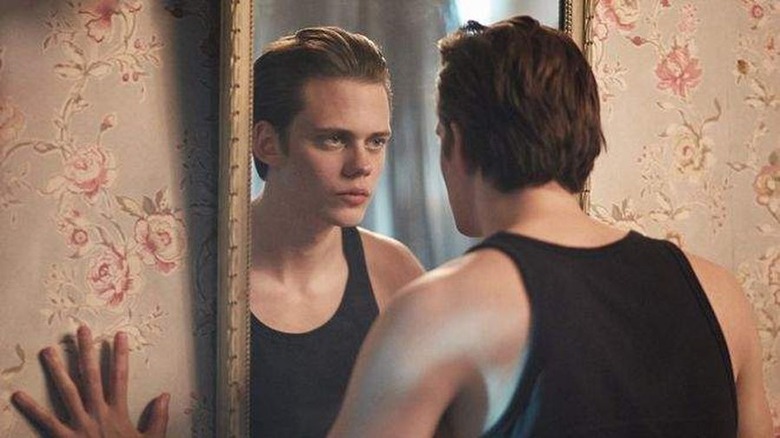 Netflix
In perhaps the most shocking exit announcement, Netflix is kicking to the curb one of their very first original series, "Hemlock Grove." Produced by Eli Roth, developed by Brian McGreevy and Lee Shipman, and based on McGreevy's novel of the same name, "Hemlock Grove" is about a sleepy Pennsylvania town hit with a string of brutal murders, with wealthy heir Roman Godfrey (Bill Skarsgård) and new-in-town Peter Rumancek (Landon Liboiron) joining forces to solve the mystery. Both men harbor dark and otherworldly secrets, and may know more about the murders than meets the eye. There's been a lot of talk about how HBO Max has removed some of its exclusive offerings, but this is a first for Netflix. There's been no update regarding the future fate of "Hemlock Grove," so this might legitimately be your final chance to stream the series before it gets lost in the ether. Fortunately, the series is already available on physical media, so we don't have to worry about the show being lost forever.
Miss Congeniality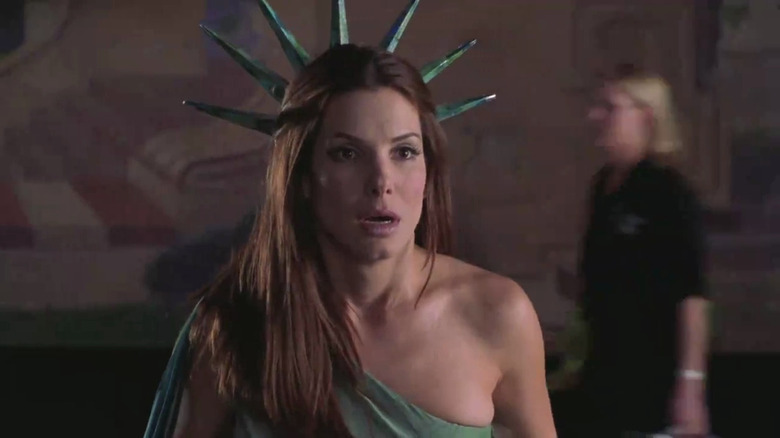 Warner Bros.
Sandra Bullock is an Academy Award-winning actor, often referred to as "America's sweetheart," and was the world's highest-paid actress in both 2010 and 2014, but for many, she'll always be Gracie Lou Freebush, "Miss Congeniality." In this hit beauty pageant action comedy, Bullock plays FBI Agent Grace Hart, who is tasked with going undercover as Miss New Jersey in the Miss United States pageant after the agency is alerted that a domestic terrorist is planning on bombing the competition. "Miss Congeniality" is often written off as a "chick flick," but there's truly something for everyone in this film. Michael Caine is absolutely hilarious as Bullock's pageant coach, and watching Bullock's character find strength and sisterhood with a group of women she had written off as being nothing more than pretty faces is heartwarming. At the very least, you'll walk away with some basic self-defense tips and genuinely good advice on how to make a great first impression.
Friday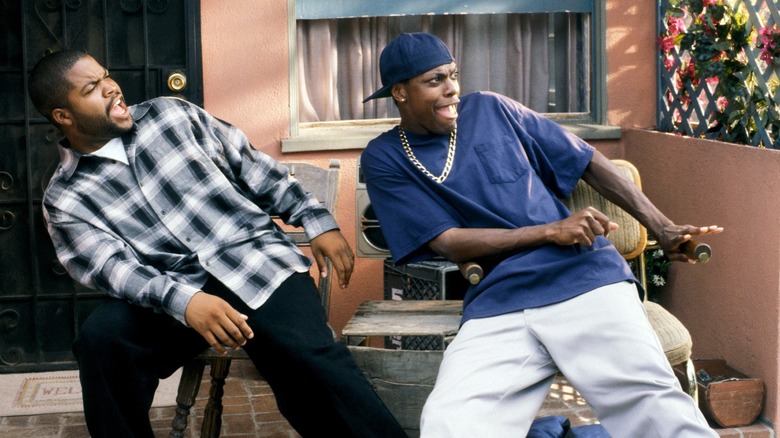 New Line Cinema
DAAAAAAAAMN! Netflix is saying "Bye, Felicia" to a comedy great, the 1995 stoner comedy "Friday" from F. Gary Gray, Ice Cube, and DJ Pooh. The film sees Ice Cube as Craig Jones, feeling down on his luck after getting fired from his job on his day off. His girlfriend Joi (Paula Jai Parker) is on his case, the rent is due, and his best friend Smokey (Chris Tucker) owes money to his perm-wearing drug dealer, which puts the duo on his vengeful radar. The hilarious comedy is a look at one absolutely ridiculous Friday in South Central Los Angeles, with an uproarious cast of characters and the film that helped skyrocket Ice Cube from the world of gangsta rap to a Hollywood movie star. "Friday" spawned two additional sequels and a hopeful fourth film, but the first remains a cult classic that should be mandatory viewing for any comedy fan.
Movies and TV Shows leaving Netflix in September 2022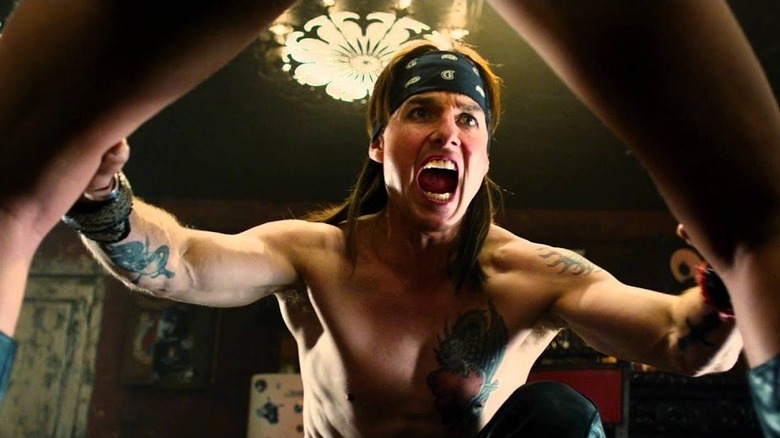 Warner Bros.
Leaving 10/2/22
Schitt's Creek: Seasons 1-6
Leaving 10/7/22
Sofia the First: Seasons 1-4
Leaving 10/8/22
Leaving 10/13/22
Apocalypse Now Redux

Everything Must Go

Little Italy

Scary Movie 4

The Girl Next Door
Leaving 10/14/22
Bleach The Movie: Fade to Black

Bleach the Movie: Hell Verse
Leaving 10/15/22
Leaving 10/21/22
Leaving 10/22/22
Hemlock Grove: Seasons 1-3
Leaving 10/26/22
Leaving 10/27/22
Metallica Through The Never
Leaving 10/31/22
8 Mile

Bridget Jones's Diary

Ferris Bueller's Day Off

Footloose

Friday

Friday After Next

Johnny Mnemonic

Leah Remini: Scientology and the Aftermath: Seasons 1-3

Lemony Snicket's A Series of Unfortunate Events

Miss Congeniality

Miss Congeniality 2: Armed and Fabulous

Monster-in-Law (70021634) 10/31/2022

Naruto: Seasons 1-9

The Notebook

Rock of Ages