Echo Footage Description: Maya Lopez Shows Off Her Photographic Reflexes In Marvel's Latest Streaming Series [D23]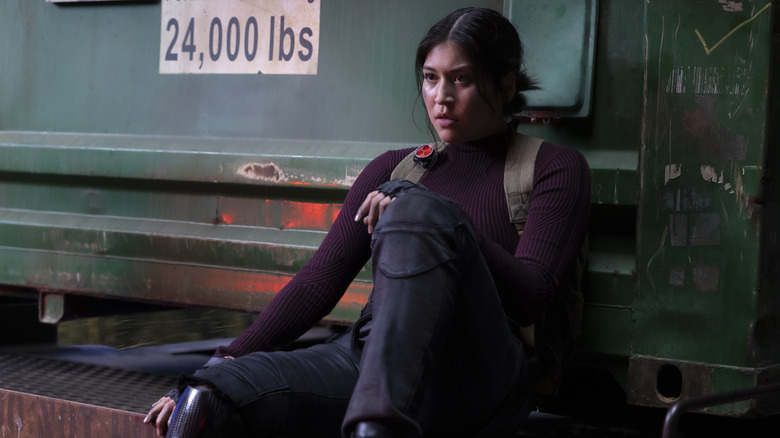 Marvel Studios
Marvel Studios is sending out an "Echo" in 2023, and now the first footage is here. Maya Lopez (Alaqua Cox), the deaf Tracksuit Mafia leader with photographic reflexes, a prosthetic leg, and a Native American heritage, has her own Disney+ spin-off series coming next year. We last saw Maya facing off with her bad surrogate dad, Kingpin (Vincent D'onofiro), in "Hawkeye," and you know how that ended.
To get you ready for "Echo," Marvel has unveiled a sneak peek of the series out of the D23 fan expo in Anaheim where /Film's Ethan Anderton was reporting live. D'onofrio and Charlie Cox have already been confirmed to appear in "Echo," giving the onetime Netflix stars a continued presence in the Marvel Cinematic Universe en route to the upcoming Disney+ series "Daredevil: Born Again."
The cast of "Echo," however, is primarily made up of Native American actors, such as "Dark Winds" star Zahn McClarnon and Oscar nominee Graham Greene ("Dances with Wolves"). McClarnon is reprising his role as Maya's father, former Tracksuit Mafia leader William Lopez, who became a victim of Hawkeye (Jeremy Renner) during his stint as the violent vigilante Ronin.
Marvel.com describes "Echo" as an "origin story," one that will involve Maya reconnecting with her Native American roots in her hometown. Check out our description of the first footage below.
'Their strength echoes through you'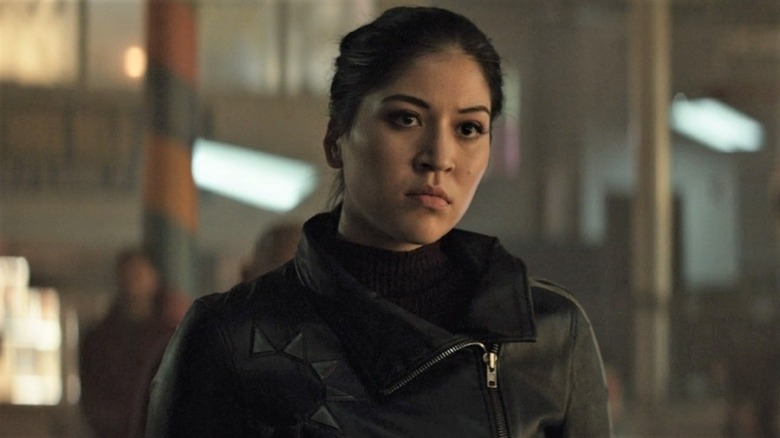 Marvel Studios
The footage shown at D23 began with Echo on her motorcycle, while an old man provides a context over her trek. He begins by explaining, "our ancestors were powerful," and the scene cuts to a flashback of an Indigenous tribe. "Their strength echoes through you," he tells Maya, which might be another part of why she took on the codename Echo. Although, it's also a fun play on her abilities as a Deaf woman with photographic reflexes who can echo anything she sees.
We see that the voice talking is one of Echo's elders, perhaps her grandfather, played by Graham Greene. He gives Echo a prosthetic leg with decorations on it that mean "warrior," and she signs to him that she needs to go home. There are some quick action beats intercut with clips of Indigenous people, and then the teaser ends with Vincent D'Onofrio back as Wilson Fisk, A.K.A. Kingpin. 
His eye is bandaged from his last encounter with his surrogate daughter as he says, "It's been a long time."
'It's been a long time'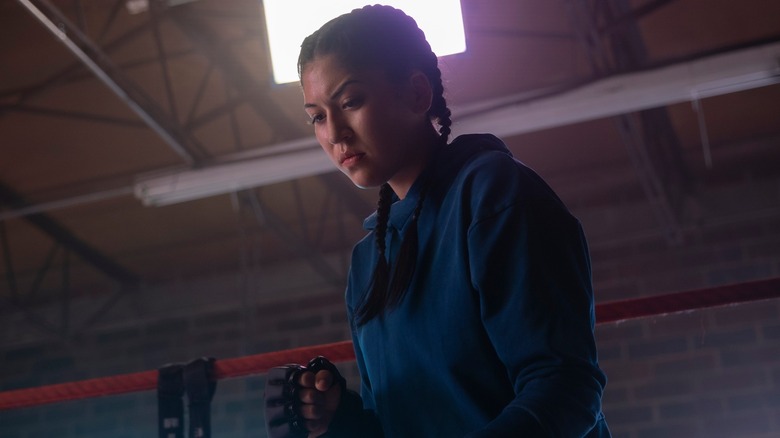 Marvel Studios
With as many streaming MCU shows as we've seen already — and as many more that have been announced and are in the studio pipeline — it can be hard to keep track of them all, but "Echo" is on target to be the 10th such series. It's slated to air after the second season of "What If...?" and the Samuel L. Jackson-led "Secret Invasion." The series hails from creator Marion Dayre and features the involvement of directors and executive producers who are of Navajo, Gunaikurnai, Blackfeet, and Seminole heritage. Cox herself holds Mohican and Menominee descent.
In addition to McClarnon and Greene, "Echo" also stars Chaske Spencer, Tantoo Cardinal, Devery Jacobs, and Cody Lightning. Even if you're not a Marvelite and are just looking for a follow-up to "Prey" with another butt-kicking Native American heroine, "Echo" has you covered.
Echo/Maya made her first Marvel Comics appearance in Daredevil (Vol. 2) #9, written by David Mack, penciled by Joe Quesada, and published in 1999. Here's the Marvel.com synopsis of her show:
Streaming exclusively on Disney+, the origin story of Echo revisits Maya Lopez, whose ruthless behavior in New York City catches up with her in her hometown. She must face her past, reconnect with her Native American roots and embrace the meaning of family and community if she ever hopes to move forward.
"Echo" is coming to Disney+ sometime in 2023.