12 Family-Friendly Horror Movies To Watch With Your Family This Spooky Season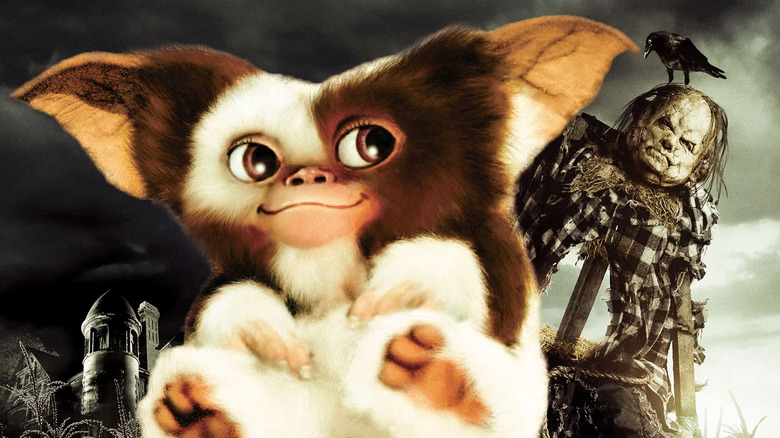 Lionsgate / Warner Bros.
For horror fans, the autumnal season is the time of year when we all get to be the belle of the ball. For a few weeks each year, our expertise in all things creepy and spooky is valued above all other film fanatics, and we're often tasked with providing as many film recommendations as possible for casual horror fans to cram into a month or two of viewing. Sure, there's bound to be requests for "the scariest movie ever," but as new crops of monster kids grow into their own year after year, there's an evergreen need for horror movies that adults can watch with their little ones.
Family-friendly horror movies are a great way to inaugurate younger viewers to one of the most prolific subgenres in all of cinema, as well as offer a safe outlet to begin processing negative emotions like fear, grief, sadness, and anxiety. It's a lot easier to introduce concepts like mortality when dealing with stop-motion ghouls than it is to wait until a beloved pet or family member dies. We've talked before on /Film about family horror films that scared the daylights out of children in the past, but today we're focusing on horror films that even the smallest viewers can enjoy. Grab a plastic jack-o'-lantern filled with popcorn and get ready to answer some weird questions about ghosts, because here are 12 family-friendly horror movies to watch this spooky season.
The Addams Family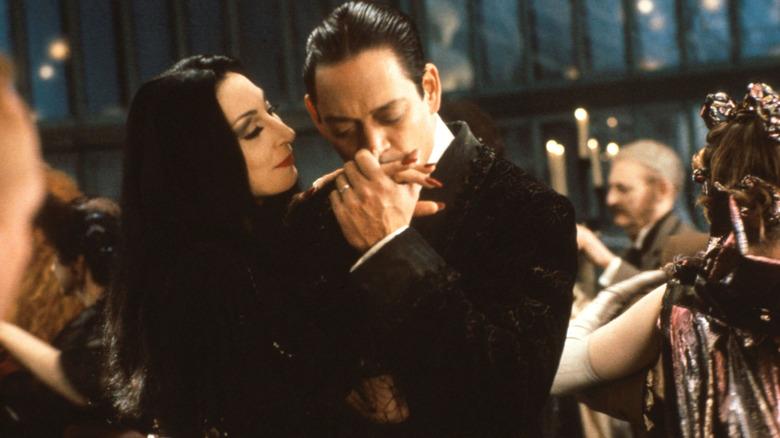 Paramount Pictures
With the upcoming Tim Burton series "Wednesday" sure to bombard your Netflix homepage in November, now is the perfect time to introduce kids to the creepy and kooky family Addams. The recent CG animated films are a ton of fun, but the live-action films featuring Raul Julia, Anjelica Huston, Christina Ricci, Christopher Lloyd, Jimmy Workman, Carel Struycken, and John Franklin are beloved favorites. 
"The Addams Family," and its sequel "Addams Family Values" are the perfect balance of comedy and horror, while also showcasing one of the healthiest family dynamics in film history. It's important for kids to see behavior they can model in their real lives, and the undying love between Gomez and Morticia Addams is an inspiration to us all. "The Addams Family" is also a hilariously sarcastic film, which makes it a great tool to teach kids about one of the best styles of comedy they can carry into their own methods of communication.
Casper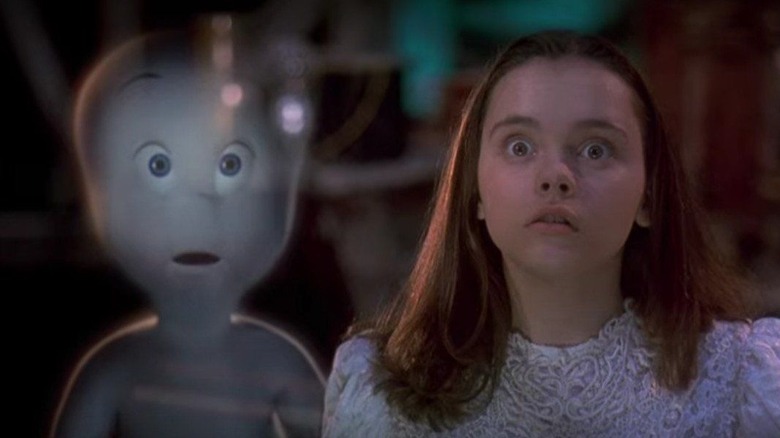 Universal Pictures
Yet another Christina Ricci vehicle, the live-action adaptation of the friendliest ghost you'll know is a phenomenal watch for younger audiences. For the most part, the scare factor of "Casper" is extremely tame, with the true horror existing in metaphors that will likely fly right over the heads of little ones. The excruciatingly '90s film is filled with plenty of silly, farcical hijinks, but is also a deeply existential film about how terribly most people process severe loss. "Casper" is often dismissed as nothing more than a kid's film about an animated ghost trying to find a friend for the afterlife, but few remember how depressing the film actually is, and its deeply examined themes of loss, pain, neglect, and the human's unwillingness to accept the reality of mortality. There's plenty of fun to be had, but this is also a fantastic film to have serious conversations with little ones about life, death, and the greatness of Devon Sawa.
Wallace & Gromit: The Curse of the Were-Rabbit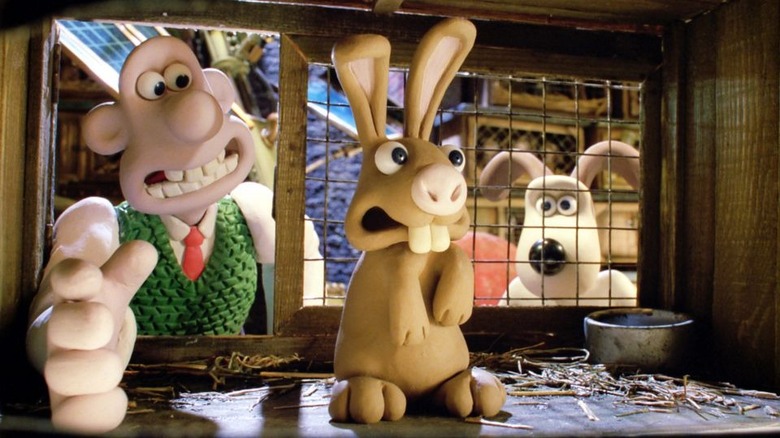 DreamWorks Animation
Claymation is a ridiculously underappreciated art form, and the folks behind the "Wallace & Gromit" films are at the top of their craft. A parody of Universal monster movies and Hammer Horror films, "Wallace & Gromit: The Curse of the Were-Rabbit" is a delightful instalment of the popular British stop-motion comedy franchise created by Nick Park of Aardman Animations. The cheese-loving inventor and his brilliant dog must save their town as it becomes overrun with were-rabbits, just before the annual Giant Vegetable Competition. Horror movies are often snubbed by the Academy, but "Wallace & Gromit: The Curse of the Were-Rabbit" took home the statue for Best Animated Film in 2005. This adorable and sincerely hilarious film is easily the most accessible for even the youngest of audiences on this list, but the timeless humor can be appreciated by older audiences as well.
Don't Look Under the Bed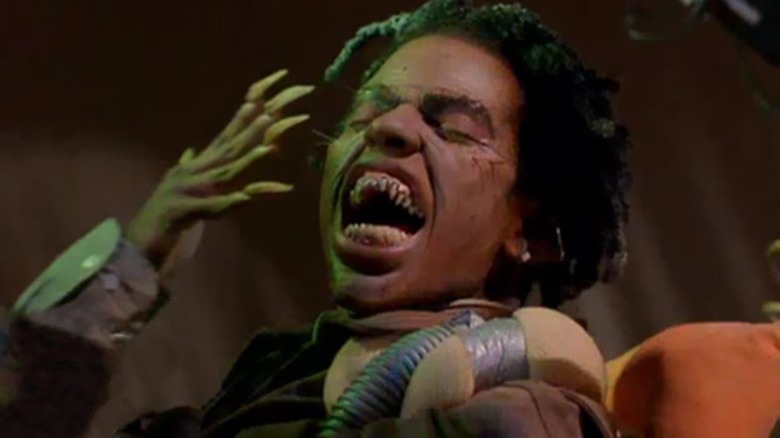 The Disney Channel
Disney Channel Original Movies (DCOMs) get a bad rap, especially when they're also the home of some of the best family-friendly films on the market. "Under Wraps," "Twitches," "Phantom of the Megaplex," "Mom's Got a Date with a Vampire," "Girl vs. Monster," "The Scream Team," and even "Smart House" are all delightful additions to the kid-friendly horror canon, but the closest thing to a certifiable DCOM horror movie is "Don't Look Under the Bed." 
This criminally underrated kids' horror movie has plenty of slapstick comedy to keep the giggles going, but also features some genuinely terrifying imagery in its Boogeyman design. We even featured this film as one of the best horror movies to check out in the month of September, because it's a spooky movie without being tied to Halloween, making it a great watch year-round. "Don't Look Under the Bed" can help inspire conversations about not stifling one's creativity or imagination, and if you're really feeling frisky, you can explain to your kiddos why the main character being named "Frances Bacon" is a really, really wild choice for a teenage girl.
Gremlins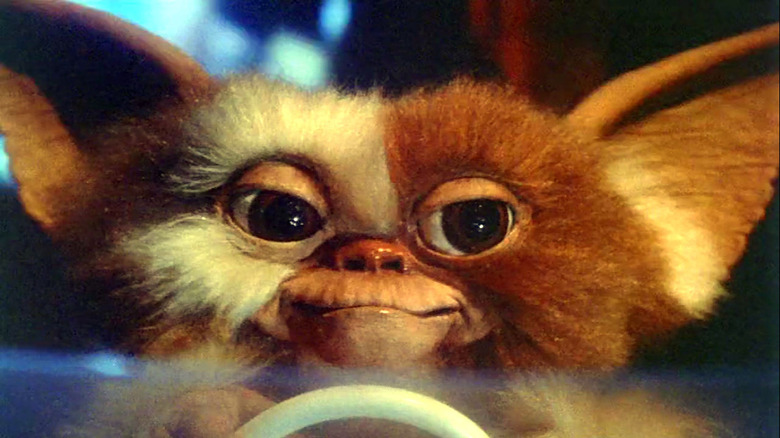 Warner Bros.
Is "Gremlins" the scariest movie on this list? Yes. Is "Gremlins" also a perfect transitional horror film to help bridge the gap between children's horror and hard-R adult scaries? Also yes. "Gremlins" is famously partially responsible for the introduction of the PG-13 rating from the Motion Picture Association, but with the upcoming animated prequel series "Gremlins: Secrets of the Mogwai" coming next year to HBO Max, this spooky season offers the perfect opportunity to introduce your little ones to Gizmo, Stripe, and Billy Peltzer. 
"Gremlins" does have some unexpectedly graphic imagery, and if your kids still believe in Santa Claus you might want to skip over Phoebe Cates' absolutely gut-wrenching (and high camp) monologue, but despite the genuine scares the film provides, Gizmo is just too dang cute not to love. If your kids love Grogu/Baby Yoda, they're gonna lose it for everyone's favorite Mogwai. "Gremlins" is an easy and obvious choice, but it's continued to be a family-friendly mainstay for a reason–because it's absolutely perfect.
The Halloweentown Franchise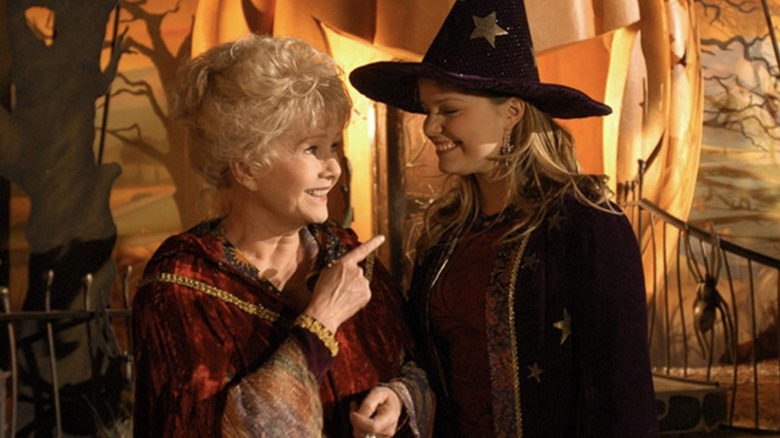 The Disney Channel
From the moment Debbie Reynolds uttered "being normal is vastly overrated," the DCOM "Halloweentown" was guaranteed to become a seminal film for generations of kids interested in all things spooky. The most popular DCOM franchise outside of the "High School Musical" films, the four features of "Halloweentown" are all about using monsters and magic as a way to learn about not judging others for their appearances, embracing the differences that make us all unique, and joining forces with your community to take down true evil: the patriarchy and capitalism. 
I know, I know, it sounds like I'm reading too deeply into a movie meant for kids, but part of why the "Halloweentown" films are still so beloved after all these years is because these films were often the first times a lot of these seeds were planted in the minds of younger audiences.
Also, franchise star Kimberly J. Brown ended up marrying her "Halloweentown II: Kalabar's Revenge" co-star Daniel Kountz, so you can be the cool adult in your kiddo's life when you bust out that fun fact via TikTok.
It's the Great Pumpkin, Charlie Brown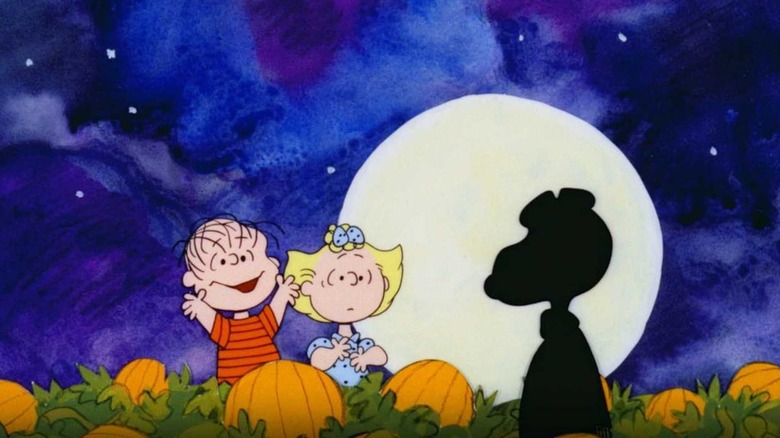 CBS
"A Charlie Brown Christmas" is pretty much synonymous with the holiday season, but the real MVP of Peanuts' holiday specials is the Linus-centered Halloween short film "It's the Great Pumpkin, Charlie Brown." I may be biased as I consider the film one of my absolute favorites of all time, but few films can encapsulate the pure optimistic wonderment of childhood like Linus van Pelt and his undying dedication to the Great Pumpkin. The special is filled with so many memorable Peanuts moments, like Pigpen's messy ghost costume and Charlie Brown's iconic trick-or-treat haul of a rock in his candy bag. It's an all-time great that deserves as much attention as the Christmas special, but then again, maybe Linus had it right. "There are three things I've learned never to discuss with people: religion, politics, and the Great Pumpkin."
Little Shop of Horrors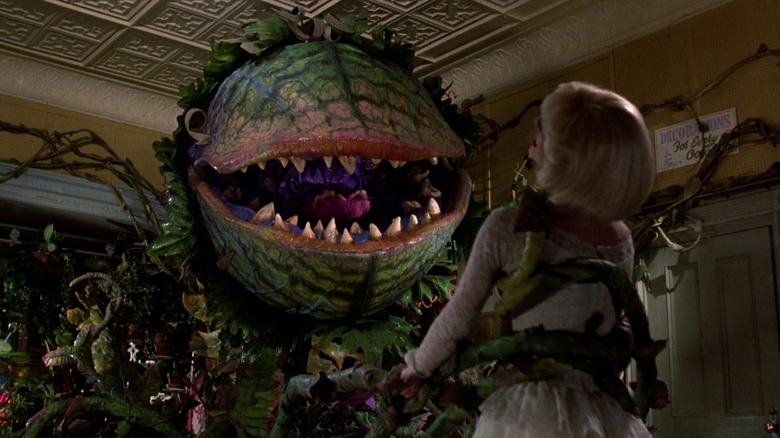 Warner Bros.
There aren't a lot of films I'm willing to classify as "perfect," but Frank Oz's brilliant adaptation of the off-Broadway musical (which is based on the 1960 Roger Corman film) "Little Shop of Horrors" is absolutely one of them. Genre favorite Rick Moranis stars as Seymour Krelborn, an awkward employee at Mushnik's Flower Shop who will do anything to keep his job secure and the object of his affections, Audrey (Ellen Greene), safe. After Seymour comes across a mysterious plant following a total eclipse of the sun, all of his problems seem to be solved ... that is, until he realizes the plant requires human blood to stay alive. 
As the alien Audrey II plant grows bigger and more demanding, Seymour must come to terms with the consequences of his actions and save the world from being consumed by the monstrous plant. "Little Shop" is filled with catchy music, goofy physical comedy, and mesmerizing puppetry, which will help offset any of the scares or swears provided by the Audrey II. Better yet, if your little one falls in love with this film (as most tend to do) it opens the doors for the chance to take them to see a live production whenever your local community or high school theater inevitably tries to tackle the material. Da-Doo!
ParaNorman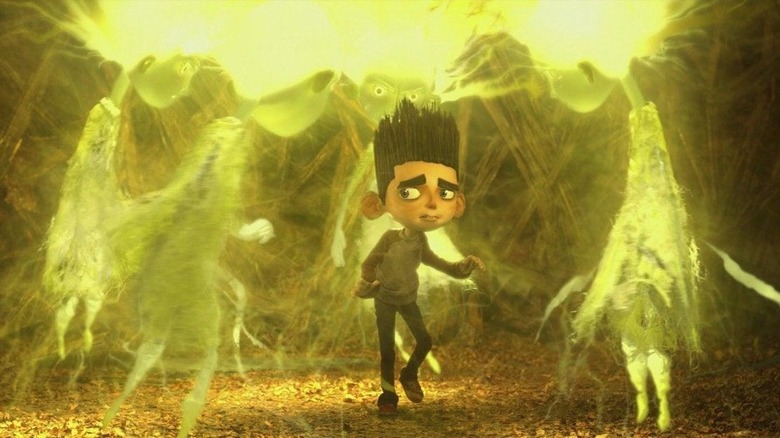 Focus Features
I am an unapologetic fan of Laika, a company that consistently puts out incredible films but gets consistently steamrolled by whatever Disney and DreamWorks cranked out in the same year. While their debut film "Coraline" is an unquestionable masterpiece, it's their second film, "ParaNorman," that is essential viewing this spooky season. The brilliant stop-motion animated mobie about a young boy with the ability to see ghosts possesses a perfect balance of fun and frights, and is exactly the type of film that could turn a budding movie lover into a lifelong horror fanatic. 
"ParaNorman" is all about facing your fears and doing the right thing even when others are too afraid to stand beside you, an all-important message to deliver to youngsters. Not only is it an absolutely delightful adventure about ghosts, witches, and zombies, but it's also a great way to inspire conversations about the sins of the past, colonialism, and restorative forgiveness. The messages in this film are timeless and can be appreciated by all, especially the adults who probably need a reminder every now and again that it's okay to be afraid, but it's not okay to stifle the bravery of others because it makes us uncomfortable.
Scary Stories to Tell In The Dark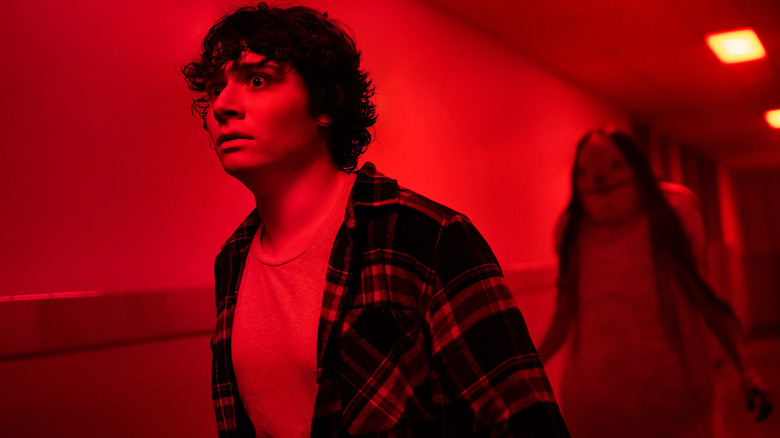 CBS Films
Just as the original book series by Alvin Schwartz and original illustrations from Stephen Gammell did for generations of young readers, "Scary Stories to Tell In The Dark" feels like a horror movie that kids aren't supposed to love, but can't get enough of anyway. While it's impossible to capture the unbridled horror of flipping through Schwartz' book for the first time, the cinematic adaptation gets pretty dang close to it. The film is great for pre-teen viewers (and even seasoned elementary-aged viewers), with its terrifying visuals inspired by the well-known short stories "Harold," "The Big Toe," "The Red Spot," "The Dream," "The Jangly Man," and "The Haunted House." 
If your little one is prone to nightmares, make sure you've got some aftercare prepared for afterward, or else risk being woken up in the middle of the night by a panicked child waiting for The Pale Lady to be waiting around a hallway. It's a good one, but nothing can prepare you for a live-action look at Gammell's monsters.
Scooby-Doo on Zombie Island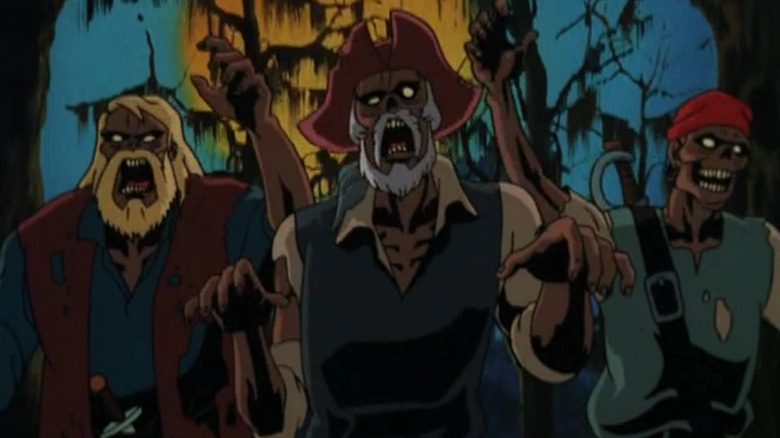 Warner Bros.
*kicks in door* "IT'S TERRORRRR TIME AGAIN! THEY GOT YOU RUNNING THROUGH THE NIGHT! IT'S TERRORRRR TIME AGAIN! AND YOU JUST MIGHT DIE OF FRIGHT, IT'S A TERRIFYING TIME!"
Scooby-Doo and the gang have been a children's horror mainstay since the 1960s, but "Scooby-Doo on Zombie Island" is perhaps the greatest Scooby film ever made. Unlike the series, which usually saw those meddling kids unmask a monster to reveal Old Man Jenkins or some weird corporate megalomaniac in a brightly colored suit, "Scooby-Doo on Zombie Island" has the Mystery Incorporated gang facing off with actual ghosts, zombies, and cat-like shapeshifters. The title song "Terror Time" deserves to be on every Halloween playlist until the end of existence, and the fact this film makes the audience empathize with the zombies is something few films have ever been able to achieve. The horror of "Zombie Island" is real, which is a completely unexpected turn in the beloved franchise. The story is fantastic, the animation is stunning, the jokes are solid, and it may very well be the best zombie film of the 1990s. No, seriously.
Vampires vs. The Bronx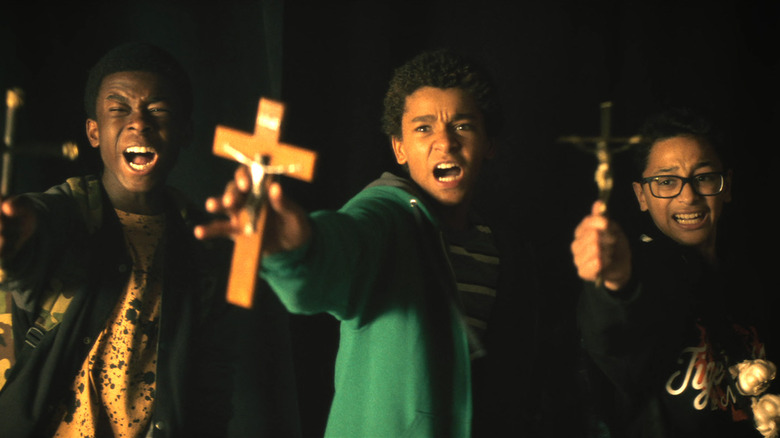 Netflix
While this isn't the scariest movie on the list, it is easily the most "mature" — but hey, you want your little ones to think you're still hip and cool, right? Kids love to see themselves as the heroes, and in the Netflix original movie "Vampires vs. The Bronx," street-smart kids are the saviors their community needs against a horde of gentrifying vampires. Every year people recommend "The Monster Squad" as the go-to flick of "kids defeat monsters," and while that film is an undeniable classic, its dated language is extremely off-putting to the younger generations who didn't grow up in a world where people casually dropped the f-slur every 20 minutes. This is why "Vampires vs. The Bronx" is such an important film, because it takes the torch Fred Dekker lit in 1987 and makes it a more accessible story to Gen Z and Gen Alpha, with even stronger themes. The humor is great, the scares are effective, and it comes from a fresh perspective unafraid to call out the proponents of systemic oppression for the monsters they truly are.
Other family-friendly titles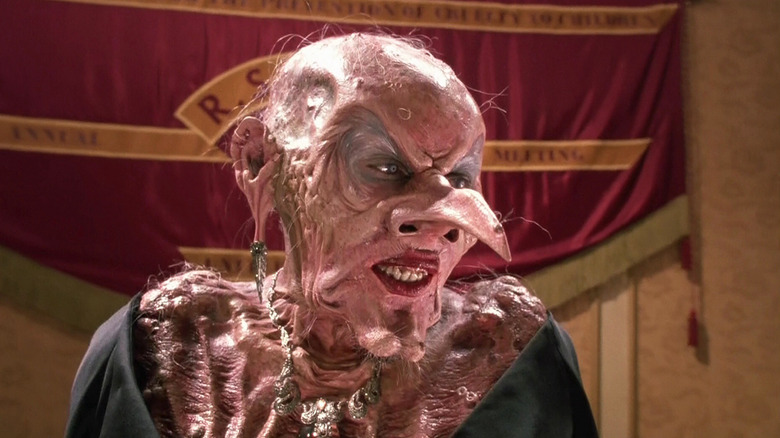 Warner Bros.
It's important to recognize that when choosing a family-friendly option for the little ones in your life, what they can handle will differ from kid to kid. Some of the featured options may seem too childish while others might end up feeling too extreme. My parents were introducing me to slashers and Stephen King adaptations before I could tie my shoes, but that's not a flex so much as it is acknowledging that every child develops differently. Get to know your kiddo, get an idea of what won't give them nightmares for weeks, and act accordingly. If you need any additional titles, here are some other tried and true greats to enjoy this holiday season. Happy haunting!
"Hocus Pocus"
"Monster House"
"Arachnophobia"
"Beetlejuice"
"Goosebumps"
"Ghostbusters"
"Mr. Boogedy"
"Frankenweenie"
"The Nightmare Before Christmas"
"Coraline"
"Nightbooks"
"The Adventures of Ichabod and Mr. Toad"
"Return to Oz"
"The Monster Squad"
"Lady in White"
"Something Wicked This Way Comes"
"Hotel Transylvania"
"Poltergeist"
"The Dark Crystal"
"Edward Scissorhands"
"The Witches"
"The Spiderwick Chronicles"
"The Worst Witch"