'The Monster Squad' Was Released 25 Years Ago Today: Fred Dekker Talks About The Film's Reception And Anniversary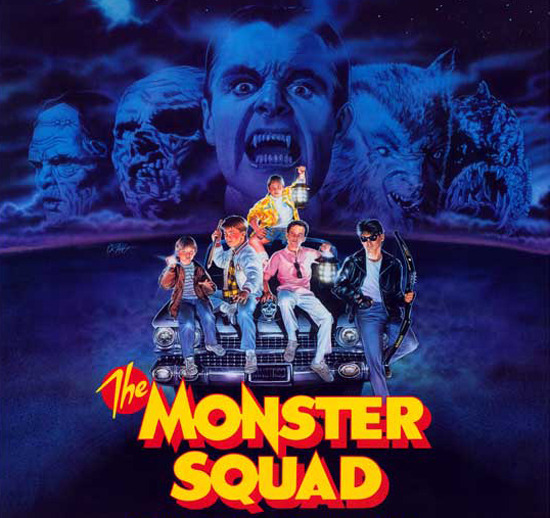 The one thing almost everyone knows about The Monster Squad is "Wolfman's got nards." What started as a seemingly throwaway line of dialogue struck a chord with audiences and, to this day, remains a must-know geek quote. Outside of that, though, The Monster Squad, directed by Fred Dekker and co-written by he and Shane Black, is a mostly forgotten piece of eighties entertainment. The film was released on August 14, 1987 – 25 years ago today – and that weekend ended up 12th at the box office behind such would be classics like RoboCop and The Lost Boys. Its $1.9 million opening weekend accounted for over half the film's total gross and it would be out of theaters in two short weeks, making hardly a blip in a stellar year that brought us not only the two films mentioned above but The Untouchables, Predator, Dirty Dancing, Wall Street, Full Metal Jacket, Evil Dead II , Spaceballs, Hellraiser and Raising Arizona, just to name a few.
Let's be honest. 2012 is the 25th anniversary of all those films too and all are, surely, more deserving of their own column. But we always talk about Full Metal Jacket, Evil Dead II and RoboCop. Who ever talks about The Monster Squad? I know, as a seven-year-old boy, no film excited me more. It made me go out and pretend to fight monsters, start my own monster club with my brother and even pay to have our own business cards made, just like in the movie. Yes, it's just a simple little story of a bunch of kids who band together to fight Dracula, the Mummy, the Wolfman and the Creature from the Black Lagoon, with a little help from Frankenstein, but if 25 years have told us anything, it's that The Monster Squad is much more than "Wolfman's got nards."
After the jump, read an 25th anniversary interview with the film's director Fred Dekker and some more of my personal ruminations on this, the silver anniversary of The Monster Squad.
Just to prove I was not lying about my nerdy statements above, I present this as evidence. The article continues after the photo: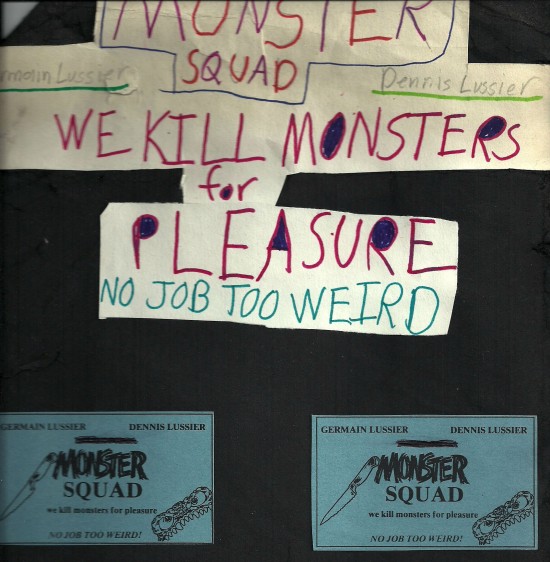 Though The Monster Squad was released on August 14, 1987, it's quite likely I (and most of you) didn't see the film until it hit home video. I honestly don't remember the first time I saw it. What I do remember was the feeling I got watching it subsequent times and how I followed the film ever since.
If you've read this far and, for some reason, have never seen The Monster Squad, here's a little recap. A group of elementary school kids who love monsters get their hands on a diary written by Van Helsing. It describes a ceremony that must be performed to keep the world safe from the likes of Dracula, Frankenstein and their buddies so the kids band together to fight the monsters and defeat the forces of evil, there by saving the world.
A movie like The Monster Squad, with the tone of Monster Squad, couldn't be made today (even though a remake has long been discussed). Little kids are in heaps of serious peril, they curse, they smoke, they say words like "f*****" and "retarded." In short, it portrayed kids like kids really were. That's one of the reasons why it slowly struck such a chord with audiences over the years. The members of The Monster Squad might have thought they were cool, but they really weren't. Each was an outcast in his or her unique way and as an audience member, you could relate to at least one of them.
There was Sean (Andre Gower), the leader, who seems together but is really just a dorky horror kid wearing a "Stephen King Rules" t-shirt in like 5th grade. There's Patrick (Robby Kiger), Sean's sidekick, whose best asset is his hot high school sister. There's Rudy (Ryan Lambert), the oldest member whose leather jackets and cigarettes make him look hip, but he's shunned and looked down upon by the older kids. Horace (Brent Chalem) is loyal, funny, but made fun of cause of his weight and Sean's little sister Phoebe (Ashley Bank) is vehemently excluded from the group until her innocent eventually changes everything.
That's just a sampling of the archetypal, fantastic characters written by Black and Dekker. All relatable, all individuals, all whom have arcs in the film. Couple that with the iconic Universal monster imagery (they're not officially those monsters, though, something the director gets into on the excellent DVD documentary) and you've got a a classic battle of good versus evil complete with that late Eighties, Shane Black edge.
While The Monster Squad slowly build an audience over the years with its VHS release, it wasn't until the Alamo Drafthouse hosted 20th anniversary screenings of the film in 2007 that it was even recognized as worthy of a DVD release. It's since become the object of t-shirts, Mondo posters, gorgeous Blu-rays and more. Plus the film holds up. Sure there are moments of unbridled cheese, cringy jokes and total predictability but The Monster Squad encompasses what many of us idealized growing up. Our nerdy, outsider tendencies becoming an asset and saving the day. What could be better than that?
I'll tell you what: an interview with director Fred Dekker, 25 years after the release of his movie. That's on the next page.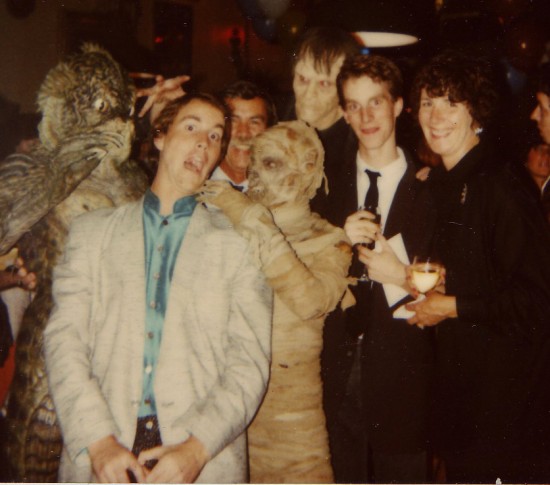 Above: A picture of Dekker (blue shirt) with his family from the world premiere in 1987.
/Film: The Monster Squad celebrates its silver anniversary today. Where were you on opening day, 25 years ago and what were the expectations at the time? When did those expectations change?
There's a tradition among filmmakers of taking a limo from theater to theater to check audience reactions. My hopes were that we had made a terrific movie that people would enjoy and would do good business. Those expectations changed at the first theater we came to. The audience seemed to be loving it, but you could count the patrons on two hands. That was the tenor of the rest of the evening, and the ultimate box office — at theater after theater, an appreciative but anemically small audience. It was a disaster.
When was the last time you watched the film in full and how do you think it has aged?
The last time I watched it from start to finish was at the Eastman House in Rochester, New York. The cons: some of the kids' wardrobe and haircuts, some clunky pacing and awkwardness in the early reels, some general cheese (and that damn song under the montage!). The pros: I'm really pleased with the tone of the film. It's self-aware, but not goofy, and ultimately heartfelt. Every time there's something bordering on camp (Wolfman's got you know-whats), something scary or touching happens, and vice versa. I think this puts it a cut above, and has aged it well. And I think the final reels are terrific. In some ways, I think it would fare better now than it did then.
Why do you think the film took so long its find its audience and now, 25 years later, has it reached – or eclipsed – your wildest expectations?
Let's face it, it's a sophisticated kid's movie — and when it opened, kids couldn't get in without their parents (it was rated PG-13). So the audience was mostly kids watching it on home video and cable and taking it to heart.
The film has experienced a resurgence over the past 5 years or so thanks to the Alamo screening, DVD/Blu-ray release, etc but even before that, the film had a cult following on video. Has it been difficult to process the fact that it took so long for the film to finally get the recognition it so rightfully deserves?
Yes.
Can you tell us a bit about the whereabouts of some of the key cast members?
Ryan Lambert (Rudy) is a rock musician in the San Francisco Bay Area. We're always looking for something to work on together. Andre Gower (Sean) lives in North Carolina and works as a film festival promoter. Ashley Bank (Phoebe) is in L.A. and has worked as a producer and stand-up comic. She recently got married. Michael Faustino (Eugene) is a technician in TV and movies, and recently had a son that looks just like him. Brent Chalem (Horace), sadly, died in the '90s. Liam Neeson (who was cast as Dracula's doppelganger in a scene we never shot) and Shane Black (my co-screenwriter) have sadly both faded into obscurity.
Obviously, it has ebs and flows, but overall – in the 25 years since the release of The Monster Squad, how often do you find yourself talking about the movie or thinking about the experience?
I'm asked to show the movie at least three times a year, and it's always fun to reminisce.
The general perception of your career is that, after RoboCop 3, you got placed in "director jail?" Would you agree with that assessment and how do you spend your days, these days?
That perception is pretty spot-on. I had written and was casting a comedy called MR. COOL for Paramount when ROBOCOP 3 was released, and the plug was pulled shortly thereafter. Since then I have mostly been working as a writer, including several unmade pilots and feature projects for James Cameron, Neal Moritz, Fox, TNT, Dreamworks and others — and the TV series 'Star Trek: Enterprise,' on which I was a writer and consulting producer. But mostly, I've been hoping somebody will call and offer me a movie to direct.
A remake of The Monster Squad has been in development for some years. Do you think it'll actually happen and if you could be involved, what would be your dream participation?
I hope not and my dream participation would be to make as much money as humanly possible for doing nothing whatsoever.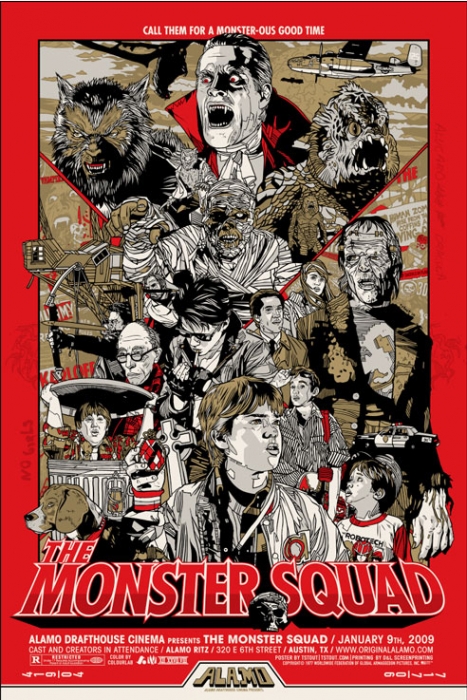 I'd like to thank Fred Dekker for agreeing to my quick email interview as well as writing and directing one of the defining movies of my childhood. It helped introduce me to a world of genre films I'd never known about and has remained one of my favorite movies ever. Mummy came in my house and changed my life.
Happy 25th birthday, Monster Squad. Time to blow a whole in limbo.