The Invitation Is Packed With Dozens Of Vampire And Horror Easter Eggs [Exclusive]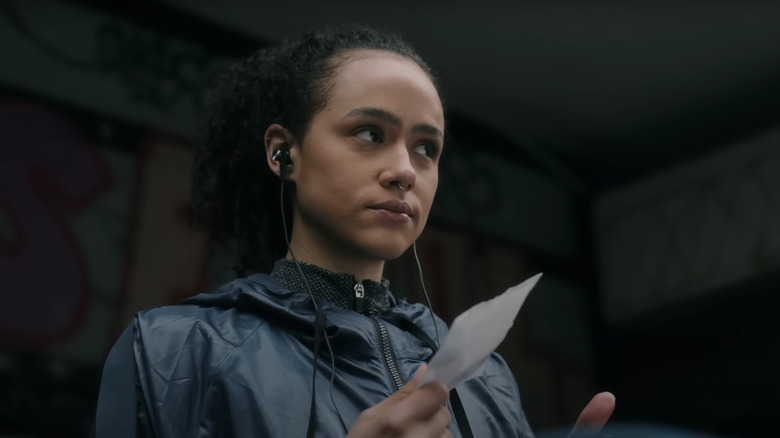 Sony Pictures Entertainment
There's a new vampire movie in theaters this weekend, and it happens to share the title of a Karyn Kusama film: "The Invitation." This is not that Dracula project from Kusama, which received a stake to the heart earlier this year, but rather a different spin on the same 125-year-old mythos from director Jessica M. Thompson. "The Invitation" tells the story of a young woman named Evie, played by Nathalie Emmanuel ("Game of Thrones"), who heads out to the English countryside for a wedding with the wealthy white cousin she never knew she had.
Will it be a Red Wedding or something more along the lines of a Billy Idol song? Well, based on the trailer for "The Invitation," it looks like they'll be serving fresh-squeezed blood there, so you can probably guess the answer to that.
In "The Invitation," viewers are cordially invited to hunt not just vampires but also Easter eggs. In Jack Giroux's interview with Thompson for /Film, the director promised there are "lots of little Easter eggs in there for the hardcore fans, anyone who wants to go through and find them all." She said:
"Some people have messaged me about things that I did not expect them to pick up just from the trailer alone. They're not just nods to 'Dracula.' Some of them are nods to some of my favorite horror films. So for instance, the wallpaper and the floor of the hall are from 'The Shining,' the same pattern as the carpet. So some people have noticed that, my little nods to Kubrick. I've got a nod to Tony Scott from 'The Hunger,' which is one of my favorite vampire films, so I've included little nods. I always love doing that and to pay homage to the greats."
All that vampire homework this year might finally pay off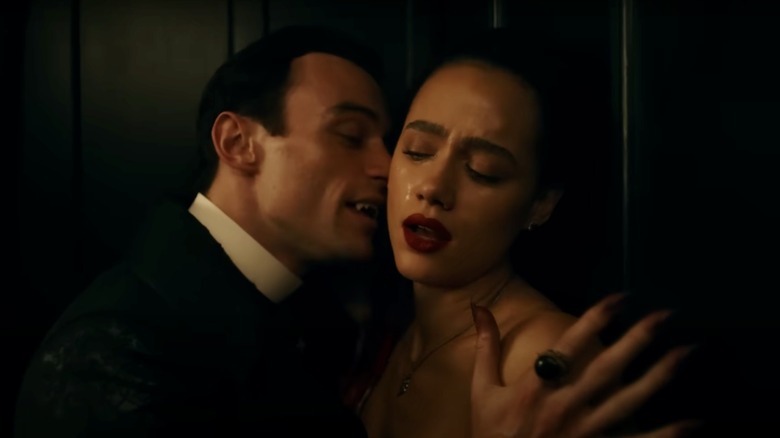 Sony Pictures Entertainment
Any movie that is quite literally wallpapered with homages to "The Shining" has my attention. Thompson also mentions "The Hunger," a film we looked at back in May as part of our Year of the Vampire series. If you've been following along with that series and doing your homework, you may have read about and seen a lot of vampire movies this year. In that case, you should be well-prepared to spot Easter eggs in "The Invitation," a movie that name-checks a certain Mr. Harker, as in Jonathan Harker, the character immortalized by Keanu Reeves (and no other actor ever) in "Bram Stoker's Dracula." 
See? It's all been leading up to this. 
Here's the official synopsis for "The Invitation" via Sony Pictures Entertainment:
After the death of her mother and having no other known relatives, Evie (Nathalie Emmanuel) takes a DNA test ... and discovers a long-lost cousin she never knew she had. Invited by her newfound family to a lavish wedding in the English countryside, she's at first seduced by the sexy aristocrat host but is soon thrust into a nightmare of survival as she uncovers twisted secrets in her family's history and the unsettling intentions behind their sinful generosity.
"The Invitation" is in theaters now.