Batgirl Directors Were Blocked From Access To Their Own Footage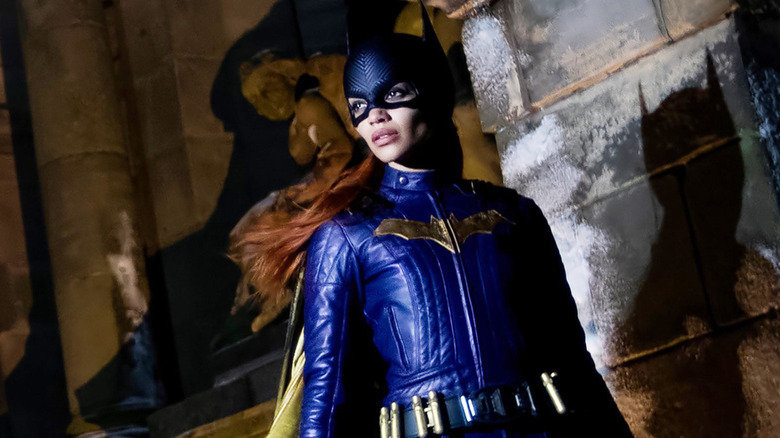 Warner Bros. Pictures
Test footage from "Deadpool" was infamously leaked online in July 2014, only to garner an enthusiastic response online that, in no small way, led directly to the film being green-lit not long after. Leaked material was also at the heart of the notorious "Release the Snyder Cut" campaign, with Zack Snyder fueling the movement by dropping black-and-white stills from his "Justice League" cut onto social media — all of which led to Warner Bros. announcing it would premiere the movie on HBO Max.
With the "Batgirl" movie having recently been shelved in the middle of post-production (a decision that sent shockwaves through the industry, to put it gently), it's been hard not to wonder if history could repeat itself so far as leaked material from the comic book film somehow miraculously finding its way online. There is, however, a key difference this time. Where there was nothing stopping Warner Bros. from spending a whole lot of money to finish "Zack Snyder's Justice League" and release it to the public, the studio is legally barred from profiting off of "Batgirl" after canceling the DC Extended Universe movie for a tax write-off (one that also included the animated sequel "Scoob! Holiday Haunt").
If you were hoping "Batgirl" directors Adil El Arbi and Bilall Fallah would at least get to hold onto some of the movie for personal use, well, think again. In an interview with Skript that was translated from French to English (via The Direct), Fallah reveled he was blocked from accessing footage from the film in the wake of its cancelation:
"No, we have nothing. Adil called and told me, 'Go ahead! Shoot everything on your phone!' I went on the server... Everything was gone. We were [like]... 'F****** s***!'... We did not [even] keep [the scenes] with Batman in it."
'We were right in the middle of editing'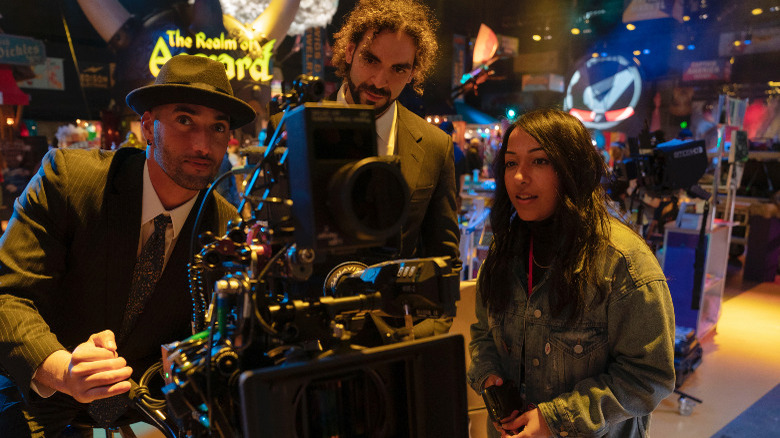 Marvel Studios/Disney+
It's worth noting that Adil & Bilall, as they're collectively known, make it clear in the interview they weren't planning to go behind the back of the newly-formed Warner Bros. Discovery and use the "Batgirl" footage to profit in some fashion. Rather, their goal was to document as much of the movie as possible on their phones, if only to have some kind of record of a project they and their cast and crew had already worked on tirelessly for months on end (years even, in some cases). It's only understandable they would want to have something to remember it all by.
The directors also clarified that, despite theories to the contrary, there was still a fair amount of work to be done on "Batgirl":
"The guys from Warner Bros. told us it was not a talent problem on our part or the actress [Leslie Grace], or even the quality of the movie. We were right in the middle of editing. There was a lot of work to get done, so it was not like the movie was finished! Warner Bros. told us the cancelation was a strategic change, a shifting in management so they could save some bucks."
While Adil & Bilall clearly understand this is a case of the "business" side of show-business rearing its head, that doesn't make the situation all that easier to swallow (least of all after the pair were in Morocco for El Arbi's wedding when the news first broke). At the same time, of course, Warner Bros. Discovery is well within its rights to restrict access to the "Batgirl" footage, lest it end up with another leak-related snafu on its hands. But knowing that doesn't make the company's treatment of its employees any less heartless, either.