How Rick And Morty Taught Dan Harmon To Trust His Collaborators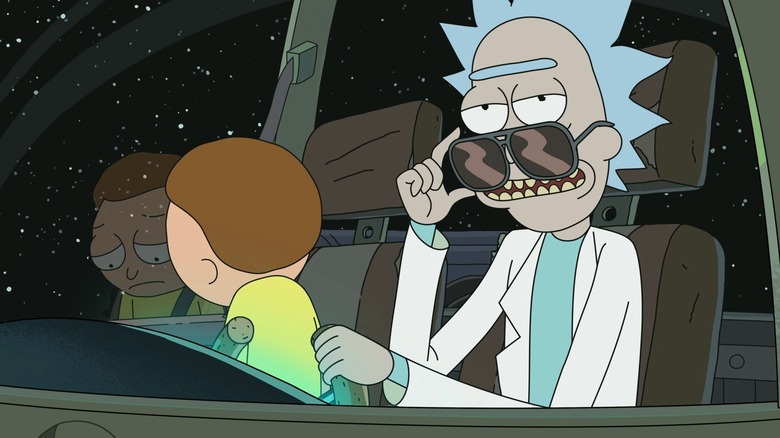 Adult Swim
Writer and showrunner Dan Harmon is no stranger to interpersonal conflicts between creatives. He's somewhat notorious for causing havoc behind-the-scenes, whether it's clashing with Chevy Chase and the network hard enough on the set of "Community" to get fired, or just acting like a jerk — but the good news is that he's constantly growing as a person. He gave one of the best formal apologies of all time to writer Megan Ganz after sexually harassing her on the set of "Community," and he created the podcast "Whiting Wongs" with writer Jessica Gao after she called him out for some of his toxic white male behavior. ("Whiting Wongs" is incredible and I highly recommend that everyone on this planet listen to it, and it's a complete series, so what are you waiting for?)
Harmon has come a long way from his early days in the business, and has gotten better at working with other people. In a roundtable interview attended by /Film's Ethan Anderton, Harmon explained that working on "Rick and Morty" really pushed him to be more comfortable with collaborators, and it's made the series better as a result. 
From curmudgeon to ... Uncle Gandalf?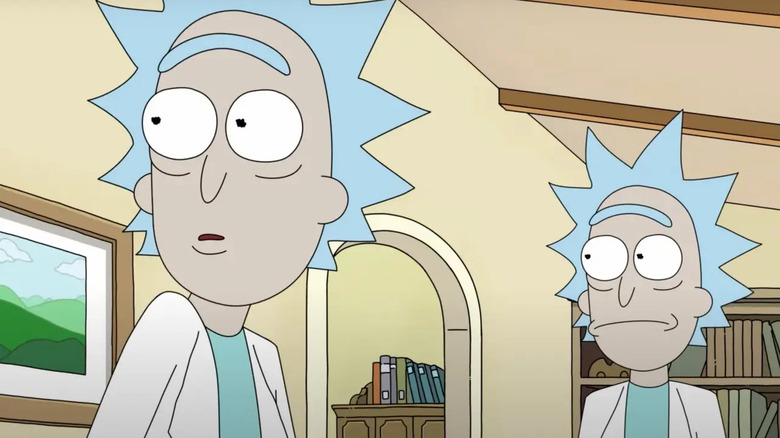 Adult Swim
"Rick and Morty" has been around for a decade now, cementing its wacky cartoon comedy style in the world of adult animation. In order to keep the series fresh, younger writers on the team are asked for input because Harmon trying to sound hip is going to be like Rick himself trying to be a young, cool guy. Stepping back a bit and giving up control isn't easy for Harmon, but he's learned the importance of trusting in your team: 
"The challenge for me has been in trusting collaborators, because I'm 49 and the show is 10 years old, so what is its hope of staying fresh and relevant? The answer is younger writers and not me going away but me deferring, trusting them, listening to them ... My wisdom has to start replacing what used to be me being like, 'It has to be like this, because I'm passionate. I care about TV. I'm 32 years old. Me, me, me.' You don't want a 49-year old guy doing that because then he becomes a villain. So I try to become Uncle Gandalf and say, 'I did this a long time ago. So I can tell you what's going to be difficult about it. Like, let's figure this out.'"
While I'm not entirely sure what "Uncle Gandalf" is, picturing Harmon with his big bushy beard and a long pipe, talking to his junior writers like a houseful of hobbits is a lot of fun. 
Teamwork makes the dream work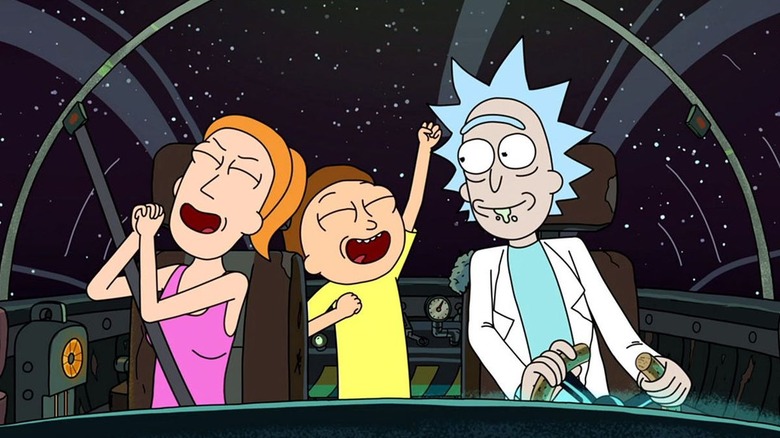 Adult Swim
By serving as a mentor and guide to his team of writers, Harmon can help steer the ship without controlling every single aspect of production. It's a big moment of growth for the creator, who has more than a little in common with cartoon grandpa Rick Sanchez, voiced by co-creator Justin Roiland. Throughout the series, Rick has had to learn how to trust his daughter Beth (Sarah Chalke) and his grandkids, Summer (Spencer Grammar) and Morty (Roiland), and fans might be able to see a connection between Harmon's growth as a person and Rick's. Both are foul-mouthed older men with brilliant minds and a lack of patience, so it's hard not to draw comparisons. 
Harmon has also had to back off a little bit because he has multiple projects in the works and a man can only be in so many places at once. In addition to season 6 of "Rick and Morty," his new series, "Krapopolis," will premiere in 2023. There are also two "Rick and Morty" spin-offs: "The Vindicators 2," which is available to stream in full on YouTube, and an anime project that is currently in production at Adult Swim. Go, Harmon, go! 
"Rick and Morty" season 6 will debut on September 4, 2022 at 11:00 PM ET/PT on Adult Swim.