Krapopolis: Everything We Know So Far About Dan Harmon's Adult Animated Comedy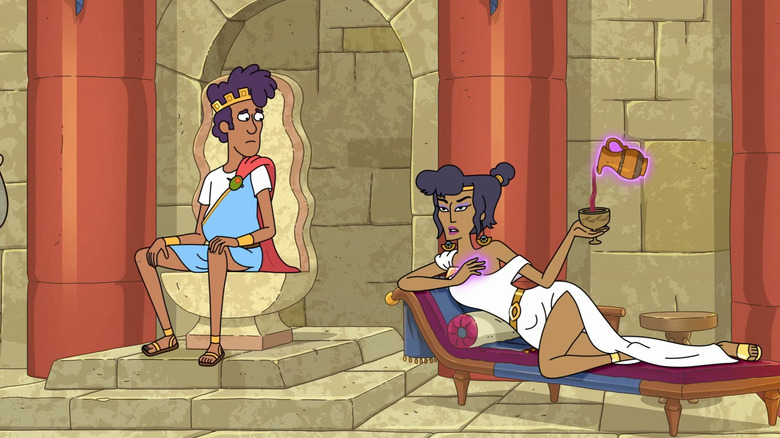 Fox
If you were at San Diego Comic-Con, you likely saw a large billboard for a new animated series called "Krapopolis" through the windows of the convention center. It showed some characters that looked like they were from ancient Greece, and under the title, the billboard read, "From Dan Harmon, co-creator of 'Rick and Morty,'" which should give you an idea about the show's humor.
"Krapopolis" is coming to Fox, and is going take us back to one of Europe's first bustling cities, where gods, humans, and monsters co-exist. According to the text under the preview clip that was released on YouTube, this show isn't just another comedy:
"Krapopolis" is the first-ever animated series curated entirely on the Blockchain, as Fox and Bento Box enter the NFT business. The company will launch a dedicated marketplace for Krapopolis that will curate and sell digital goods, ranging from NFTs of one-of-a-kind character and background art and GIFs, as well as tokens that provide exclusive social experiences to engage and reward super fans.
Well then. An NFT show? I cannot be the only one who doesn't quite get the appeal of NFTs (please don't try to explain them to me), but it will be interesting to see how that part of the series does. And for everyone who doesn't care about NFTs (we are legion!), we're curious to see what the new animated show from the mind behind "Community" looks like.
What we think Krapopolis will be about
Thankfully, we don't need to speculate too much here, because actually have some information about what "Krapopolis" will be about. Here is the synopsis: 
[A] highly anticipated new animated series from Dan Harmon, Krapopolis centers on a flawed family of humans, gods and monsters that tries to run one of the world's first cities without killing each other.
The show tells the story of Tyrannis, King of Krapopolis, who is a mortal son of a goddess and a mantitaur, described as a "half centaur [horse + human], half manticore [lion + human + scorpion]." He's running the city, making questionable decisions, and trying to deal with his very interesting and dysfunctional family. 
As you can see in the clip, Tyrannis' current problem is Medusa on the loose. Medusa, of course, can turn people to stone just by looking at them. His family isn't helping matters one bit, with his goddess mother drunkenly turning into a bird and lamenting ceilings, and his father talking about having sex with Medusa. His encounter with the famed Gorgon sister only turns one part of him to stone, you see, and ... well, you get the idea. 
What we know about the cast and crew of Krapopolis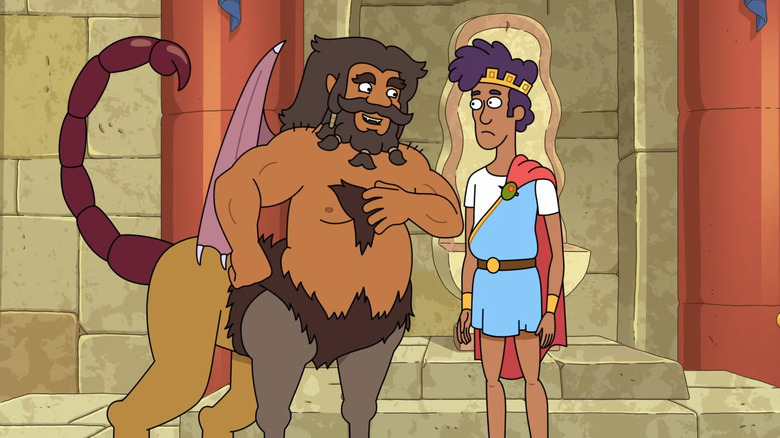 Fox
The cast for "Krapopolis" includes Richard Ayoade ("The IT Crowd"), who voices Tyrannis. He's referred to as a "benevolent King" who is trying to "make do in a city that lives up to its name." His mother is Deliria, voiced by Hannah Waddingham ("Ted Lasso"), who is the goddess of self-destruction and questionable choices. His mantitaur father, Shlub, is played by Matt Berry ("What We Do in the Shadows"). According to a press release, he's "oversexed and underemployed, clams to be an artist and has literally never paid for anything, in any sense of that word, for his entire life." 
Pam Murphy ("Mapleworth Murders") lends her voice to the character of Stupendous, Tyrannis' half sister, the daughter of Deliria and a cyclops. Duncan Trussell ("The Midnight Gospel") plays Hippocampus, Tyrannis' half brother, son of Shlub and a mermaid and described as "a hot mess, biologically speaking." 
Maurice LaMarche ("Futurama," "Animaniacs") posted a pic of himself on Instagram in front of a sign for the show, saying, "I guess I can talk about this now," and the voiceover in the clip sort of sounds like him (or is it "Community" actor Keith David?), but we don't have any information about LeMarche's specific involvement yet. 
According to Variety, the Comic-Con panel revealed some guest stars as well, including Susan Sarandon, Will Forte, Michael Urie, Jane Lynch, Amber Stevens West, Yvette Nicole Brown, and Dave Franco.
Dan Harmon will executive produce, with Jordan Young serving as showrunner. Pete Michels will act as supervising director. The series will premiere a preview episode on Fox on November 27, 2022, and the series itself will launch in 2023.