Superhero Bits: A Congressman Weighs In On Batgirl, She-Hulk Post-Credits Scenes & More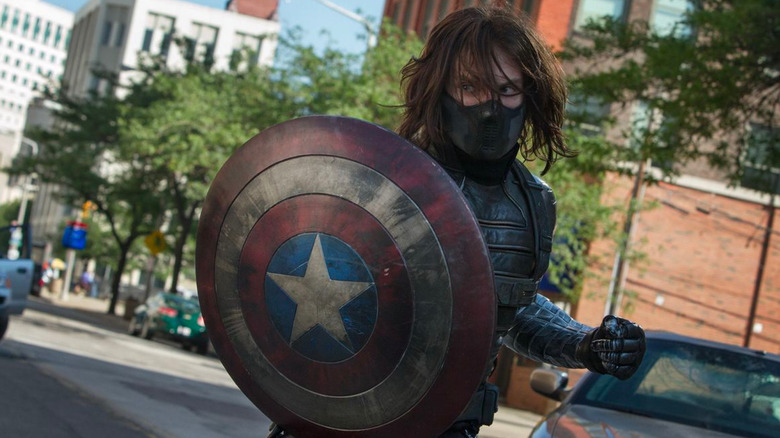 Marvel
(Superhero Bits is a collection of stories, updates, and videos about anything and everything inspired by the comics of Marvel, DC, and more. For comic book movies, TV shows, merchandise, events, and whatever catches our eye, this is the place to find anything that falls through the cracks.)
In this edition of Superhero Bits:
Make sure to stay after the credits start rolling on "She-Hulk."
A member of the government was weighed in on "Batgirl."
A DC show is being removed from HBO Max.
Marvel Comics is starting a new era for "Fantastic Four."
A new era for Fantastic Four is nearly upon us
Marvel Comics has revealed that a new ongoing "Fantastic Four" title is set to debut this November. Hailing from writer Ryan North and artist Iban Coello, the new #1 issue will give readers a new entry point for Reed Richards and the gang. As for the story at hand? The logline for the new series reads as follows:
Something has gone terribly wrong in New York, sending the Thing and his wife Alicia traveling across America to escape it. But when they stop in a small town for the night and wake up the morning before they arrived, they find themselves caught in a time loop that's been going on since before they were born... That's been going on since before they were born... That's been going on since before they were born...
Be sure to check out the initial cover art for yourself above.
Shazam Gold Label figure revealed by McFarlane Toys
The folks at McFarlane Toys have teased something that should be of interest to Shazam fans. In the above Instagram post, we get a little peek at the upcoming Gold Label figure based on the DC Comics hero, which will be available exclusively at Walmart. No word yet on pricing details or a release date, but one imagines this will be hitting shelves around the time that "Shazam! Fury of the Gods" is getting ready to hit theaters later this year.
Say what?! Batman and The Joker are teaming up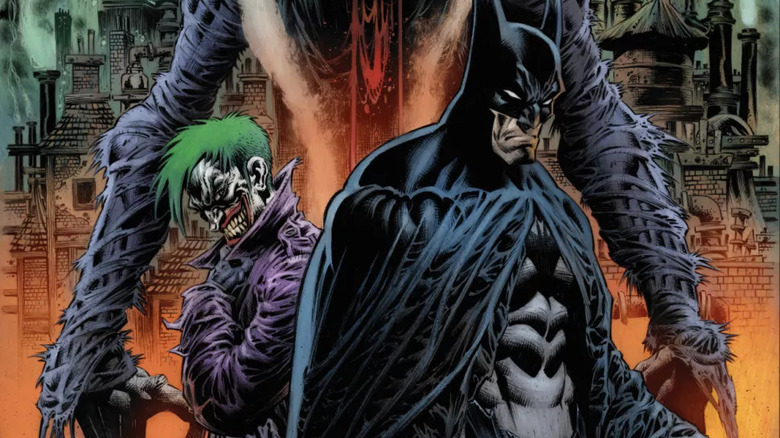 DC Comics
This is not a drill: after decades of being mortal enemies, Batman and the Joker are teaming up in the pages of DC Comics. The publisher has announced a new series titled "Batman/The Joker: The Deadly Duo," which is set to hit shelves in November. The book hails from legendary comic book creator Marc Silvestri who has put together a "meticulously crafted" story for readers to enjoy. What will it entail? The synopsis reads as follows:
The Joker will go to any lengths to get Harley Quinn back after a strange and mysterious culprit abducts her. But who would be brazen enough to incur The Joker's wrath by committing such an unthinkable act? To compound the terror, mysterious, Joker-like creatures are stalking the streets of Gotham, collecting severed heads, and no one knows why. Furthermore, Jim Gordon is missing, and after receiving a package containing a bloody piece of Gotham's police commissioner, Batman realizes he must be willing to do anything to save him. But how? When The Joker proposes an uneasy alliance with Batman, the answers to those questions begin to become clear—and they will shake Gotham City and the Bat-Family to their cores!
"Batman/The Joker: Deadly Duo" #1 hits shelves on November 1, with the second issue set to arrive on December 6.
Anti-LGBTQ+ modders took aim at Marvel's Spider-Man, and it didn't go well
Hi! We've removed the content and banned the users. ModDB is an inclusive environment for all and we do not permit targeting marginalised groups. Our content moderation is largely automated but when identified, we have a zero tolerance policy for this kind of content. https://t.co/0leqjUxqJD

— ModDB (@ModDB) August 17, 2022
Recently, "Marvel's Spider-Man" arrived on PC for the first time. This not only made the game far more accessible, but it opened the door for people to have fun with various mods. Well, recently, a certain modder thought it would be a good idea to go through and remove every Pride flag from the game. As we can see, the folks at ModDB very quickly removed the mod and banned the users from their platform. Similarly, Nexus Mods took a hardline stance against this sort of behavior, saying the following in a blog post:
"To address the banning, which is what a lot of people want to focus on, the mod was uploaded by a sock puppet account (i.e. a newly made account by someone who already has an account on the site) and uploaded under the name "Mike Hawk". It was very clearly done deliberately to be a troll mod. The fact the user needed to make a sock puppet like a coward to upload the mod showed their intent to troll and that they knew it would not be allowed. Had they not been a coward and had they used their main account instead, we would have simply removed the mod and told them that we did not want to host it, only banning them if they reuploaded it again after being fairly warned. The creation of the sock puppet removed any doubt and made it a very easy decision for us. Both the sock puppet account and the user's main account have been banned."
The post also went further adding, "In regards to the replacement of Pride flags in this game, or any game, our policy is thus: we are for inclusivity, we are for diversity. If we think someone is uploading a mod on our site with the intent to deliberately be against inclusivity and/or diversity then we will take action against it. The same goes for people attempting to troll other users with mods deliberately to cause a rise. For our part, we will endeavor to do a better job of moderating our website to this ethos ourselves." In short, mod away, just don't expect websites to put up with discrimination.
Aquaman: King of Atlantis is being removed from HBO Max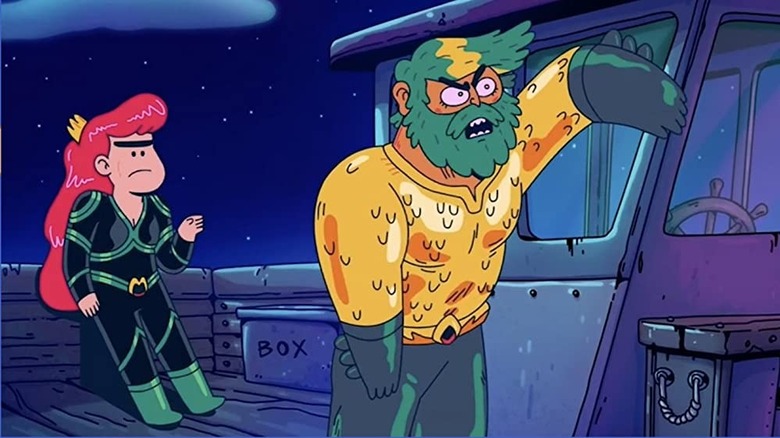 HBO Max
The new regime at Warner Bros. Discovery has recently been implementing a new strategy at the company as it relates to streaming, and that has, in turn, led to TV shows and movies being removed from HBO Max. The latest round of titles to get the ax from the streaming service has been revealed — and it includes "Aquaman: King of Atlantis." Yes, the animated miniseries produced by James Wan is no longer going to be available to subscribers, though it is likely that it will be available to rent and/or purchase on VOD. Still, this gets at the heart of the matter which is that streaming is, increasingly, not a permanent home for anything. Physical media still has its place. "Aquaman: King of Atlantis" is available digitally or on DVD. 
Mystery Science Theater 3000 takes on The Batwoman this Friday
We may not be getting a "Batgirl" movie, but the folks at "Mystery Science Theater 3000" are here to help fill the void. Sort of. As we can see above, the latest film the show will be taking on is an unofficial take on "The Batwoman" that was originally released in 1968. The description of the film alone is worth raising an eyebrow over, not to mention the artwork. 
Congressman Joaquin Castro has weighed in on the Batgirl being canceled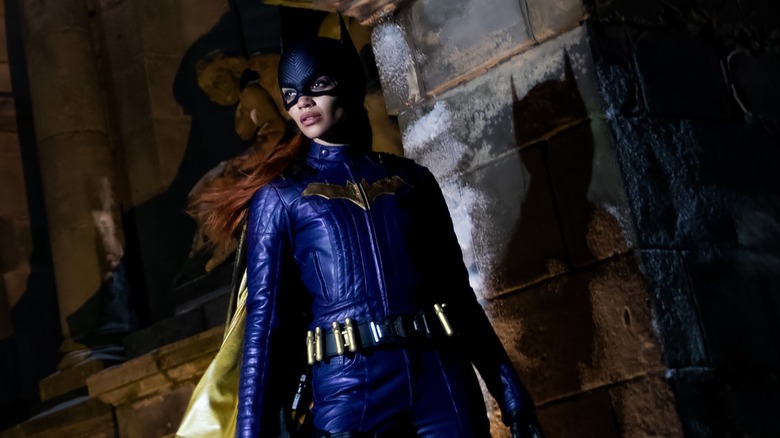 Warner Bros.
Things with "Batgirl" has escalated beyond those who worked on the film directly. Now, Rep. Joaquin Castro, a Congressman, specifically a Democrat from Texas, weighed in on the recent cancellation of the nearly-completed film by Warner Bros. Discovery. In a piece for The Hollywood Reporter examining the larger issues at the company, Castro expressed his concerns.
"There's been no indication with Batgirl that they'll shop it around. So this incredibly gifted Latina actress and wonderful story get thrown down the drain for a tax write-off."
The actress he's referring to is Leslie Grace, who starred as Barbara Gordon in the movie. THR's piece also explains that several government officials expressed concern about the merger between WarnerMedia and Discovery as it could have an impact on diverse and inclusive programming. Hence, Castro is none too happy about what is going on.
Heads up! Make sure to stay during the credits while watching She-Hulk
The first episode of "She-Hulk: Attorney at Law" has officially arrived on Disney+. Those who are planning to watch the show would do well to sit through the credits as at least the first four episodes of the series have post-credits scenes of some kind. We won't go into spoilers here but, as is often the case with MCU stuff, it's not over once the credits begin to roll. Plan accordingly. New episodes will drop every Thursday on Disney+.
The Winter Soldier is finally coming to Marvel's Avengers
Square Enix recently revealed its August development update for "Marvel's Avengers," a game that has been out for nearly two years now. Despite the game not selling nearly as well as the developer had hoped, it is soldiering on with new updates and content here and there. To that end, as the above artwork indicates, Bucky Barnes, aka the Winter Soldier, is finally going to be making his way to the game. "As a result of the events of No Rest for the Wicked and Cloning Lab, James Buchanan 'Bucky' Barnes, the Winter Soldier, will rejoin his former allies and his mentor Steve Rogers," the update reads. No word yet on when precisely the character will arrive but he was described as "a hybrid brawler and marksman." So those who are still playing the game should be on the lookout.