She-Hulk: Attorney At Law Review: A Messy, Meta Legal Sitcom With Humor That Mostly Misses The Mark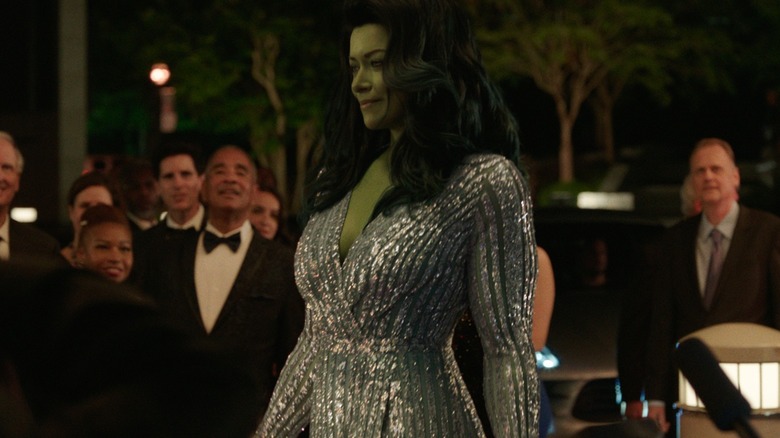 Marvel
Jenn Walters doesn't want to be patronized. The hero of Marvel's latest TV series, "She-Hulk: Attorney At Law," is a successful lawyer who is promptly launched into the spotlight when her new secret identity as a six-foot-seven green woman is revealed to the world. As the series shows it, Jenn (Tatiana Maslany) was already subject to everyday sexism even before going green, but after her Hulk status comes into the light, her unique body and, as one lawyer puts it, "sideshow" identity, makes her even more commodified and objectified.
In "She-Hulk: Attorney at Law," the hero shrugs off the haters with confidence, but unfortunately, it's harder to shrug off the series' own patronizing attempts to tackle its subject matter. With distracting CGI, hit-or-miss humor, and a flippant approach to complex topics, what could have been a groundbreaking series for the MCU is instead shaping up to be one of the weakest entries into the Marvel TV canon yet. 
The series pulls from Charles Soule's and Dan Slott's runs of the "She-Hulk" comics, among others, to tell the story of Jenn's early days as a Hulk-in-training. Each episode shows her balancing the responsibilities of being a hero — and a woman — in the spotlight with her job as a lawyer specializing in superhuman law. Compared to other Marvel shows, "She-Hulk: Attorney at Law" is fairly serialized, with client-of-the-week style cases that offer ample crossover opportunity with other MCU properties. Sorcerer Supreme Wong (Benedict Wong), Jenn's cousin Bruce Banner (Mark Ruffalo), villain Abomination (Tim Roth), and fan favorite "Daredevil" lawyer Matt Murdock (Charlie Cox) are all set to appear in the nine-episode first season.
An Ally McBeal-influenced comedy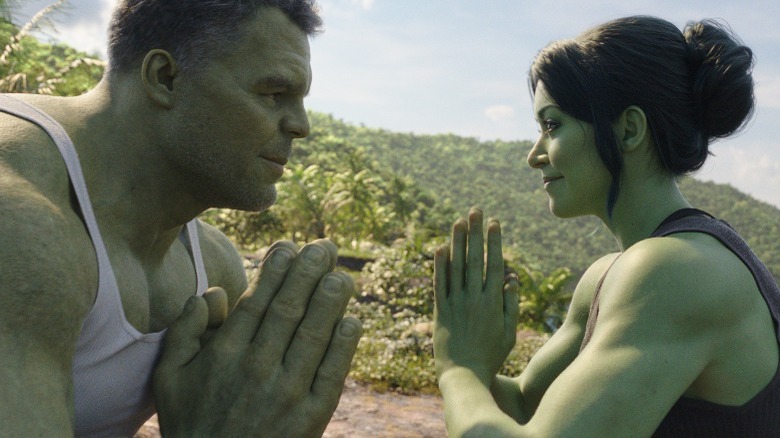 Marvel
Like most projects in Marvel Phase 4, "She-Hulk: Attorney at Law" has a comparatively distinctive filmmaking voice. When writer-creator Jessica Gao's humor shines through, as it does in refreshingly mundane mid-credits scenes that are often laugh-out-loud funny, the show feels like a frank and enjoyable respite from the more self-serious end of the Marvel spectrum. The series, which hews much closer to a legal sitcom than an action-adventure saga, possesses a streak of irreverent humor in the vein of "Ally McBeal," and the jokes that land are excellent.
Yet too much of "She-Hulk: Attorney at Law" falls flat, or worse, employs cringing, dated girl-power one-liners that seem more at home on tacky fridge magnets or in "Sex and the City" scripts than in a show this side of the 2020s. The series centers many of its punchlines around gender dynamics, yet it's almost broadly farcical, full of leering bargoers, dismissive male coworkers, and a whole slew of garden variety sexist jerks. To be clear, this isn't a bad thing: it's the type of slightly heightened comedic context that makes shows like "Girls5eva" and "Broad City" work. But Marvel has never been particularly well-versed at cultural commentary, and too often here, it's dull where it needs to be pointed.
Hulk-smashing the fourth wall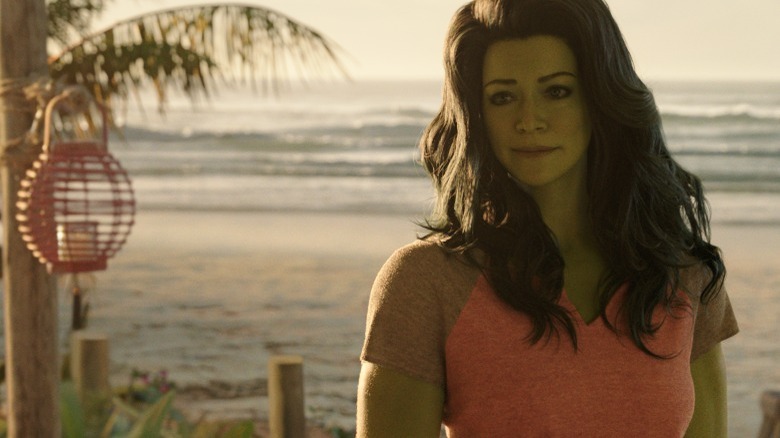 Marvel
The series is all about what being She-Hulk means to Jenn in her day-to-day life, and the topic sometimes serves as a jumping-off point for conversations with Bruce or Jenn's best friend Nikki (Ginger Gonzaga). She talks about important stuff, like the fact that women who show big emotions like She-Hulk can end up subject to gender-based violence — but just as often worries about dating apps, or the pressure to have the perfect hair, or the way the news describes her. Not only is every observation given equal attention, from vital issues to shallow quibbles, but most of them are also communicated via one-liners, then dropped entirely right afterwards. Too often, it feels like paying lip service, compressing what could be meaningful representation into an endless stream of cliched sound bites.
Of course, plenty of Marvel fans won't approach "She-Hulk: Attorney at Law" with representation in mind. Even as a superhero series, though, it leaves some things to be desired. Clunky scripts employ guest stars with varying degrees of success, from the mostly enjoyable to the painfully unfunny. Thanks to both Jenn's candor as a character and the show's adaptation of a fourth-wall-breaking gimmick that began with John Byrne's "Sensational She-Hulk" comics, the series is able to operate from a more meta point than any other Marvel title.
This is excellent when it works, and awful when it doesn't. The show underutilizes Jenn's asides to camera, offering them less as a chance to quip about the MCU and more as a self-conscious sort of pre-apology for narrative choices that might annoy fans. Weirdly, the Jenn who talks to camera feels deferential to the unseen viewer, while in-story Jenn is defiant in the face of public scrutiny. Ultimately, the fourth wall break feels like a wash, and never adds as much to the story as it does on the comic book page.
Maslany is the high point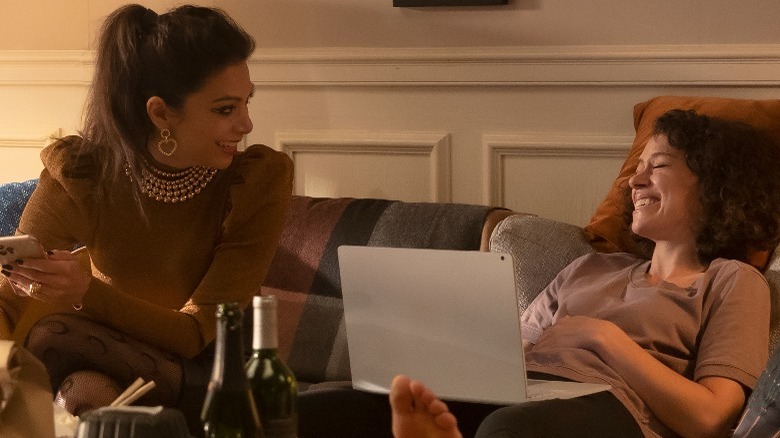 Chuck Zlotnick/Marvel
When all else fails, Maslany is the series' high point and undeniable draw. The versatile actor has already proven her chameleonic abilities ten times over in "Orphan Black," and she easily slides into the role of a fun-loving, outspoken hero here. She's charming, funny, and more than most characters in the MCU, seems like someone who would be a lot of fun to hang out with. The show's CG and action sequences are about as inconsistent as the visuals for "Thor: Love and Thunder" were earlier this summer, sometimes highlighting Maslany's winning performance and other times obscuring it.
In the end, "She-Hulk: Attorney at Law" has ingredients that should work, but they feel as if they've been mismeasured along the way. Observant but rarely meaningful, light-hearted but not often funny, and visually lacking, the latest Marvel series so far appears to be an exercise in wasted potential.
"She-Hulk: Attorney at Law" begins streaming on Disney+ Beginning August 18, 2022.