Everything Everywhere All At Once Becomes The First A24 Movie To Hit $100 Million At The Box Office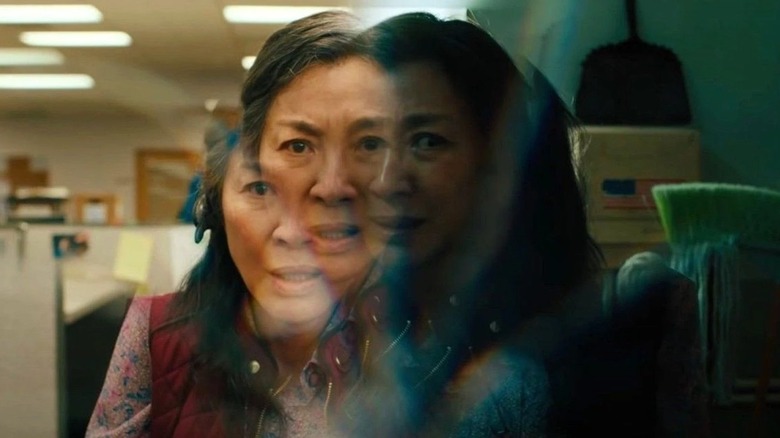 A24
If you're living in a universe where you live under a rock (or are a rock) and don't have access to the latest movies and shows, then it would be perfectly understandable if you didn't know about "Everything Everywhere All At Once." Otherwise, you have no excuse for avoiding this movie from the filmmaking duo known as Daniels (made up of Daniel Kwan and Daniel Scheinert). After seeing it at SXSW, our own Jacob Hall called it "the best movie to hit theaters since the pandemic began." Thanks to rave reviews and strong word of mouth, the film held strong at the box office and eventually became indie hit-maker A24's highest grossing movie of all time.
Following a return to theaters for another limited run, with an all-new introduction from the directors and eight minutes of outtakes, the critically acclaimed tale of an exasperated laundromat owner who learns that she is the key to saving the multiverse has racked up another milestone for the studio. Now, the film starring Michelle Yeoh, Ke Huy Quan, Stephanie Hsu, and Jamie Lee Curtis has earned the distinction of being the first A24 project to hit $100 million at the global box office.
To reach that benchmark, it has pulled in huge numbers all over the world since it debuted back in March. According to Variety, the deep-thinking and absolutely bonkers multiversal adventure generated $68.9 million in the United States, then went on to perform well in other top-earning territories like the United Kingdom ($6.2 million), Canada ($5.1 million), Australia ($4.5 million), Russia ($2.4 million), Taiwan ($2.3 million), and Mexico ($2 million). Add in the $650,000 from the 1,490 locations that started presenting the re-release over the weekend and you've got a pretty good stew going.
The less sense it makes, the better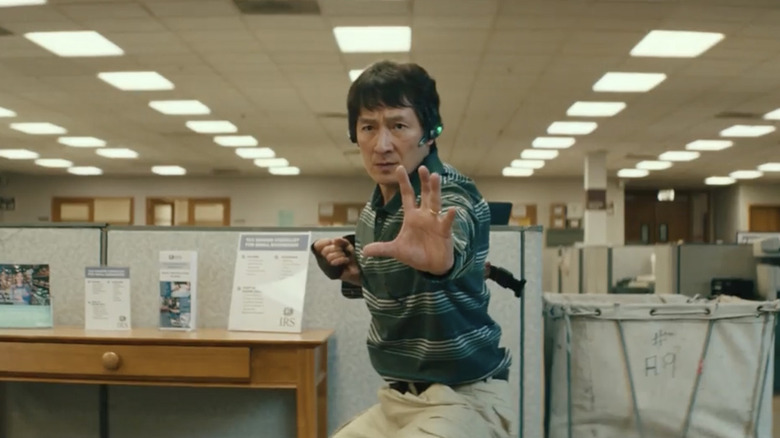 A24
Before "Everything Everywhere All At Once" came along, A24's top grosser was the grim horror "Hereditary," which topped off at $80 million worldwide, followed by "Lady Bird" ($78 million) and the Oscar-winning "Moonlight" ($65 million). And though it's not bringing in the same numbers as the Wang family's deeply relatable story of generational trauma, the independent film house also logged another hit this year with Dean Fleischer Camp's "Marcel the Shell With Shoes On," an incredibly wholesome children's film starring Jenny Slate's viral internet sensation that has brought in $4,101,245 to date, according to Box Office Mojo. Even before the releases of "Bodies Bodies Bodies," "Funny Pages," and "Pearl," A24 is having one hell of a year.
And honestly, "Everything Everywhere All At Once" deserves this. Because of everyone paying their hard-earned money to multiply the movie's $25 million production budget four times over at this point, Michelle Yeoh is finally getting the recognition that she has deserved as a leading lady for the longest time. Also, after taking a lengthy onscreen hiatus following break out roles in "The Goonies" and "Indiana Jones and the Temple of Doom" that blazed a trail for Asian representation in American movies, Ke Huy Quan is proving that he still has a place in Hollywood after all these years. #Quanaissance. 
Audiences are opening up to the difficult themes about family buried under the weird, wild, and sometimes wacky elements of this top tier story. Even after all this success, hopefully the hype train keeps going for this memorable gem of a film for as long as possible and it gets equally recognized during awards season.