Everything Everywhere All At Once Will Return To Theaters With A New Introduction And Outtakes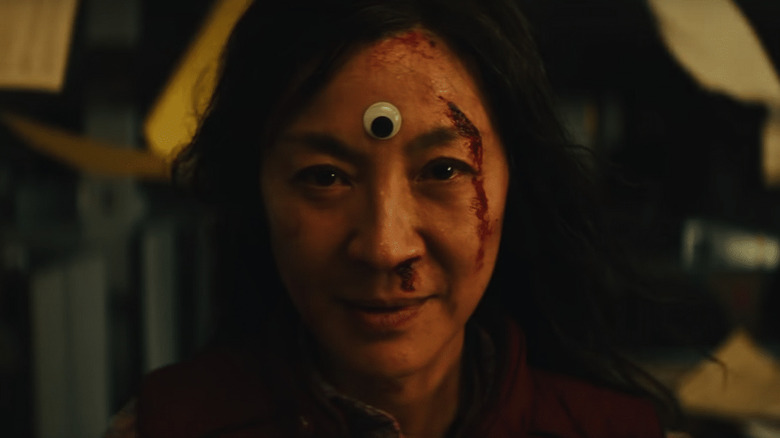 A24
Without a doubt, one of the best movies of 2022 has been "Everything Everywhere All At Once." Our own Jacob Hall gave the film a rare 10 out of 10 in his review from SXSW, but no need to take his word for it. After six weeks in theaters, the multiversal film from Daniel Kwan and Daniel Scheinert AKA Daniels dropped an unprecedented 0% at the box office. It would then go on to become A24's highest-grossing movie of all time. And the heartfelt sci-fi action flick starring Michelle Yeoh, Ke Huy Quan, Stephanie Hsu, and Jamie Lee Curtis continues to thrive and expand its audience with its physical media release. Clearly, people are connecting to the material and getting everyone they know on the bandwagon as well.
But if you missed Daniels' masterpiece on the big screen during the initial run and still want to take part in that experience, then we've got good news for you: "Everything Everywhere All At Once" is returning to theaters for another round of hot dog hands, fanny pack fight scenes, laundry, and taxes.
The bagel is where we finally find peace
While some of the biggest announcements in entertainment are sure to come this weekend at San Diego Comic-Con, A24 shared today that the critically acclaimed and fan-favorite movie from the filmmaking team known as Daniels is coming back to theaters on July 29, 2022. This special return engagement will feature a new introduction from the directors and eight minutes of outtakes. The gag reel will also be included with the film when purchased on Apple TV+. 
Considering some of the wild and crazy things that ended up in the movie, I'm sure that it will be hilarious to see the alternate takes that didn't end up in the final cut. In particular, there's a very good chance that we'll get some top-tier, Jackie Chan-level stunt work flubs from the trophy fight scene that are definitely worth seeing. But even without the added bonuses, "Everything Everywhere All At Once" deserves to be seen in a theater as many times as possible. This deeply relatable story about generational trauma hidden in layers of silly, exciting, and unpredictable scenes is sure to connect with a wide range of people, and its message of kindness and empathy is one that we all need to hear right now.
Be sure to keep an eye on the showtimes at a theater near you so you don't miss out on seeing one of the year's best films on the big screen. In the meantime, feel free to stock up on googly eyes, hot dogs, fanny packs, and everything bagels to hold you over until your screening.