Everything Everywhere All At Once Brings The Multiverse To 4K And Blu-Ray In July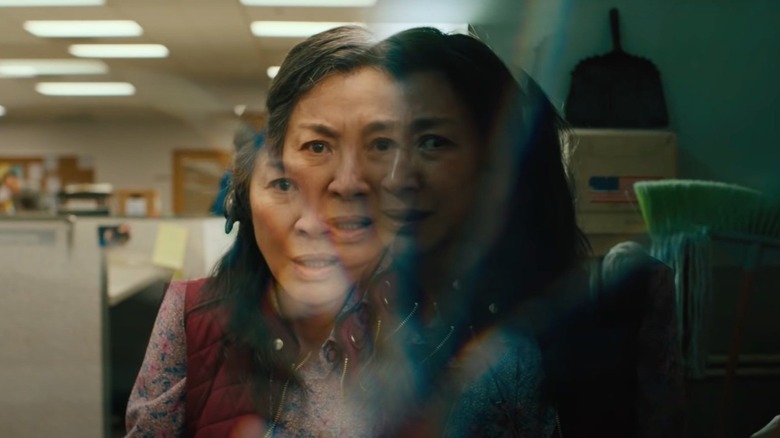 A24
It will be hard to think of any movie as mind-bending, as plain weird and profound as this year's "Everything Everywhere All At Once." Daniels turned all the bizarre imagery from their incredible music videos like "Turn Down for What" and their previous feature, "Swiss Army Man," combined them with maximalist filmmaking that you could imagine in a multi-million dollar superhero movie, and also a deep understanding of the nihilism and chaos of the internet era.
The result speaks for itself, as "Everything Everywhere All At Once" is not only a huge success with critics, but with audiences, too, becoming the highest-grossing A24 movie domestically. Now, audiences everywhere can experience everything Daniels have to offer, all at once, when "Everything Everywhere All At Once" comes to 4K and Blu-ray next month.
One big reason why "Everything Everywhere All at Once" feels so big is that Daniels made sure to add every big idea they had; every stupid, existential, philosophical and personal idea they could fit in the movie. As Daniels told /Film earlier this year, this is them doing a blockbuster, "this is our version of a Marvel movie."
All at once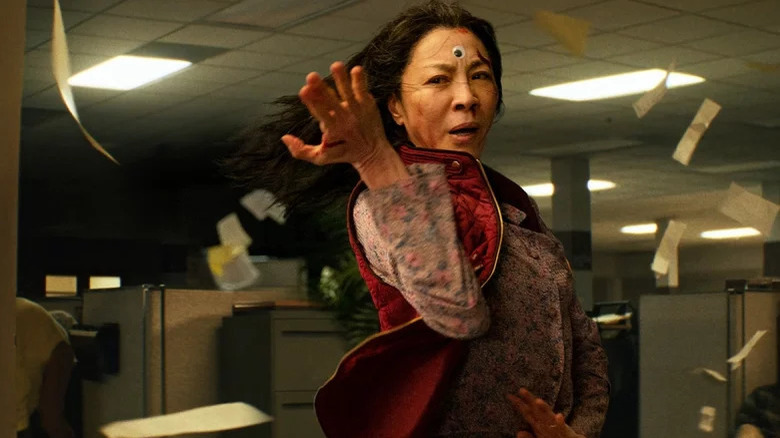 A24
In his perfect 10/10 review out of SXSW, our own Jacob Hall said the film is "impossible to describe. It's unlike anything you've ever seen. It's the best American movie in years, and certainly the best movie to hit theaters since the pandemic began."
Indeed, if you have not seen the film yet, it is hard to properly sell the movie without sounding absolutely insane, as this movie is weird with a capital w. Sure, you've seen multiverse movies before, as we just got "Doctor Strange in the Multiverse of Madness," but where that movie barely begun scratching the surface of its titular multiverse, Daniels mined the concept for everything it's worth. 
From weird imagery like hot dog fingers and googly eyes, to profound ideas about feeling like you've wasted your life while other versions of you got a better deal than you, to the feeling that if everything exists everywhere, at all times, then nothing matters and there is no point to carry on, this movie covers all the ground you can possibly think of. 
As "Everything Everywhere All at Once" arrives on 4K Blu-ray, it also comes with bonus features, the most important of which is an audio commentary with Daniels. Here's the full list of special features:
Audio Commentary with Writers-Directors Daniel Kwan & Daniel Scheinert
"Almost Everything You Ever Wanted to Know About Everything Everywhere All At Once" Featurette
"Putting Everything on a Bagel: Cooking up the Multiverse" Featurette
Deleted Scenes with Optional Audio Commentary
Outtakes
Music Visual
Theatrical Trailer
Check out the official box art for the home video release of "Everything Everywhere All at Once," which will be released on July 5, 2022.