When Art Imitates Art: 11 Amazing Wrestling Gimmicks Inspired By Pop Culture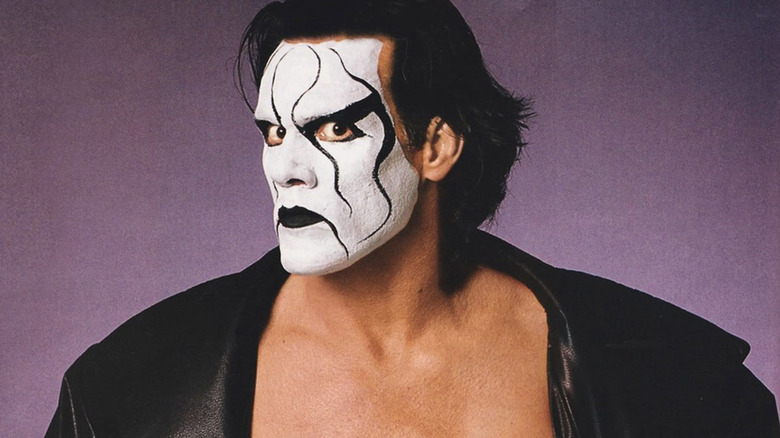 WWE
Professional wrestling is narrative performance art unlike any other. While it presents unique stories and introduces the audience to larger than life characters like film, television, and literature, it's also a living and breathing entity. The script isn't locked in for each performance like theatre. Injuries can keep the performers off of an episode and throw off their character's whole arc, and outside influences like current events and pop culture trends often affect how things play out in the ring.
Wrestling promotions (or sports entertainment companies) have always embraced the cultural zeitgeist to draw inspiration for their characters or storylines, for better (like Tiger Mask and Jushin Thunder Liger) or for worse (like The Demon or The Zombie). Even arguably the most famous professional wrestler of all time, Hulk Hogan, derived his persona from an Avenger. And since we here at /Film embrace all corners of pop culture and entertainment, we thought that we would take a look at some of our favorite professional wrestling gimmicks that were inspired by pop culture in honor of the 35th annual WWE Summerslam event.
This is by no means a comprehensive list of the greatest wrestlers to be inspired by the characters and personalities from various corners of the all-encompassing pop culture universe, as we've decided to focus solely on the major televised American promotions. This list will only include acts from WWE, WCW, ECW, or AEW. After all, the less said about Kazuchika Okada's TNA gimmick the better. We're presently looking at those that are blatantly and obviously incorporating their fandom into the core of their characters, not just their ring gear, and then putting their own spin on them. Break out the face paint, raise your Jolly Roger, work on your Blue Steel, and let's get into it.
Paul Burchill - Pirates of the Caribbean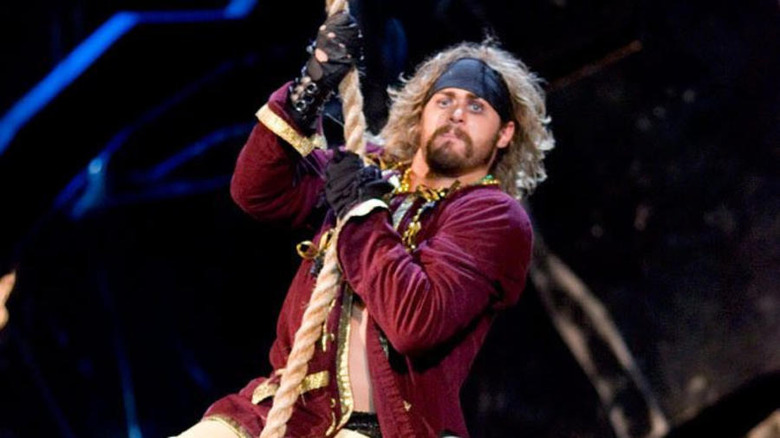 WWE
When Paul Burchill first arrived to WWE, he was paired up with living wrestling legend William Regal, and billed as a snobbish heel with unbelievable technical skills. Burchill was primed for years of success in the company, but all of that changed after "Pirates of the Caribbean: The Curse of the Black Pearl" became a huge financial success. Burchill was separated from William Regal and repackaged as a long lost relative of the great pirate Blackbeard, while looking like a Party City knockoff version of Johnny Depp's Captain Jack Sparrow. In the beginning, the character worked quite well for him. He had a great feud with his former partner, would often swing into the ring like a swashbuckler, and delivered such outlandish promos that it was impossible not to get on board with his pirate hijinks.
Unfortunately, as legend has it, real life cartoon supervillain Vince McMahon had allegedly never seen the "Pirates" films nor did he have any idea who Captain Jack Sparrow was, so when a Smackdown crowd booed the character one night, McMahon pulled the plug and had Mark Henry completely obliterate Burchill in the ring, effectively killing his career. Every time the company tried to rebrand him moving forward, the gimmicks were weirder and more inappropriate (like the incest plot with his kayfabe sister Katie Lea), and Burchill never recovered. Justice for Pirate Paul. (BJ Colangelo)
Tyler Breeze - Zoolander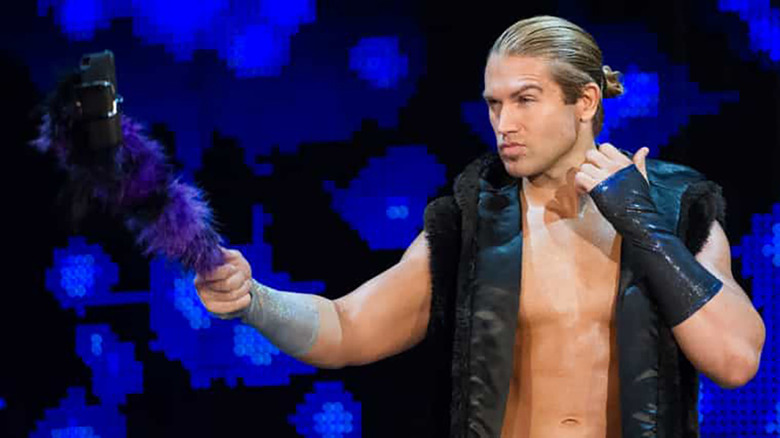 WWE
If it wasn't for this pop culture inspired gimmick, Prince Pretty might not have ever even had a career. Originally wrestling under the name "Mike Dalton" while in developmental, WWE was unhappy with his work, and was ready to let him go. In a last ditch effort with the help of his bestie Xavier Woods (Austin Creed) the character of Tyler Breeze was born. Breeze is a self-centered pretty boy with a love of selfie sticks and faux fur, and fans immediately drew comparisons to "Zoolander." While Breeze wasn't initially inspired by Derek Zoolander, he began incorporating memorable elements (like the "Blue Steel" pout) to the character. As he told Afterbuzz TV, "Everyone thinks it must have been inspired by 'Zoolander,' but the funny thing is it really wasn't until later."
Breeze originally based the character on the actors and models that would show up to WWE trying to give it a go. His Mike Dalton character was a true-to-form professional wrestler, and since that wasn't working, he went in the total opposite direction. "I'm going to wrestle like I don't know how to wrestle, I'm just this outsider looking in and from there it kind of turned into that he was a model ... from there, I did this face at the end of interviews and then I started watching some 'Zoolander' stuff and switched my voice a little bit." Ironically, Breeze said that the character pulls inspiration from Ben Stiller in "Dodgeball" more than anything else. "I was this loose cannon that would get angry at anything and everything you asked me was the stupidest question I've ever heard in my life." (BJ Colangelo)
Sting - The Crow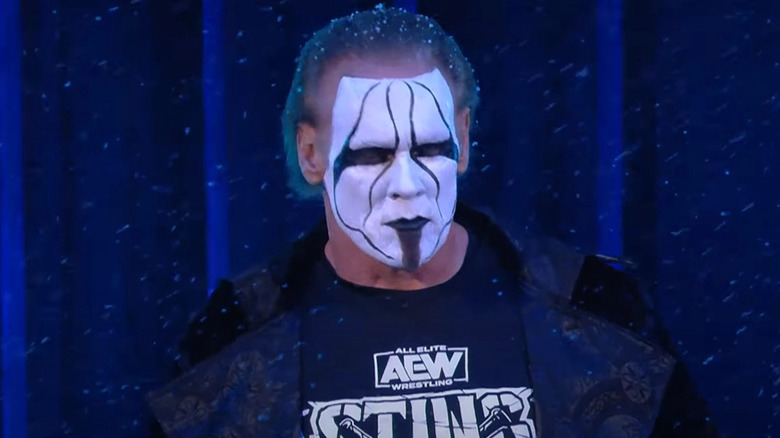 WWE
Inducted into the 2016 class of the WWE Hall of Fame, Sting is one of the most easily recognizable figures in professional wrestling history. In his early days, he was known as Surfer Sting, donning bleach blonde hair and lively face paint that turned him into a hunky hero and WCW mainstay. This gimmick worked in the 1980s when wrestling was still a larger-than-life world of cartoonish characters and coke-fueled promos, but when the edgier and grungier decade of the 1990s came about, Sting knew he needed a change if he was to survive what we'd later call the Attitude Era.
Sacrificing the colorful aesthetic for something much darker, Sting pivoted to black and white makeup inspired by "The Crow." On an episode of former WCW president Eric Bischoff's podcast, he revealed that Scott Hall (aka Razor Ramon) came up with the idea for "Crow Sting," even drawing up a picture for the visual that sealed the deal. Sting debuted the character in 1996, and continues to wear the makeup even today as he works in AEW. The makeup is just different enough from Brandon Lee's look in "The Crow" to avoid copyright infringement, allowing the look to be immediately recognizable even outside of the squared circle. (BJ Colangelo)
Razor Ramon - Scarface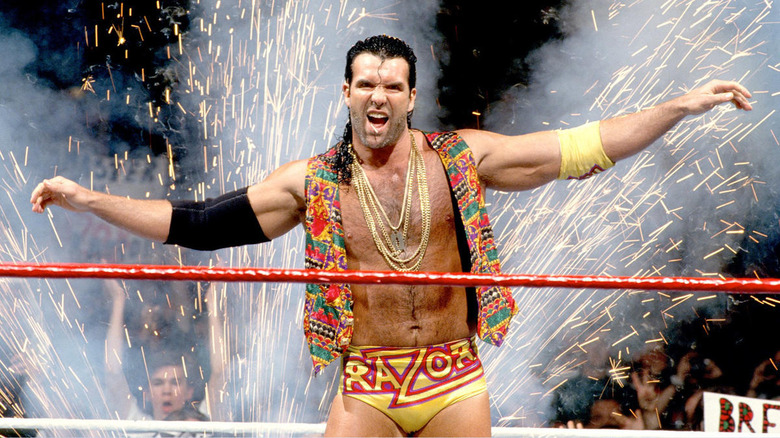 WWE
Widely regarded as one of the most charismatic wrestlers of all time, Scott Hall earned his double induction into the WWE Hall of Fame in 2014 and 2020 with an illustrious career filled with championship gold (though not world championship gold) and memorable moments. Though he's mostly remembered for his tenure in WCW alongside the nWo with "Hollywood" Hulk Hogan and Kevin Nash by younger fans, his first career-defining run started when he arrived in the WWF in 1992 as Razor Ramon.
Using his Diamond Studd persona from WCW as a foundation of a cool and cocky heel, Hall built a character that closely resembled Al Pacino's Tony Montana from the 1983 remake of "Scarface" that was a shady and stylish Miami bully that would say things like, "Say hello to the Bad Guy" in a Cuban accent. Hall allegedly pitched this to Vince McMahon and Pat Patterson, who had never seen or heard of the movie, who were blown away by the idea. Not long after, they were in South Beach filming vignettes, recreating scenes from the movie in order to introduce the character in a big way.
Despite the problematic detail that Hall was a white man playing a character of color (an unfortunate trend in WWE history), Razor Ramon revolutionized the ladder match when he faced Shawn Michaels to crown the undisputed Intercontinental Champion at Wrestlemania X. The match also earned the WWE their first five-star rating from veteran journalist Dave Meltzer. Thankfully, he would eventually stray from the accent in favor of his popular "Hey yo" catchphrase. Even Pacino himself praised Razor's take on the cult classic character, proving that bad times don't last, but bad guys do. (Ben F. Silverio)
Kushida - Back to the Future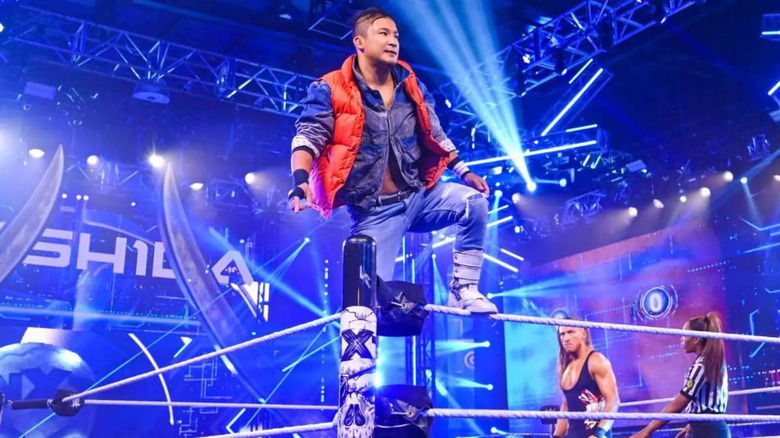 WWE
Touted as one of the greatest Junior Heavyweights/Light Heavyweights/Cruiserweights in the business today, Kushida has traveled all over the world to win titles with his technically proficient wrestling style. He integrates his background in grappling and mixed martial arts with high-flying signature maneuvers to create a move set that is both a throwback and modern, resulting in almost the ideal professional wrestler for the future. That's right, Kushida is bringing it back to the future! Not only is he a fan of the legendary film franchise featuring Michael J. Fox and Christopher Lloyd, but Kushida has incorporated aspects of "Back to the Future" into his act throughout his career. 
Just as he did in Japan, the Time Splitter arrived in WWE NXT and 205 Live as if he was from the future. These details of his character were always subtle, but the more overt allusions came with his attire and his trademark moves. Kushida would come to the ring wearing an outfit similar to Marty McFly's wardrobe from "Back to the Future Part II." His fight shorts often sport the design from Marty's hoverboard or some kind of clock motif. And in the ring, he might finish off his opponent with a Kimora lock dubbed the Hoverboard Lock or a small package driver called the Back to the Future. Unfortunately, Kushida left WWE before he could enter the arena in Doc Brown's time machine (like he did in New Japan Pro Wrestling). However, the future is written yet, so there's a chance that the former Cruiserweight Champion could decide that returning to WWE could help make his future a good one. Time will tell. (Ben F. Silverio)
Blue Meanie - Yellow Submarine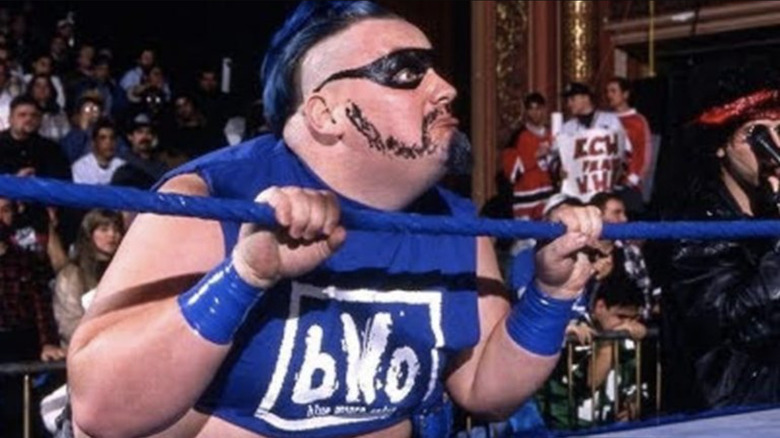 WWE
When people think of ECW, they often remember the hardcore matches and the gallons of blood spilled in that legendary bingo hall in South Philadelphia. Although, Paul Heyman's extreme promotion became known as a place where characters in professional wrestling thrived. People like Steve Austin, Mick Foley, Lita, Chris Jericho, and Rob Van Dam cut their teeth there, as did wrestlers like Roadkill the Angry Amishman, the beer-swilling, cane-swinging Sandman, and the homicidal, suicidal, genocidal Sabu used their outrageous characters to entertain the company's rapid fanbase.
Borrowing his ring name from the antagonists of the Beatles' 1968 animated film "Yellow Submarine," Brian Heffron became a staple of the Attitude Era of professional wrestling after he adopted the beloved persona of the Blue Meanie. While he wasn't a music-hating oppressive killjoy like his namesake, he borrowed the flamboyant characteristics, high-pitched voice, and black domino mask-esque face paint around the eyes of his cinematic counterpart. Overall, the Meanie was more mischievous than he was mean.
Blue Meanie was a flunky, then he was a flunky of a flunky, but eventually, he won the crowd over when he, Stevie Richards, and Super Nova parodied WCW's nWo with their group called the bWo (the Blue World Order). Meanie parodied Scott Hall by playing the role of "Da Blue Guy." This act would made its way to WWE in 2005 as part of WWE's ECW One Night Stand event, but not before Meanie was a fixture in WWF's lower to mid-card towards the end of the '90s as a member of the J.O.B. Squad. No matter what role he was playing on the show, the Blue Meanie always put the entertainment in "sports entertainment" by breaking out his patented Meanie Dance. (Ben F. SIlverio)
The Road Warriors/Legion of Doom – Mad Max 2: The Road Warrior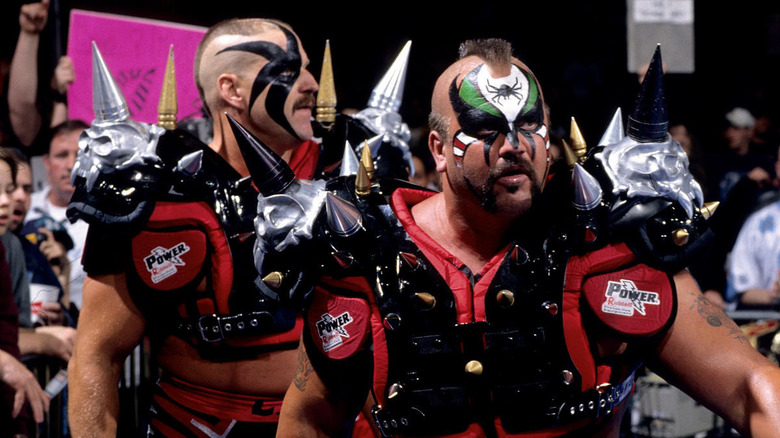 WWE
Arguably the most easily recognizable and remembered pop culture inspired gimmicks are The Road Warriors tag team of Road Warrior Hawk (Michael Hegstrand) and Road Warrior Animal (Joseph Laurinaitis), or if we're talking WWF, The Legion of Doom. Hawk and Animal were much larger than most wrestlers of their day, and the addition of face paint and spiked armor as seen in "Mad Max 2: The Road Warrior" only enhanced their threatening demeanor. Sports Illustrated named the duo as the best wrestling tag team in history, and with good reason. The duo won tag team belts all over the globe and were inducted in the WWE Hall of Fame in 2011.
Hawk and Animal completely changed what was possible in the world of tag team wrestling, and their influence is still felt even today. The gimmick gave them a distinct look that was easily recognizable (and merchandisable) and made them a fast favorite with fans. Road Warrior Animal allegedly hated the gimmick at first, believing the over-the-top costuming made him look like one of the Village People. Fortunately, he got over it, and the duo became wrestling legends. It's hard to say whether or not the duo would have seen the same success had it not been for their killer gimmick, but the spiked shoulder football pads certainly didn't hurt. (BJ Colangelo)
Glacier - Mortal Kombat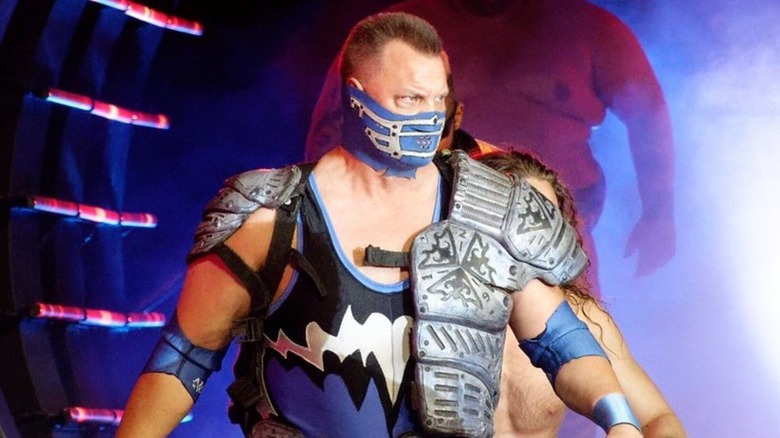 WWE
I don't know what it was about the late '90s, but there was a boom of martial arts-related content in America. Luckily, things like "Surf Ninjas," "Mighty Morphin Power Rangers," and "Teenage Mutant Ninja Turtles" were at the ready to appease the demanding public. But the craze went to a whole new level when the live-action adaptation of Midway Games' "Mortal Kombat" hit theaters. Despite mixed reviews, it grossed about $112 million worldwide and gained a cult following that persists today.
Back in 1996, WCW President Eric Bischoff thought the company would capitalize on the popularity of "Mortal Kombat" by introducing "a group of arcade-ready personas that could battle in a style right out of a Sega game." That's when journeyman wrestler Ray Lloyd became Glacier. Known for his Sub-Zero-inspired ring gear, elaborate entrance with lasers and fake snow, and incorporating martial arts moves into his in-ring work, Glacier was presented as a coldblooded kung-fu master from Japan's Shorinji Temple.
Although, all of the money Ted Turner poured into the character didn't pay off as Glacier's debut alongside Mortis and Wrath came at a time when the tastes of professional wrestling fans were changing. Rather than embracing the more cartoony characters of the medium, they were migrating towards the darker, grittier characters like Kane and Sting or more realistic characters like "Stone Cold" Steve Austin and the nWo. Plus, there was no way that the Glacier character could live up to the long, drawn-out build to his debut. WCW's mismanagement of the gimmick was the major downfall of Glacier, but even that couldn't hide the fact Glacier was really cool. If he had just come along a few years earlier, maybe when "Mortal Kombat" video game came out instead of the movie, then he might have been a bigger deal than he turned out to be. (Ben F. Silverio)
Alexa Bliss - Harley Quinn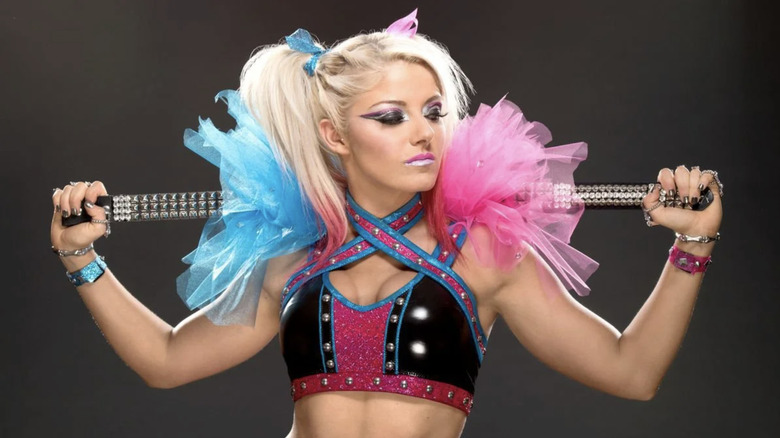 WWE
When it comes to women's wrestling, Alexa Bliss is a certifiable hall-of-famer in the making. Over the course of her nearly decade-long run with WWE, her character has gone through a variety of gimmicks. She debuted in the company as a glittery fairy character but over time has grown into something far more sinister. In perhaps her greatest run with the company, Bliss married her love of comic books and movie villains, to embody the character of Harley Quinn. Taking a page out of the Margot Robbie portrayal of the character for aesthetic purposes, Bliss' heel turn allowed her to lean into villainy that was as evil as it was playful, and allowed her to play into her strengths.
Bliss' love of Harley Quinn is so well documented, she was able to meet the cast of "Birds of Prey" and share her love of the character with them. "I just love that she's unapologetically herself, and like [Margot Robbie] said, 'unpredictable,' and I just love any persona, character, or person that can be themselves and not feel bad about it, and embrace it and embrace how different they are, and I've always been a big fan of that." Bliss threw herself fully into the character, and it has allowed her to become one of the greatest performers in women's wrestling history. (BJ Colangelo)
Emi Sakura - Freddie Mercury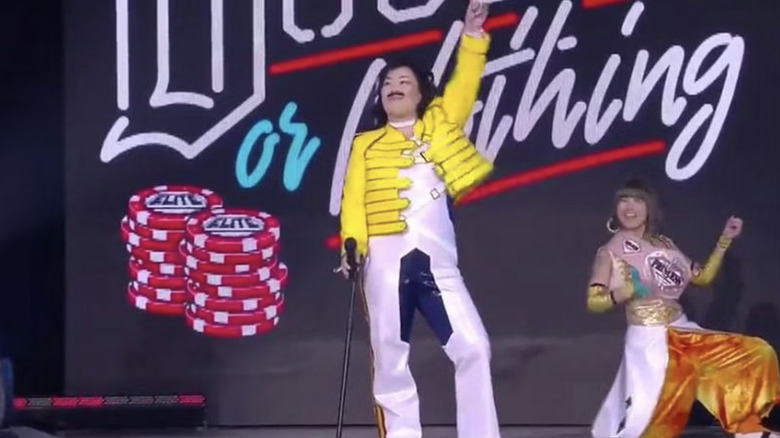 AEW
After starting her wrestling career in 1995, Emi Sakura has become a major fixture in Japanese professional wrestling. Over the years, she's been a featured player in many Joshi promotions, accumulated a number of championships, and trained practically an entire generation of female wrestling stars. She even defeated WWE Hall of Fame Luna Vachon to win the American Wrestling Federation World Women's Championship.
However, when Sakura debuted in All Elite Wrestling at Double or Nothing 2019, the American audience got their first look at the ring veteran, who was decked out in gear reminiscent of the late, great Freddie Mercury. The Queen and "Bohemian Rhapsody" fan teamed with Aja Kong and Yuka Sakazaki in a losing effort against Ryo Mizunami and Sakura's former students Hikaru Shida and Riho. While it wasn't the royal welcome she was expecting, she continued to draw inspiration from Mercury by replicating his iconic looks like the yellow jacket, the crown and cape, and even Freddie's signature mustache during her ring entrances.
No matter if she's a face or a heel, Sakura tries to harness Freddie's gravitas, flamboyance, and mastery of his craft and adapt it to her in-ring persona. She'll even use the beat of "We Will Rock You" or Mercury's "Hey oh!" chant as a way to taunt her opponents. But if her foes aren't careful, the only beat they'll be hearing is the referee counting the 1-2-3 before raising the Queen of AEW's hand in victory. (Ben F. Silverio)
Danhausen - Classic Horror, Conan O'Brien, Krusty The Clown, ... a lot of things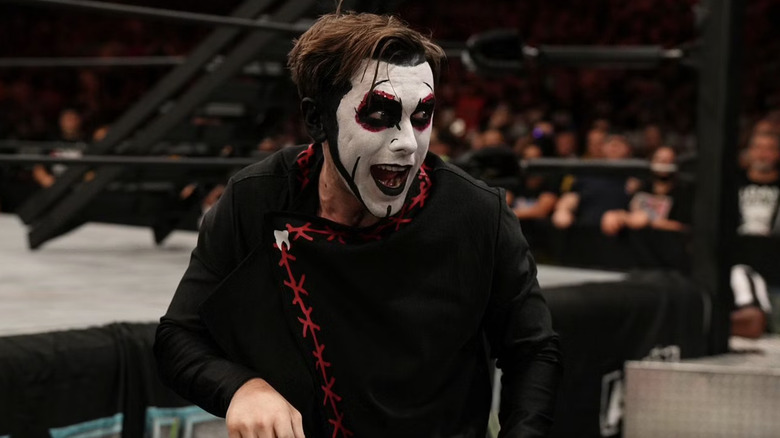 AEW
Love that Danhausen! Without a doubt, the most fascinating pop culture inspired wrestler working today is the very nice, very evil, Danhausen. Currently signed to AEW, Danhausen is the culmination of a lot of pop culture influences that shouldn't work well together, but somehow do. The man behind the trademarked makeup (no seriously, he trademarked his license like a genius) has described the character as "Conan O'Brien possessed by a demon," donning a face that looks like Pazuzu from "The Exorcist" filtered through "The Man Who Laughs" or "The Cabinet of Dr. Caligari," but with a sense of humor like "Space Ghost Coast to Coast." His voice is a combination of O'Brien and Mark Hamill's Joker, and before he made it on TV, he was known for busting out Pee-wee Herman's "Tequila" dance.
I've been fortunate enough to interview Danhausen (and Donovan Danhausen, the man behind the character) who admits the pop culture references were always part of the plan. "I wanted to be Krusty the Clown," he told me. "There's an episode of 'The Simpsons' where we look in Bart's room, and he has Krusty everything, even the most ridiculous stuff ... I wanted to be that, but realistic." Well, considering he sold more shirts on Pro Wrestling Tees in 2021 than any other free agent wrestler, had merch in Hot Topic despite not being on TV at the time, has his own brand of coffee, has a themed guitar pedal, and has had his likeness featured on just about every merchandisable object possible ... he's well on his way to accomplishing that goal. (BJ Colangelo)