Jason Momoa Confirms Ben Affleck's Return As Bruce Wayne In Aquaman 2 Reshoots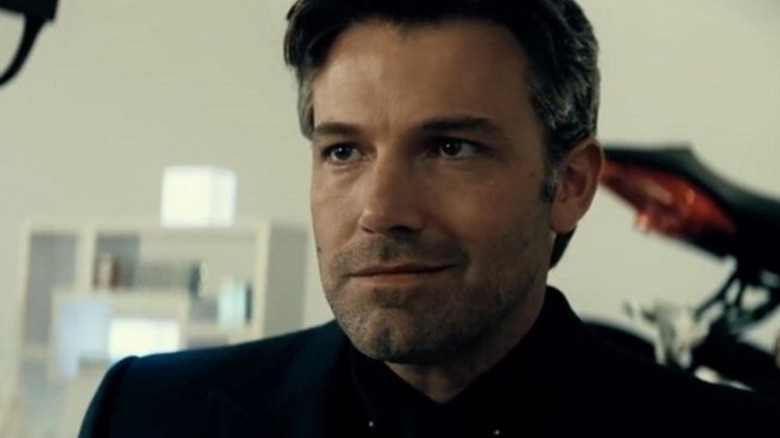 Warner Bros.
Hey, so remember when we discussed how the premature ending of Ben Affleck's turn as Batman seemed like a bad idea? Well, that might be changing thanks to reshoots being made for "Aquaman and the Lost Kingdom." Jason Momoa recently posted a very interesting post on his Instagram feed alongside Affleck with a surprising caption.
"REUNITED bruce and arthur," wrote Momoa. "Love u and miss u Ben WB studio tours just explored the backlot alright. busted on set all great things coming AQUAMAN 2 all my aloha j."
If we are to interpret the caption correctly, it might signal that Batfleck might not be totally gone from the DC Extended Universe just yet. Furthermore, Affleck's clean-shaven face and appearance in a black suit certainly isn't something you wear when you are just taking a studio tour. Besides, there's a heat wave happening all across the country. Needless to say, it's all but confirmed that "Aquaman and the Lost Kingdom" will be the return of Affleck's moody and grizzled turn as the Caped Crusader.
What does this mean for the DCEU?
Affleck's supposed reappearance as Batman undoubtedly brings up a lot of questions. How is he going to be integrated into the plot? Will he put on the cowl and fight some sea creatures? Unfortunately, these questions are just two of many that probably won't be answered until "Aquaman and the Lost Kingdom" is released next year. Besides, we don't even have a clear idea of what the movie itself is going to be about. However, it's likely that the Batman seen in the photos Momoa posted won't be diving into the ocean unless he wants to ruin that suit.
This appearance also brings up a question regarding perhaps the DCEU's most controversial movie in production, "The Flash." Affleck has been attached to Andy Muschietti's long-gestating film, which has once again hit massive roadblocks due to a series of allegations made against Flash actor Ezra Miller. Given how it's clear that Affleck's scenes were made during reshoots on "Aquaman" due to its official production ending in January, there is the possibility that there has been a cameo switcheroo, with the DCEU's Batman now appearing in a different film. However, he could still appear in both movies, since Warner Bros. has no plans on shelving "The Flash" as of yet.
Okay, but enough about all of that. Look at how happy Momoa and Affleck look in that last photo! I'm happy for them, and hopefully you are as well. "Aquaman and the Lost Kingdom" releases on March 17, 2023.