Loki Season 2 Footage Description: The God Of Mischief Is Back With Even More Glorious Purpose [D23]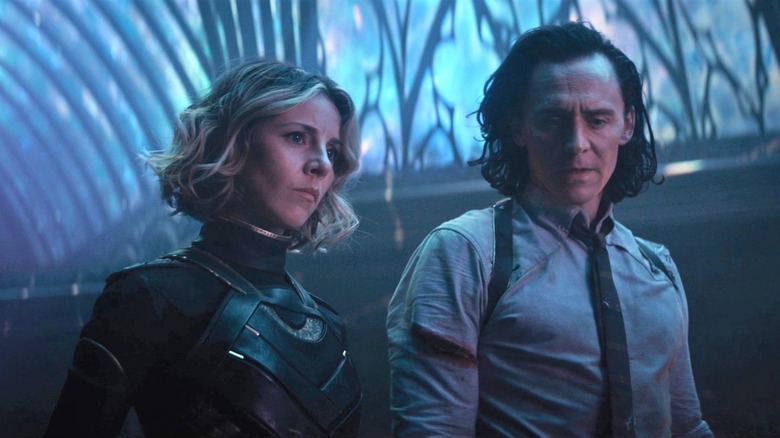 Marvel Studios
After over a decade, the Marvel Cinematic Universe is evolving in the direction of streaming. With over 20 MCU films under its belt, Marvel Studios expanded its universe in cool and diverse ways with the introduction of Disney+ shows, which brought different tones, genres, and stories to the franchise, and redefined what a Marvel story could be. Some of them were more successful than others, and plenty could have been movies instead. 
Then there's "Loki," a weird, funny, strange show that arguably had the biggest potential to reshape the rest of the MCU. It was the franchise's first villain-centric story (even if it did turn Loki into a big softy antihero) but it also proved integral in preparing audiences for the big multiversal focus of the MCU's Phase 4. After all, season 1 ended with a finale where Loki and Sylvie encountered Jonathan Major's He Who Remains, also known as Kang the Conqueror. After Sylvia killed Kang in a fit of rage, it unleashed a ripple effect that effectively broke the multiverse and threw Loki into a brand new timeline where everything is different, and mostly for the worse.
While all MCU Disney+ shows are limited series until proven otherwise, "Loki" is the one show we know for sure is returning and we finally have an idea of what it will bring. After months of teasing from Tom Hiddleston, Owen Wilson, and other people involved about who exactly was coming back, which exciting genre-bending directors were joining the crew, and teases of more variants, the returning cast of "Loki" — and one very exciting new cast member — took the stage at Disney's D23 Expo in Anaheim, California this weekend to reveal brand new footage from season 2. /Film's Ethan Anderton was on the scene.
A multiverse of Loki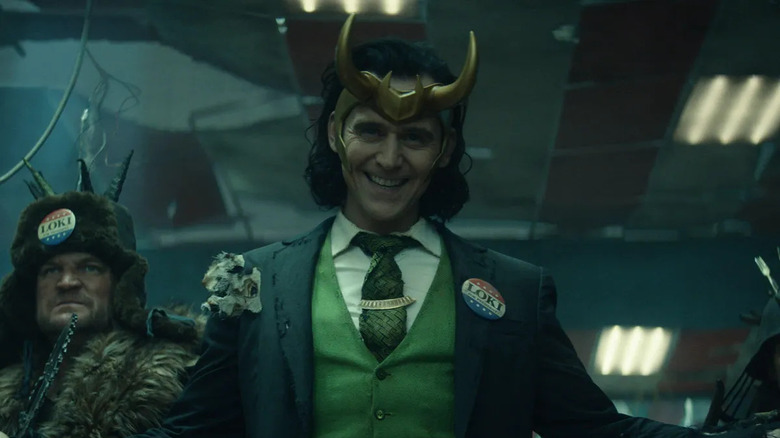 Marvel Studios
/Film's Ethan Anderton reports that the "Loki" panel was kicked off with the arrival of the Gods of Mischief, Tom Hiddleston and Sophie Di Martino, their pal Mobius (Owen Wilson), and newly announced cast member, Ke Huy Quan ("Everything Everywhere All At Once". After some jokes from Quan about needing to find his way to the "Indiana Jones 5" panel, the cast and crew confirmed that the upcoming season of "Loki" will connect the entire multiverse saga — then launched into some new footage.
The preview footage finds Loki back at the TVA, reading a manual before he greets someone offscreen. In the middle of his "hello," Loki glitches: He's not supposed to be there. There are plenty more glitches to follow, as Loki fights his way down a hallway. Later, he chisels away at the walls of the TVA to reveal the big brass face of Kang the Conqueror (Jonathan Majors). In another room, he encounters Ke Huy Quan, who appears to be playing a TVA archivist. Elsewhere, we get a glimpse of an old Hollywood premiere and Sylvie listening to records in a music shop. To keep things interesting, Loki and Mobius get a fun costume change: they sport vintage tuxedoes, maybe on their way to that Hollywood premiere. Or maybe they just have more chaos to deal with, since the next scene sees Loki falling through the middle of the massive TVA building.
The footage ends with dialogue from Loki: "I don't want you to think I'm the bad guy in all this." To which Mobius tries to have his back, replying, "Who says you were?" Since it wouldn't be Marvel without a funny on-the-nose joke to cap things off, Loki replies by listing all the many folks who would deem him the villain: Miss Minutes, various Avengers, and even Mobius himself.
New mischief, new cast members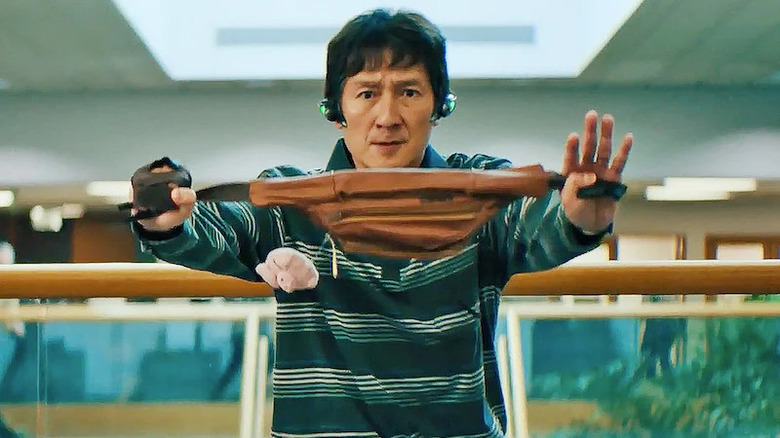 Marvel Studios
If Tom Hiddleston is to be believed, the whole principal cast is returning for season 2 of "Loki," including Owen Wilson, Wunmi Mosaku, Gugu Mbatha-Raw, Sophia Di Martino, and more. "Blindspotting" star Rafael Cassal is also reportedly making an appearance in season 2 alongside fellow new cast member Ke Huy Quan.
Meanwhile, season 1 staff writer Eric Martin is taking over as head writer from Michael Waldron, while director Kate Herron won't return, with indie sci-fi wunderkinds Justin Benson and Aaron Moorhead taking over directorial duties in her place. This is a very talented group of filmmakers and actors, and after a very exciting first season that broke the mold for sci-fi stories in the MCU and pushed harder concepts that we'd seen before in the franchise, the next season has nowhere to go but up.
"Loki" season 1 is now streaming on Disney+.