Moon Knight Directors Justin Benson And Aaron Moorhead Will Direct Loki Season 2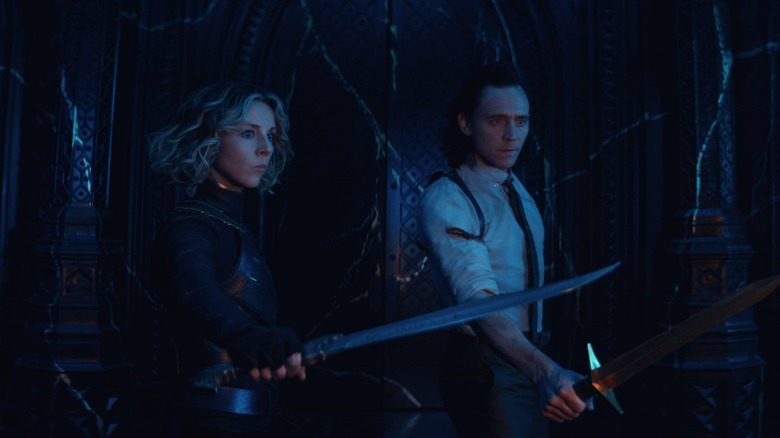 Marvel Studios
Marvel's expansion into streaming television has mostly been well-received among both fans and critics — though there'll always be those insufferable sticks-in-the-mud who'll always have some complaints, am I right? In any case, "Loki" quickly outpaced the rest of the Disney+ shows by taking an altogether otherworldly approach to multiversal storytelling. Rather than continuing the adventures of the core group of Marvel heroes and villains, "Loki" spun off from a loose thread in "Avengers: Endgame" and detailed the adventures of the time-displaced version of Loki (Tom Hiddleston) who diverged from the "sacred timeline" once the Avengers went back and messed with space-time in an effort to defeat Thanos. Created by Michael Waldron and directed by Kate Herron, the first season became widely embraced and even distinguished itself from every other Marvel show — which thus far have remained limited series — by confirming a second season in the end credits sequence of the finale.
With Herron deciding not to return for season 2, Marvel has remained on the hunt for worthy replacements to her very fine work. Today, we've learned that search has finally ended. According to Deadline, the studio has recruited a pair of filmmakers to helm the "majority" of episodes in season 2 of "Loki." Justin Benson and Aaron Moorhead, known for their low-budget sci-fi movies and their work on "The Twilight Zone" revival and Netflix's "Archive 81" series, have come aboard to share directing duties. Waldron will return as an executive producer, and Eric Martin, a staff writer during the first season, will also come back and write all six episodes of the second season.
Loki season 2 finds its directors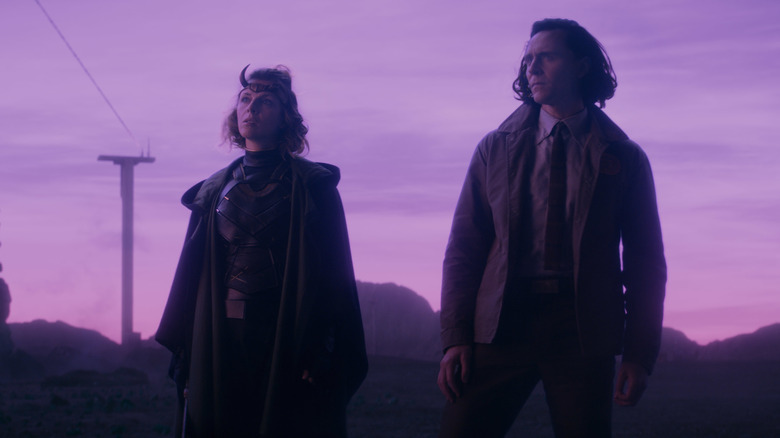 Marvel Studios
Season 2 of "Loki" promises to be even bigger than the first. The cliffhanger ending saw Loki and Loki-variant Sylvie (Sophia Di Martino) get an up-close and personal look at the franchise's new Thanos-level threat: Jonathan Majors' Kang the Conqueror (OK, OK, we'll call him "He Who Remains"). When confronted with an impossible choice over whether to take his place as overseer of the vast timeline or kill him and risk the chaotic fallout across all realities, naturally Sylvie puts her sword through Kang and all hell breaks loose, with infinite branches of reality splitting apart and dropping Loki into a version of reality that he's utterly unfamiliar with. Co-directors Justin Benson and Aaron Moorhead, to put it mildly, will have a lot on their plate.
Deadline includes additional details about how they landed on Marvel's radar in the first place, having directed a few episodes of the upcoming "Moon Knight" series and impressing studio brass so much with a shoot that "went so smoothly," Marvel immediately sought to keep the duo on board for future projects down the line. All parties agreed on their interest level in directing the second season of "Loki," and so here we are. Post-Phase 1, the studio has more or less built their entire franchise out of relying on fresh and exciting up-and-coming talent to play in the superhero sandbox and attempt to put their own stamp on each story. Ideally, this will land Benson and Moorhead on the map to stay, giving them the ability to produce their own original ideas in the years ahead. Until then, their work on "Loki" should be must-watch material for invested fans. 
We recently heard that season 2 would kick off this summer and that Owen Wilson would return to reprise his role as Mobius alongside Hiddleston's more "heroic" Loki. We can surely expect Gugu Mbatha-Raw's Ravonna Renslayer to stir up all kinds of trouble once more, too.
Stay tuned to /Film for more updates on "Loki" as they come in!