Gugu Mbatha-Raw Teases 'Darker Places' For Ravonna Renslayer In Loki Season 2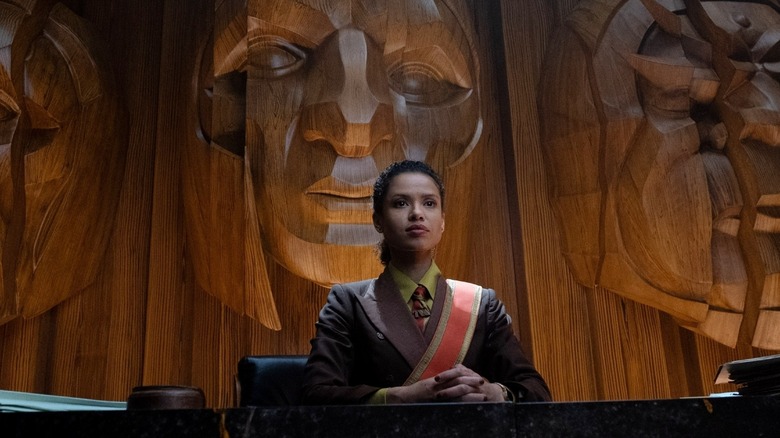 Disney+
When we left Ravonna Renslayer (Gugu Mbatha-Raw) at the end of season 1 of the Disney+ Marvel series "Loki," she had recently sent her long-time friend Mobius (Owen Wilson) to the end of time. When he makes it back, she refuses his help redesigning the Time Variance Authority. Ravonna has spent the entire season (and a whole lot of history) lying about the Time Keepers (what she knows about them, anyway) and who Mobius really is. In the season finale, she leaves through a portal to search for "free will." 
Next season, things aren't exactly looking brighter for Ravonna. Mbatha-Raw told Pop Culture:
"Oh, my God. You know I can't say anything about 'Loki.' The Marvel police will come along and just take me away. But no, I'm excited that it's happening, and I really love my character. I think she's unexpected and complex. And so, I'm excited to go to some deeper, darker places with her as well."
"In Search of Free Will"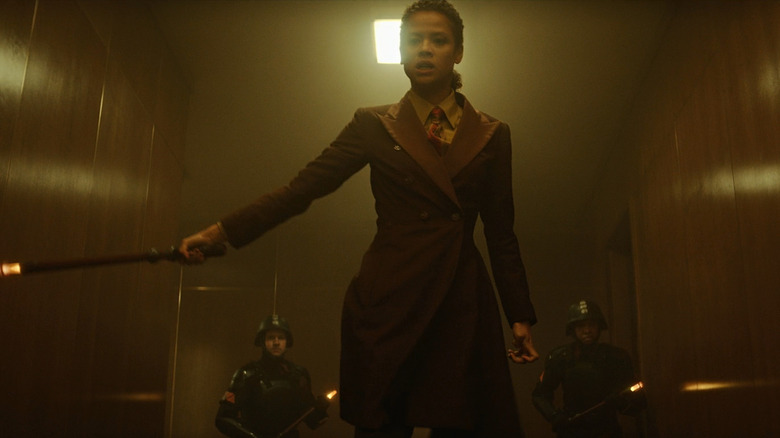 Disney+
Deeper, darker places? Yikes! To get a sense of who Ravonna really is, here's what head writer Michael Waldron said about her to Marvel.com:
"She has the making of a very complex villain that has her own set of principles and beliefs that drive her. She doesn't believe that what she's doing is evil. She believes that the mission is for greater good, and Renslayer probably wishes that she never learned that the Time Keepers were fake, that they had just been able to keep doing this forever."
Oof. There is nothing worse than a bureaucrat who thinks they're doing the right thing when what they're doing absolutely isn't. He also called her a villain, but Mbatha-Raw's uber-bureaucrat is a villain you love to hate. There were certainly moments when Mobius visits her office that you really do believe she cares for him. If what Waldron says is true, then we can surmise that Ravonna really thought she was helping rather than betraying her bestie. 
As for what to expect next, we can try looking at the comics, though we've been given a different version of Ravonna in the TV series. In the comics, she and Kang the Conqueror (whom we know as He Who Remains — the variant we've met in the series played by Jonathan Majors) are in a romantic relationship. Kang doesn't choose Ravonna over power, and she's not exactly happy about it. 
Ravonna's Great Betrayal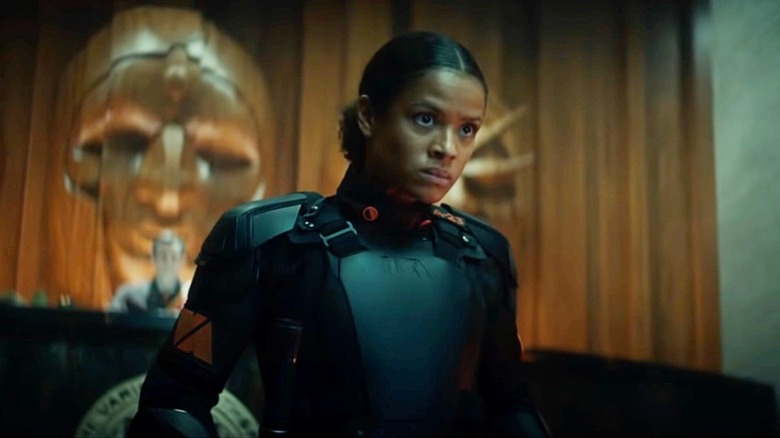 Disney+
In the series, of course, there is no romance between Ravonna and Kang (at least, not with the variant of Kang that we met/heard monologue), but that doesn't mean her sense of loyalty to his hidden TVA agenda and what she learns about it won't feel like just as much of a betrayal. That could lead to some unpleasantness.
Romance could, of course, become part of it, with any one of Kang's variants that might appear. Or it could be one of her own variants that makes that happen. Either way, her tale in the comics is one of revenge that sees her as the ruler of Kang's empire, but also sees her death. "Loki" season 2 was in development as of last September, but with schedules shifting because of the pandemic, we don't know when the show will air. 
It also depends on whether or not the Marvel Cinematic Universe films coming up have any shifts of their own. Everything in the MCU and the Disney+ realms depend on each other's stories, and the multiverse is going to make that even more complex. We have "Doctor Strange in the Multiverse of Madness," which was dependent on what happened at the end of "WandaVision," as well as "Loki" season 1. The multiverse had a huge impact on "Spider-Man: No Way Home" as well, and we know Kang will appear in "Ant-Man and the Wasp: Quantumania." 
Angry people with strong beliefs (and she absolutely has both of those qualities at the end of the first season) do dangerous things, so Mbatha-Raw saying that we'll go deeper and darker with Ravonna as a character is a pretty exciting prospect.