Black Adam Footage Reaction: The Rock Is Ready For His Superhero Moment [Comic-Con]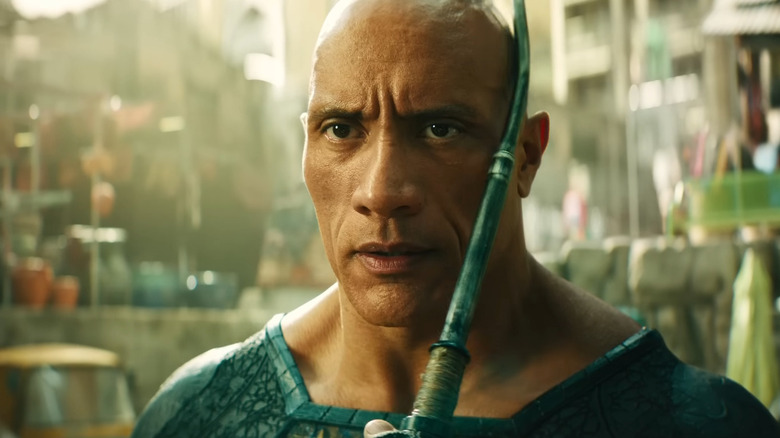 Warner Bros. Pictures
The news is coming in fast from San Diego Comic-Con, and /Film has a crew on the ground, ready to bring you every detail of what they've seen. Today the gang watched footage from the upcoming Warner Bros. film "Black Adam" at the Hall H panel. The DC comic book character has usually been portrayed as the antagonist to Shazam (played by Zachary Levi in "Shazam!" and the upcoming "Shazam! Fury of the Gods"), but now he's more of an antihero.
If you follow Dwayne "The Rock" Johnson on social media, there is no doubt you already know that he's playing the role and that the hierarchy of power is about to change in the DC Universe. (He says it a lot.) Teth-Adam, aka Black Adam, is killed and resurrected with the powers of a god, including flight. Now he's been released from where he'd been imprisoned, and he's not happy. We've got Aldis Hodge playing Hawkman, Noah Centineo as Atom Smasher, Quintessa Swindell as Cyclone, and Pierce Brosnan as Doctor Fate, with Adrianna Tomaz and Marwan Kenzari rounding out the cast.
Here's the film's synopsis:
Nearly 5,000 years after he was bestowed with the almighty powers of the ancient gods—and imprisoned just as quickly—Black Adam (Johnson) is freed from his earthly tomb, ready to unleash his unique form of justice on the modern world.
"Black Adam" is directed by Jaume Collet-Serra who worked with Johnson before on Disney's "Jungle Cruise." After a bunch of Covid delays, we're only a few months away from seeing the film. 
Black Adam himself had to make an appearance, of course, and that meant making a grand entrance in Hall H at Comic-Con. Shared from the official DC Comics Twitter account, "Through fog and lightning, the Man in Black has finally arrived to Hall H," and they weren't being hyperbolic.
Through fog and lightning, the Man in Black has finally arrived to Hall H. #BlackAdam #SDCC pic.twitter.com/CaVR88w8Sk

— DC (@DCComics) July 23, 2022
/Film's very own Jacob Hall was in attendance for the brand new, action-packed footage of "Black Adam."
The hierarchy of the DC universe is about to change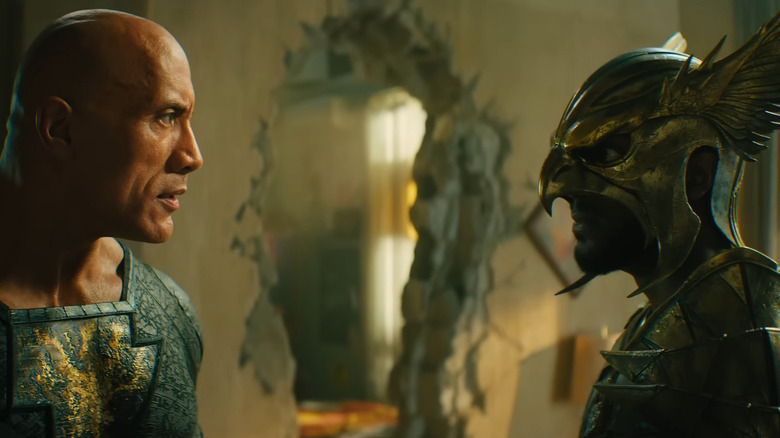 Warner Bros. Pictures
The footage begins with a few people exploring the same ancient temple we've seen in previous trailers. Some kind of magical reaction kicks in, lightning strikes, and Black Adam is unleashed from his tomb. He's an imposing, hooded figure with a mean look about him. Suddenly, he's surrounded by soldiers with machine guns who unload on him. Hundreds of rounds later, he looks completely untouched. "Your magic is weak," he says in a foreign language, subtitles scrawl across the screen. 
Black Adam proceeds to decimate the group, moving around the room at super-speed, kicking their butts and smashing them into the floor. He moves so fast that you can't see him until he's right on top of his next victim. He lifts one solder up and electrifies him, turning him to dust, his skull hitting the ground. He turns another person to ash through a boulder, tearing the stone apart with his electricity. In a particularly gnarly moment, he grabs a soldier and whips him across the room with such force that Black Adam is left holding the guy's severed arm.
The action is chaotic, nasty, and mean. Black Adam is definitely being presented as an uncompromising villain here, so it'll be interesting to find out if and how the film chooses to redeem him.
With the room clear, Black Adam casually hovers into the desert outside and finds himself confronted by two helicopters. They open fire, and can't even scratch him. With a terrifying casualness, he grabs one helicopter and slams it into the other, blowing them to smithereens. Black Adam looks toward the horizon, and he looks pissed.
They don't need passports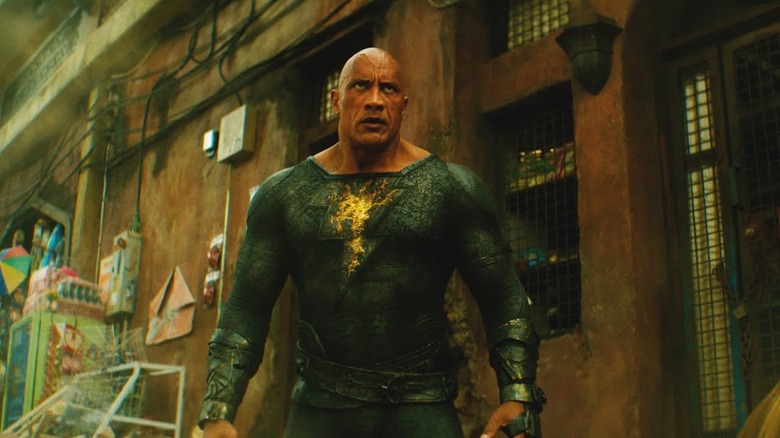 Warner Bros. Pictures
After this new footage ends, an extended version of the newest trailer played with many shots of the Justice Society and other characters battling Black Adam and others throughout a ruined city. We see Doctor Fate's mansion, where the lawn opens up to reveal the JSA's super sci-fi-looking jet, which emerges from the ground. Doctor Fate tells his team they're the Justice Society, they "don't need passports."
There are a few cool, stylish shots throughout the trailer that include an extremely slow-motion shot of Hawkman flying toward the camera, enraged. We also got to see a bit of Cyclone using her powers to kick up a storm in a destroyed city.
The movie looks big, taking full advantage of the Justice Society characters alongside Black Adam. In a very interesting moment, we see Viola Davis back as Amanda Waller, asking who is on the Justice Society. It's possible this is just a cameo, but she's increasingly been positioned as the Nick Fury of the current DC cinematic universe, so it stands to reason that she may play a bigger role in "Black Adam" than anyone may have anticipated thus far. 
It's unclear how the footage will play in the context of the final movie, but Black Adam is filmed as a terrifying force of unstoppable, non-heroic power, and Johnson is putting on his best glower. It's been a bit since we've seen him play a character who has this kind of merciless anti-charm, and it's interesting.
"Black Adam" will hit theaters on October 21, 2022.