Black Adam Trailer: The Rock Meets The Justice Society Of America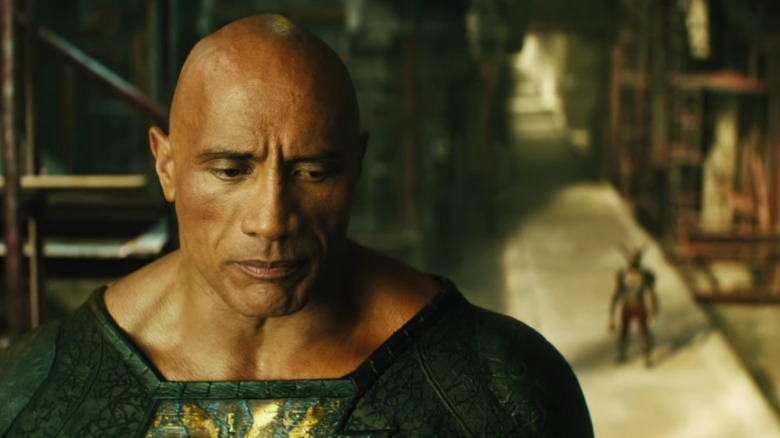 Warner Bros.
Comic-Con continues in sunny San Diego, and among all the weekend's big reveals and breaking news, we've just caught the newest trailer for "Black Adam." DC's Dwayne Johnson-led comic book movie may not have all eyes on it this weekend, since fans have already seen plenty of footage of the upcoming movie by now, but the Warner Bros. team still managed to pull together something new and exclusive for the crowds at SDCC.
"You can be the destroyer of this world or you can be its savior," Pierce Brosnan's Doctor Fate said in the first full trailer for "Black Adam," and that's a pretty good summary of the movie's marketing so far. In DC comic books, Black Adam is typically written as a villain, though more recent versions of the character have reimagined him as an antihero. So far, the "Black Adam" footage has revealed a version of the character who's both empathetic (his son died!) and formidable (he's angry, and facing off against helicopters and missiles!). Overall, the superpowered former slave mostly looks like a man on a mission in a time that's not his own. Take a look at the latest "Black Adam" trailer below. 
Black Adam electrifies Comic Con
Johnson has been attached to play Black Adam for years, with the character introduction initially planned for 2019's "Shazam!" Yet this weekend marks the first time the wrestler-turned-actor has made an appearance at the annual festival, which was canceled for two years in the wake of the COVID-19 pandemic. Johnson announced his appearance with an enthusiastic Instagram reel, declaring, "Finally, the Man in Black comes home to Comic Con!"
Johnson revealed that the Comic-Con panel also includes the rest of the "Black Adam" cast, specifically the members of the Justice Society of America, including Noah Centineo, Quintessa Swindell, and Aldis Hodge. The JSA has also popped up in earlier "Black Adam" promos, but has yet to get full introductions.
Centineo, who gained fame after playing heartthrob Peter Kavinsky in Netflix's "To All The Boys I've Loved Before" film series, will be playing Albert Rothstein, AKA Atom Smasher, who can change his molecular structure. Swindell, who has appeared in "Trinkets" and the latest season of "In Treatment," is playing Cyclone, who can control the wind. Hodge, who currently stars in Showtime's crime drama "City on a Hill," will play Hawkman, the JSA's leader who has the power of flight thanks to a special pair of wings.
"Black Adam" hits theaters October 21, 2022.