Here's The Marvel Character Ryan Gosling Would Like To Play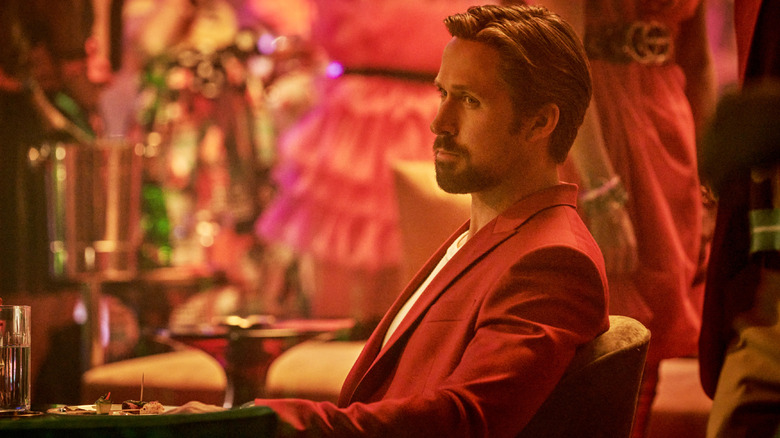 Netflix
Can you believe it's been four years since Ryan Gosling was last on-screen? Well, okay, you probably can. A whole lot's happened in the real world since we last saw the former star of "The Mickey Mouse Club," back when he was casually risking life and limb to get to the moon as Neil Armstrong in Damien Chazelle's excellent "First Man." I might have preferred Gosling save his comeback for his role as Ken in Greta Gerwig's "Barbie" next year, if only because "The Nice Guys" proved we desperately need more comedic Gosling projects in general. That and Gerwig's movie frankly seems way more interesting than Gosling's actual return vehicle: the Russo Brothers' Netflix action flick "The Gray Man."
Regardless, Gosling is currently making the press rounds for "The Gray Man" ahead of its theatrical release this week. And just like clockwork, no sooner is he back to making movies than he's being asked that question that every actor gets asked at some point these days. You know the one. Yes, Gosling has discussed the idea of him playing a role in the Marvel Cinematic Universe in the future, specifically the rumors about him signing on as cosmic superhero Richard Rider, aka Nova, in the developing "Nova" film. But lo, Gosling has a very different MCU role in mind for himself.
I'll give you a hint: It involves fire, chains, and motorcycles. That's right, it's Frog-Man!
You've met the Driver, now get ready for the Rider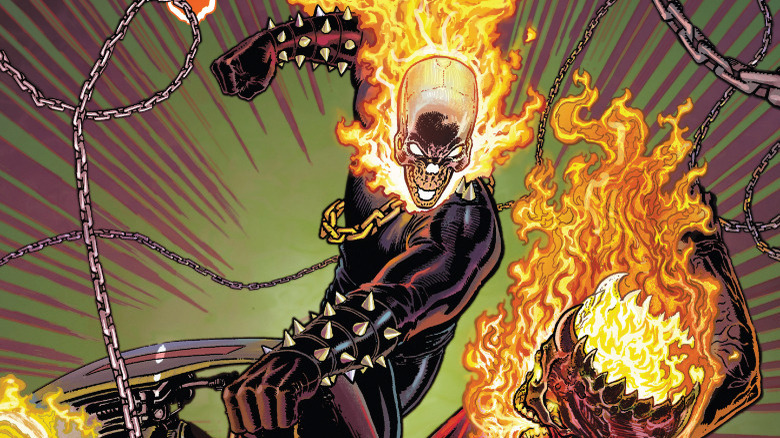 Marvel Comics
According to MTV News' Josh Horowitz (via The Direct), Ryan Gosling shot down the rumors about him playing Nova in Horowitz's yet-to-be-published interview with the actor to promote "The Gray Man." But while we wait to find out if Gosling is pulling an Andrew Garfield on us, Horowitz revealed that Gosling also expressed an interest in getting to play Ghost Rider.
Next week my full chat w/Ryan Gosling for @MTVNews
But for now, an honest to goodness EXCLUSIVE.

Ryan and I chatted about the Nova rumors yesterday which he said aren't true. BUT this morning Ryan reached out to me to say there is one superhero he wants to play...GHOST RIDER pic.twitter.com/1jnC5ht4UY

— Josh Horowitz (@joshuahorowitz) July 12, 2022
Gosling wanting to play Johnny Blaze (assuming that's the Rider he has in mind) kinda makes perfect sense. Of course the actor who portrayed the nameless, stoic Driver behind the wheel in "Drive" wants to play the Marvel superhero who's also a stunt rider. Heck, Gosling has already played a stoic motorcycle stuntman before in "The Place Beyond the Pines," so why not let him go wild and channel the Nicolas Cage "Ghost Rider" movies (especially the gonzo "Spirit of Vengeance") as the character in the MCU? If Hollywood insists on continuing to cast Gosling in big action films, they might as well let him have fun.
As for Ghost Rider, the character was most recently brought to life in live-action by Gabriel Luna (playing the Robbie Reyes iteration of the superhero) on the Marvel Television series "Agents of S.H.I.E.L.D." Plans for a "Ghost Rider" spinoff show starring Luna were abandoned just before Marvel Television was folded into Marvel Studios in 2019, but who knows? Whatever the future holds for Johnny Blaze in the MCU, perhaps Luna's Robbie Reyes will one day join the growing parade of Marvel Television characters to make their way over into the MCU proper.
"The Gray Man" opens in theaters on July 15, 2022. It will begin streaming on Netflix a week later.