Jensen Ackles Was Caught Off Guard By His Animated Batman Casting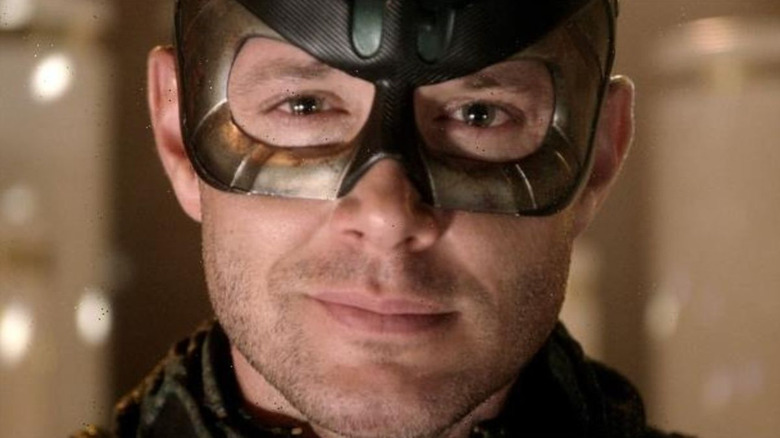 Prime Video
If you've been keeping up with the depraved adventures of Prime Video's Supe-hunting crew, "The Boys," then you'll recognize Jensen Ackles as the vintage hero recently thawed out to help in the endless battle against Homelander. As Soldier Boy, Ackles is like the walking manifestation of toxic masculinity: he's a dark play on Captain America with shades of the Winter Soldier sprinkled in, except instead of being a war hero who gives spectacular motivational speeches, he's a fraud with enough politically incorrect commentary to put your grandparents to shame. He sings and dances like a, um, pro, and his superpowers include super-strength, indestructibility, offending an entire plenty of women with a single sentence and *checks notes* and shooting mysterious beams of light from his chest. Y'know, all the typical super-solider stuff.
Since emerging from his cryogenic chamber, Jensen Ackles has been knocking this performance out of the park week by week — perhaps because he's no stranger to playing a superhero. Nope, I'm not talking about Dean Winchester. Don't get me wrong Ackles saved plenty of lives in his 15-season tenure as a monster hunter on "Supernatural," but we all know that Dean wouldn't be caught dead in a pair of tights. I'm referring to Ackles' turn as another broody hero, who cloaks himself under the shadow of night and spends his free time hanging out in a cave with his butler best friend. That's right — Jensen Ackles once took a spin at the Dark Knight.
Jensen Ackles suits up as The Dark Knight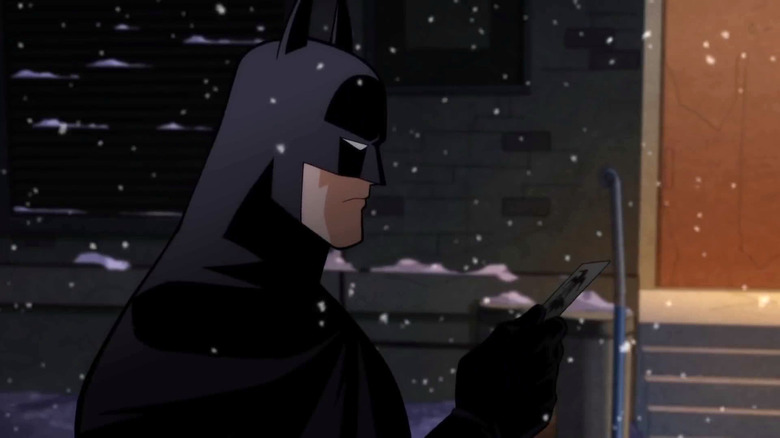 Warner Bros
Cruising in a '67 Chevy Impala and being chauffeured around by Vought lackeys is just the tip of the iceberg: Jensen Ackles also took the Batmobile for a whirl back in 2021. In fact, that's just one chapter of his DC comics history. Ackles has deep roots when it comes to the world of superheroes (particularly DC comics). One of his earliest roles was as Jason Teague on "Smallville," a love interest to Lana Lang with a mysterious past. Later, in 2010, he provided the voice of Jason Todd in the "Batman: Under the Red Hood." It's almost like he was working his way up to the DC biggie because by 2021, it came true — Ackles was cast as the Caped Crusader himself, in the two-part adaptation of "Batman: The Long Halloween."
The offer caught Ackles off-guard, which he shared during s recent chat with Entertainment Weekly:
"I come from a previous film where I voiced Red Hood. So when I got the call for this, I assumed I would be reprising that role into whatever story these guys were adapting. But then I realized I'd gotten the upgrade! I don't think they even got the whole word 'Batman' out. They were like, 'Bat-' and I was like, yes!"
You might assume that because the films are animated, we lost our shot to see Ackles truly suit up — but sometimes, fate intervenes and things just work out. Ackles had already donned the cape before the film was even announced.
Will Jensen Ackles return as Batman?
Prime Video
Back in 2019, the "Supernatural" star dressed as Batman for Halloween. He explained in the same interview that it all came together organically:
"I had this wonderful crew person I was working with who hand-made costumes and cosplay stuff. She didn't even know. She did a Red Hood version for me. She was like, 'I'm gonna do a Batman, would you be my mannequin?' And inside I was like, 'If you only knew!'"
By no means does this mean that Ackles' superheroing days are over. Earlier this year, while doing the rounds to hype up his role in "The Boys," Ackles hinted at an upcoming DC project he was hoping to be a part of, saying "there is a DC property that's currently developing with Warner Bros. and some other good partners that I've got my fingers crossed for."
There's been no word since, but Ackles has found time to continue his crusade for Batman. At a Q&A panel during Supernatural's New Jersey Convention (via MovieWeb), Ackles said: "Batman. Let's be clear about that. I have gotten to do the voice. Why not get to play the Bat?" He cheekily added, "Maybe someone at Gotham Knights can put in a good word for me if that role ever comes up." With his former "Supernatural" co-star Misha Collins set to return to The CW as Batman villain, Two-Face, perhaps a reunion is in the cards! But then again, since the show revolves around what becomes of Gotham after Batman is mysteriously murdered, this might not be the best place for Ackles' live-action Batman debut. Certainly not if we want him to live past the pilot.