How The 2022 Box Office Compares To 2021 So Far, And What's Next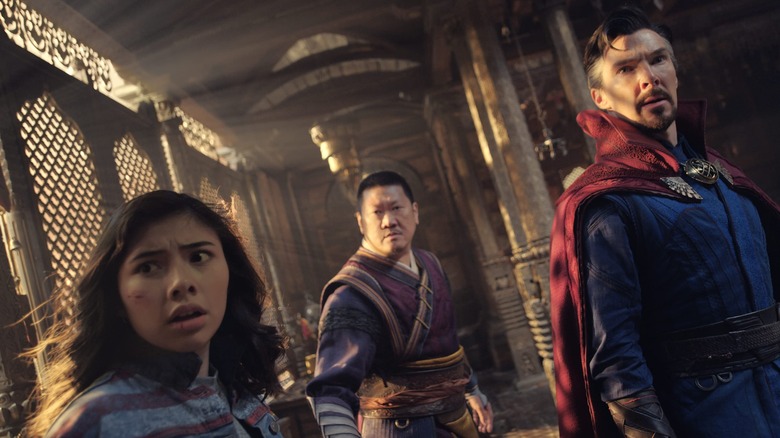 Marvel Studios
2021 looked pretty good at the box office, all things considered, mostly because 2020 was absolutely abysmal for what should be obvious reasons. Improvements were made and, overall, last year finished 80% ahead of 2020 with $21.4 billion being raked in globally, compared to a dismal $12.4 billion in 2020. So, as we reach the halfway mark of 2022, how are things looking? In a word: good!
Things started off on a good foot this year as theaters were still riding the "Spider-Man: No Way Home" wave well into January, a month that also gave way to hits like "Scream." The point is, even though the recovery has been a little slower than many in the industry might have hoped, this year is proving that audiences are ready to return to theaters and there is still plenty of room to improve, streaming be damned. 
The numbers currently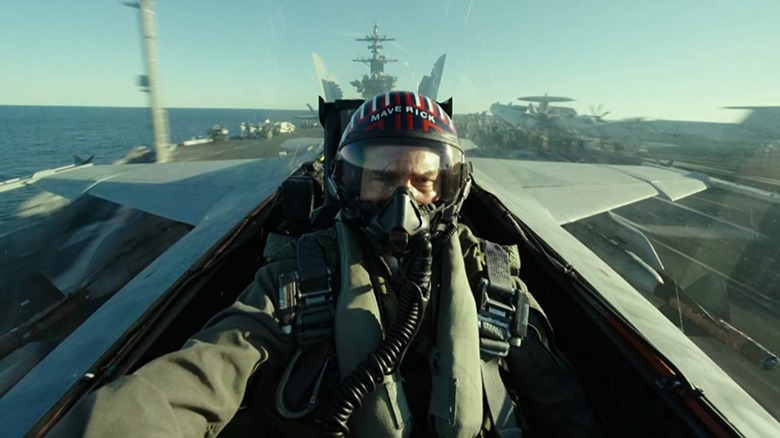 Paramount Pictures
As it stands, the domestic box office tally for 2022 sits at $3.62 billion. In contrast, the domestic total for all of 2021 was $4.48 billion. That means we are currently on pace to blow that total out of the water as, if we stay on this track, ticket sales for the year will finish at around $7.25 billion. Though there is reason to think that number could climb a whole lot closer to $8 billion as the year is just getting started in many ways.
Leading the pack currently is "Top Gun: Maverick" which has amassed $530 million domestically and over $1 billion globally thus far. Plus, we still have quite a few huge movies on the way for the rest of the summer including "Minions: The Rise of Gru," "Thor: Love and Thunder," Jordan Peele's "NOPE," and "DC League of Super-Pets." Not to mention everything that is coming down the pipeline a little later in the year during fall and winter, such as "Black Panther: Wakanda Forever," "Black Adam," "Salem's Lot," "Halloween Ends," "Creed III," and "Avatar: The Way of Water, amongst others." Safe to say, the deck is stacked in favor of a good second half of the year.
But part of what has been so encouraging up to this point is the sheer variance in hits. It's not just superhero/franchise movies anymore. Sure, "Doctor Strange in the Multiverse of Madness," "Jurassic World Dominion," and "The Batman" raked it in, but we also have stuff like "The Lost City," "Dog," and "Everything Everywhere All At Once" giving a big boost to original cinema. Paramount has had five movies debut at #1 on the box office charts, with all of those movies covering a different corner of cinema. This is what real recovery looks like.
What to look for next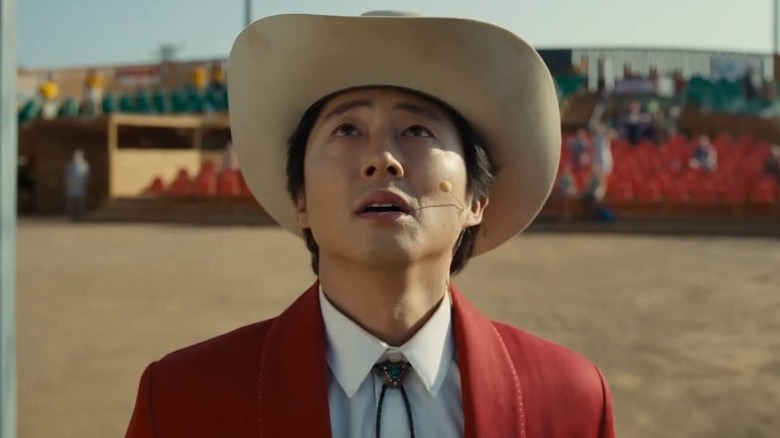 Universal Pictures
Global box office figures for the year have not been tallied just yet but if the domestic market is any indication, things are very much looking up. Not to mention that this year has seen huge international hits such as "Water Gate Bridge" ($626 million), "Too Cool to Kill" ($217 million), and "RRR" ($100 million). Heck, even "Fantastic Beasts: The Secrets of Dumbledore" saved some face with $309 million worth of its $405 million total coming from overseas. So, even if we don't have a nice, round number for the global theatrical marketplace at the halfway mark, it's all looking quite good.
So, what should we be looking for next? The big thing will be whether or not more originals and different types of cinema can continue to break through. Part of what hampered 2021 was that it was pretty much only superhero flicks that got the job done, with even something like "Halloween Kills" getting a simultaneous streaming release on Peacock that might have hurt its earnings potential. Sure, we expect "Black Panther 2" to be a big hit, but we also need "NOPE" to find that same "Get Out" audience, and it would be great if movies like "The Black Phone" and "Elvis" continue to shine.
Meaningful recovery at the box office requires diversity in that way. Beyond that, we also need to see studios making firm commitments to theatrical. Less day-and-date releases with big movies and more bets on getting moviegoers out to theaters, as well as more counterprogramming against big blockbusters. Movies like "The Batman" can't be given a whole month to run the table because that doesn't leave room for much else. There is room for more and, if the movies are good and the budgets are reasonable, more than one movie can flourish at a time. That's where we need to go and that's when we can get back to something that more closely resembles normalcy.