Paramount's Hot Streak Confirms It Should Not Abandon The Box Office For Streaming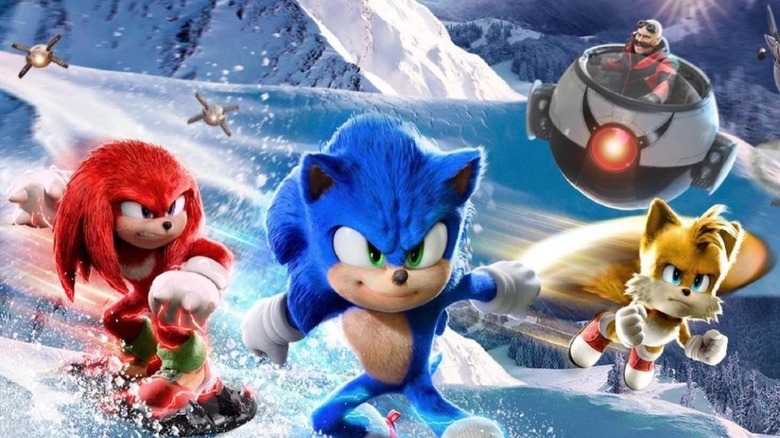 Paramount Pictures
Last year was not exactly the box office recovery that many in the industry had hoped for. While 2021 offered significantly greener pastures than 2020 (for obvious reasons), we still have a long way to go before things get back to normal — or at least as close to normal as they are ever going to get. That being the case, streaming took an even larger foothold, with Paramount+ becoming a bigger player in the game, looking to compete with giants like Netflix and Disney+. It also seemed as though this meant Paramount was going to take a step back from blockbusters and theatrical in general to focus on streaming, as was reported in September 2021 when Brian Robbins took over as CEO.
At the time, it was said that ViacomCBS had made Paramount+ its top priority, and Paramount Pictures would be scaling back on big-budget tentpole films to focus on movies that would better serve the company's streaming goals. Yet, 2022 has proved to be a gigantic year for the studio at the box office, as Paramount has had four movies in a row debut at number one, with "Sonic the Hedgehog 2" recently debuting to $72 million. It ranks as the biggest opening for a video game movie ever and the studio's biggest opening weekend since 2014. That is no small thing, pandemic or no pandemic.
Dating back to January, Paramount also had number one hits with "Scream" ($30 million opening), "Jackass Forever" ($23 million opening), and "The Lost City" ($30 million opening). All of these movies and "Sonic 2" are in the top ten highest-grossing movies domestically for 2022 so far, and all of them are firmly on the road to profitability, assuming they haven't turned one already. That being the case, it may well be time for Paramount to rethink its strategy just a bit.
A theatrical hole that needs filling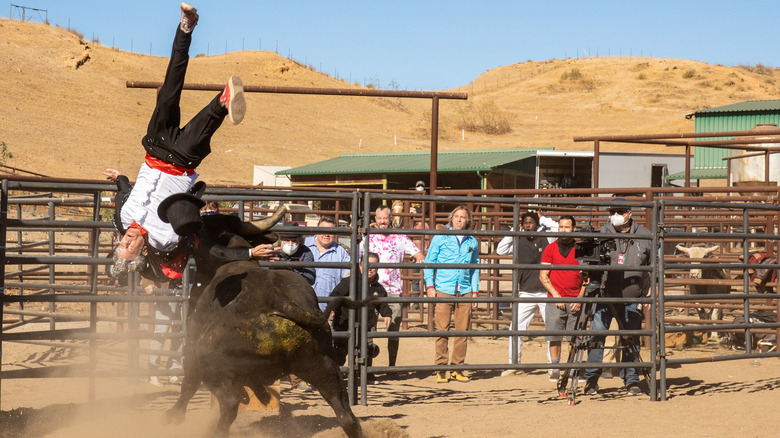 Paramount Pictures
Here's the thing: as much as everyone is doubling down on streaming right now, movie theaters are still a gigantic part of the equation and they will continue to be for some time. The fact of the matter is that streaming has actually taken away several other revenue streams or reduced them significantly, with Blu-ray sales on the decline, foreign sales of movie rights, and even cable starting to recede. That being the case, the box office remains a hugely important tool to recoup the money spent on movies. Not everyone can be Netflix, and maybe not everyone should try to be.
What we've seen definitively is that the big superhero movies such as "Spider-Man: No Way Home" and "The Batman" will draw crowds pretty much no matter what. Even "Morbius" did pretty well on its first weekend despite miserable reviews before tanking in weekend two. But movie theaters need more to survive on than just comic book movies and horror franchises (again, look at how well "Scream" did with "Scream 6" already on the way). And, based on what we've seen in 2022 so far, it looks like Paramount is well equipped to provide counter-programming that extends beyond superheroes and horror flicks.
"Jackass Forever" was a hard R-rated, adult-skewing comedy. "The Lost City" was the type of old-school, star-driven rom-com that we all thought had been relegated to Netflix and was no longer theatrically viable. "Sonic the Hedgehog 2" was the first movie sequel to turn a video game into a franchise since "Resident Evil: Apocalypse" in 2004. The fact that audiences have shown up each and every time indicates that Paramount is onto something here.
The other thing to consider is that these movies are still serving to benefit Paramount+ in the end. Both "Scream" and "Jackass Forever" debuted on the streaming service just weeks after they hit theaters. These were fresh titles that could still help bring in subscribers and beef up the streamer's library. ViacomCBS gets to have its cake and eat it too — make your money in ticket sales and then make people happy from the comfort of home. It can be a win-win and Paramount seems positioned to keep doing just that.
Brian Robbins appears to be sitting on the fence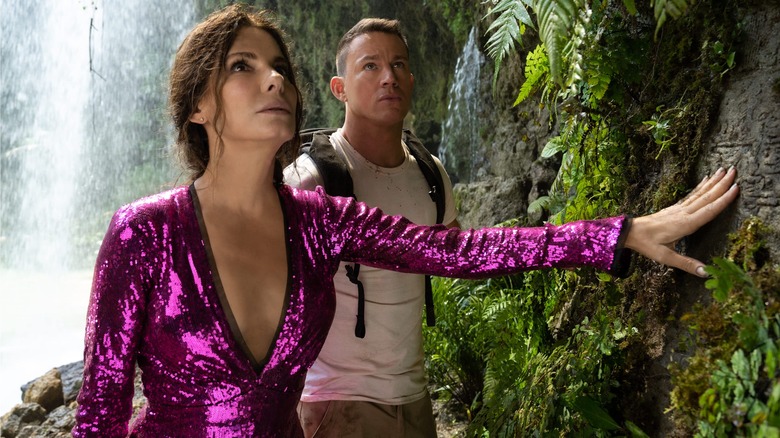 Paramount Pictures
From my point of view, I am certainly not arguing against the idea of Paramount at least being a bit more conservative when it comes to big-budget films. "Mission: Impossible 7" has had its budget balloon and now faces a steep uphill battle to not result in a huge loss for the studio. These blockbusters are hugely risky even in established franchises. I've argued previously that Hollywood, in general, needs to reckon with its budget problem, and Paramount is doing a damn fine job in that department. "Sonic 2" carried a very reasonably $90 million budget as a sequel to a surprise hit. This is the way, as it were.
What I am saying though is that focusing too much on Paramount+ in any way that would divert resources from Paramount's theatrical pipeline right now would seem to be a mistake. Don't focus too much on streaming specifically when, as it's playing out right now, the box office is working in your favor and that, in turn, can help bolster Paramount+. For what it's worth, Robbins kind of appears to be sitting on the fence right now. In speaking with CNBC recently, he said the various divisions of the company are "really working together to unleash the reach of the entire company on our films, and on our other projects, and that is definitely paying dividends for us." When pressed about the theatrical versus streaming strategy and whether or not the success of "Sonic 2" had any impact on that, he said the following:
"All of our films will end up on Paramount+ eventually. As far as your question on the windowing, since we've been in this pandemic, and are still trying to figure out when is it 'really' over, we've looked at each film holistically. Back last summer starting with A Quiet Place [Part II], there was a window to release a movie theatrically where COVID had calmed down. We had a nice run at the box office with that, and then that movie went to streaming on day 46 and was really successful for us. The following month, the pandemic wasn't so good, we released the Paw Patrol movie, we decided to go day-and-date with that movie because families wanted choice, whether they would see it at home or in the theaters. As it turned out, it worked out for us both ways. That movie was successful at the box office and it was our most successful movie in streaming."
That is very much a "we want to have it both ways" answer that didn't really answer the question at hand. The good news for Paramount is, if they continue to be smart and keep wisely-budgeted, audience-friendly movies coming that offer something counter to what everyone else is doing, they can have it both ways.