Sonic The Hedgehog 2 Had The Best-Ever Opening Weekend For A Video Game Movie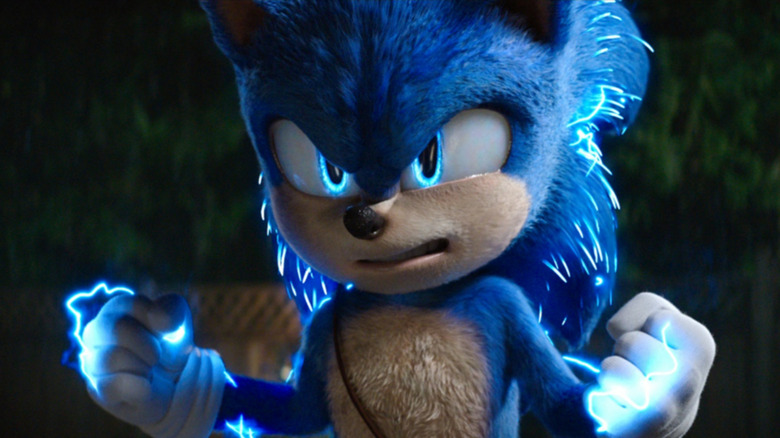 Paramount Pictures
Many a filmmaker in recent years has thought themselves to be the one who would finally, against all odds (as much as $100+ million blockbusters could possibly be an underdog, at least), break the dreaded video game curse. Quality films that have reached a positive consensus among both fans and critics have proven to be an elusive target for this particular breed of adaptation, to put it mildly. But despite the rampant popularity in their original medium, box office success for these video game movies hasn't turned out to be as much of a slam-dunk as studio executives (and shareholders, importantly) likely hoped. But perhaps even in the midst of the ongoing pandemic, there might be some hope ... provided by "Sonic," of all things.
"Sonic the Hedgehog 2" managed to barely squeak out a positive Rotten Tomatoes percentage among critics in general (although /Film's Josh Spiegel came away with a much less charitable response to the "overlong and exhausting" sequel in his review) and now appears to have fared even better during this past weekend. According to Variety (via IGN), the "Sonic" follow-up has set a record of sorts as the best performing video game movie during its opening weekend of release, outperforming the first "Sonic" movie in 2020 ($58 million over its first 3 days and $70 million including the President's Day holiday) and coming in even higher than modestly optimistic expectations from last week. The sequel claimed the number 1 spot at the box office by a sizeable margin, raking in a hefty $71 million domestically that left competitors like Sony's vampire comic book movie "Morbius" and Universal's Michael Bay-directed "Ambulance" scrambling to make up the difference.
Internationally, an additional $37 million helped bring the film's worldwide total to $141 million overall. When compared to the film's reported $90 million budget (though, as always, one must factor in the significant marketing costs as well), that paints a rosy picture for the sequel's chances of turning a profit — meaning that it may actually justify all those sequel teases when all is said and done.
Sonic the Hedgehog 2 outruns previous video game movies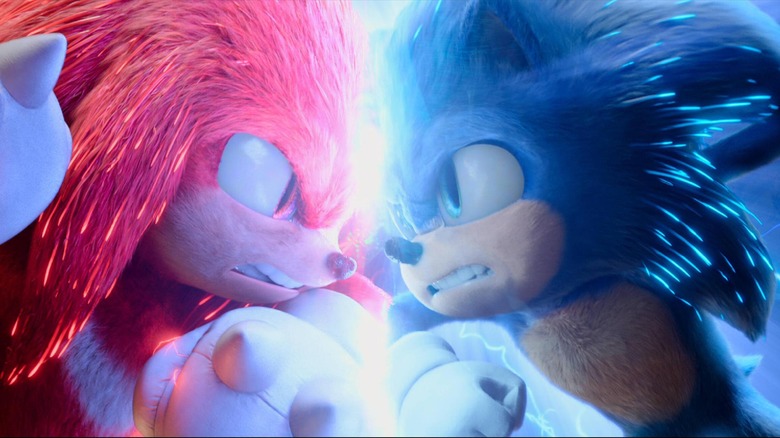 Paramount Pictures
As if all that wasn't good news for those with financial stakes in this particular franchise's continued existence, the Jeff Fowler-directed "Sonic the Hedgehog 2" also managed to add another feather in its cap. After the 2020 original movie claimed the title of best-ever opening weekend by a video game movie, the sequel went ahead and outperformed its predecessor to set the new record. That might seem like damning the film with faint praise, given the well-documented difficulties that this particular "genre" of movie has been forced to endure throughout the last few decades. But these totals would be promising for any movie of that specific budgetary figure, raising hopes among theater owners that families with young children are feeling somewhat more comfortable with heading out to theaters in the United States, despite the pandemic.
But in terms of stacking the "Sonic" sequel against previous video game movies, the comparisons are certainly eye-opening. Previously, 2019's "Detective Pikachu" set the opening weekend record at the time with a little over $54 million, ultimately grossing $433 million globally. In terms of live-action, Sony's recent Tom Holland-starring "Uncharted" couldn't quite muster up any significant challenge, settling for an unremarkable, if respectable (by pandemic standards, at least) $383 million worldwide. Elsewhere, efforts such as "Resident Evil: Welcome To Raccoon City," "Mortal Kombat," the Alicia Vikander-starring "Tomb Raider" reboot, the 2016 "Assassin's Creed" (starring Michael Fassbender and directed by Justin Kurzel), and Duncan Jones' "Warcraft" all generally underperformed compared to expectations and budgets, steadily adding even more fuel to the fire that video game movies — no matter how much studios try to will them into being — simply aren't the reliable moneymakers that superhero movies, the "Jurassic World" franchise, and "The Fast & the Furious" have established themselves to be.
The success of both "Sonic" movies certainly seems to suggest that the future of video game adaptations may have to rely on carefully modulated budgets and a kid-friendly tone to appeal to four-quadrant audiences. The moviegoing landscape continues to remain in flux as the pandemic remains a reality throughout the world, as the underperformance of original adult fare like Michael Bay's "Ambulance" makes uncomfortably clear. But for video game movies, "Sonic" just might provide some hope that (some of) these blockbusters just might be able to hang in there with the top dogs.