Mission: Impossible 7 Cost Nearly $300 Million, Mission: Impossible 8 Likely To Be Tom Cruise's Last Mission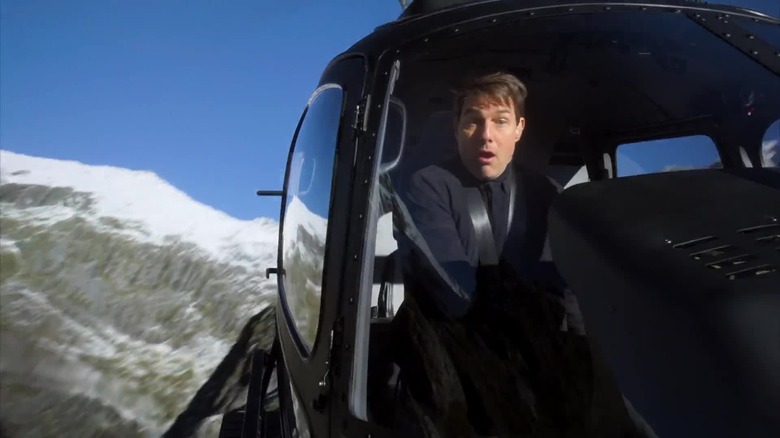 Paramount Pictures
Today brings some utterly fascinating news regarding the "Mission: Impossible" franchise. Some of it is potentially exciting but most of it is downright jaw-dropping — and not in the "Holy crap, Tom Cruise is hanging from the tallest building in the world!" kind of way. It turns out that the lengthy production of "Mission: Impossible 7" was more costly than anyone realized and its budget ballooned beyond reason. Not only that, but it is expected to be the penultimate adventure for Ethan Hunt, adding even more pressure to the situation.
According to Variety, "M:I 7" now carries a massive $290 million budget which does not account for eventual marketing costs. As one might expect, much of this had to do with the fact that the movie had to navigate filming during the pandemic, resulting in many delays and costly safety measures. Not to mention that even in pre-covid times these movies cost as much as $180 million to produce. As Simon Pegg put it, "Mission: Impossible 7" essentially "wrote the book" for COVID protocols in Hollywood but that came at a heavy cost.
Beyond that, the report reveals that there is pressure on director Christopher McQuarrie and Cruise to deliver the goods as this movie, as well as the planned "Mission: Impossible 8," are expected to conclude this iteration of the franchise. Or, at the very least, the character of Ethan Hunt. Variety says the following:
"The seventh movie ends with a cliff-hanger, and the star wants to make certain that the transition between installments is seamless. The plan is for the seventh and eighth films to serve as a sendoff for Cruise's Ethan Hunt character — a 'culmination' of the entire series, as one insider described it — which has also upped the pressure on the star and McQuarrie to deliver a slam-bang farewell to the super spy."
A Worst-Case Scenario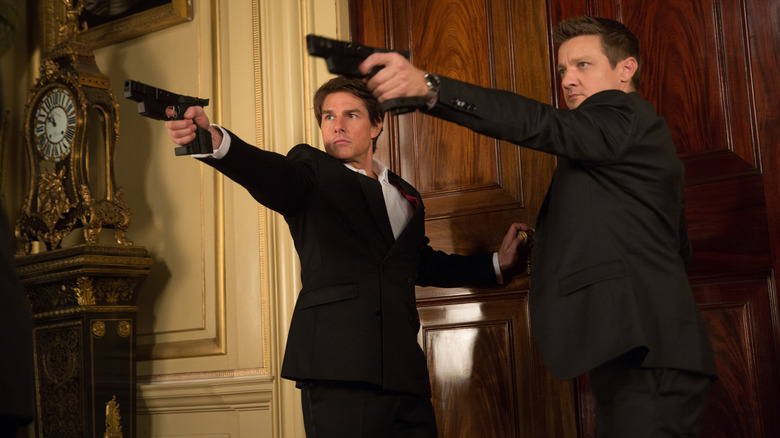 Paramount Pictures
A whole lot to process there! The report notes that the recent delay with the release dates for the sequels had to do with getting everything squared away with "M:I 8" before "7" is released. Unfortunately, delays mean adding more to the overall cost. Ouch.
This all adds up to what might be considered a worst-case scenario for Paramount Pictures and Skydance, who are co-financing the films. While the six movies in the franchise to date have earned more than $3.5 billion globally (per The Numbers), the budgets have never been anywhere near this high. Quite frankly, few movies have ever gotten near the $300 million budget range and the ones that have typically ended in disaster. Look at the theatrical version of "Justice League" or "The Lone Ranger." It's bad news.
For some context, "No Time to Die" had a budget said to be in a similar range and it needed to earn a reported $800 million worldwide just to break even. It didn't get there, even with the recent IMAX re-release. It seems safe to assume that "M:I 7" now finds itself in a similar boat, looking to make ungodly amounts of money just to avoid landing in the red before the eighth installment arrives a year later. In a word? Yikes.
In addition to Tom Cruise, the cast also includes returning favorites Simon Pegg, Rebecca Ferguson, Ving Rhames, and Vanessa Kirby, as well as Henry Czerny reprising his role as Eugene Kittridge from the first movie. Newcomers include Hayley Atwell, Pom Klementieff, Cary Elwes, Indira Varma, Shea Whigham, Esai Morales, and Rob Delaney.
"Mission: Impossible 7" is set to hit theaters on July 14, 2023, with "Mission: Impossible 8" to follow on June 28, 2024.