The RRR Acronym Doesn't Mean What You Think It Means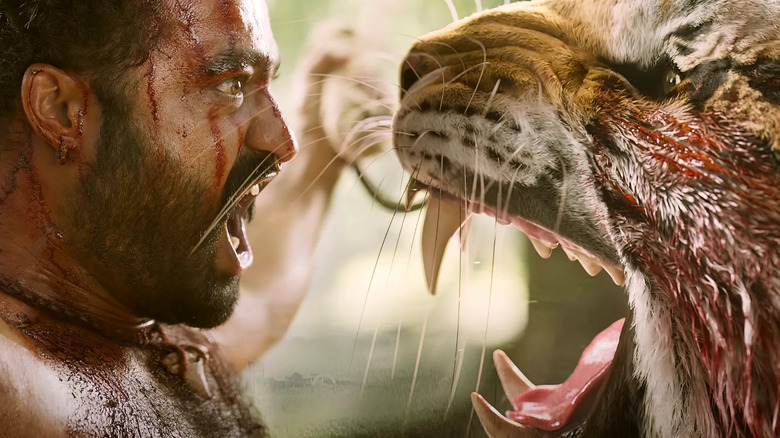 Variance Films/Sarigama Cinemas
Everyone is talking about "RRR," the Indian Telugu-language epic that chronicles the fictional exploits of two real-life revolutionaries. The three-hour-long, $72 million action-musical is massive in every way, save for its alliterative, catchy title. But what does it actually stand for? It would be easy to assume that the acronym serves as a shorthand for the film's official title, "Rise Roar Revolt," but it's actually more rooted in straight-forward audience marketing.
The film's protagonists are Alluri Sitarama Raju (Ram Charan) and Komaram Bheem (Rama Rao), two real-life revolutionaries who fought against the British Raj. Set in 1920, "RRR" speculates on the period in the two revolutionaries' lives before they took up arms to fight against British imperialism. Much of the plot is totally fictitious, with director S.S. Rajamouli taking action-packed liberties with the historical figures' stories — including the notion that they were even friends in the first place. After reading about their real lives, Rajamouli noticed that the two shared a lot of similarities and decided to craft a vision in which the two freedom fighters joined forces and forged a fierce friendship. But, hey, who needs an honest dose of reality when the option to include man-on-tiger fights and heavy explosions is available?
Alright, let's get back to the point — if it's not simply a shortening of "Rise Roar Revolt," what does the film's title mean?
What RRR actually stands for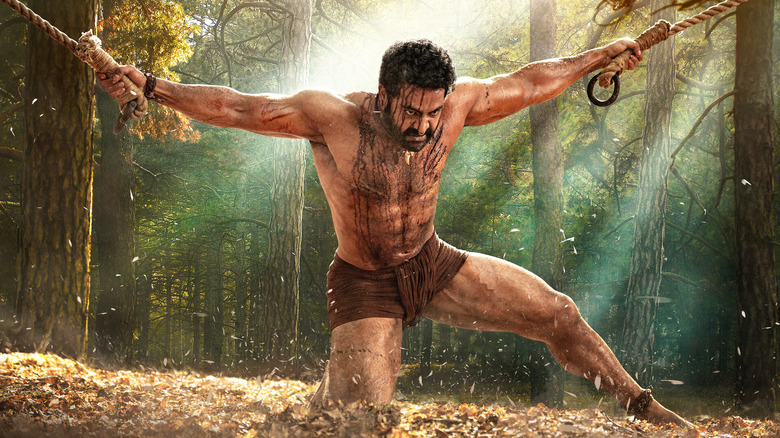 Variance Films/Sarigama Cinemas
As it turns out, "RRR" represents the star power behind the film. It encompasses the initials of director S.S. Rajamouli and the two lead actors Ram Charan and Rama Rao. The fact is that these are some of the biggest, most beloved names in Tollywood — having their names used as the film's main marketing tool is enough to get audiences flocking to the theater. However, the film has done incredibly well globally, even among audiences who might not be immediately familiar with the work of the film's director and its stars. It's made over $150 million worldwide, and it even broke box office records on opening night alone. It made $31 million worldwide on its first day in theaters, which means that "RRR" broke the record for the highest opening day for an Indian film.
If the film's impressive star power, mind-blowing action sequences, and anti-imperialist spirit don't immediately sell you on it, you might just be immune to moviegoing fun in its most outrageous form. If you've already seen the Hollywood-shaming spectacle, why not check out a few more films that might scratch that same itch? If absolutely nothing can emulate the epic action of "RRR," you can now actually stream it from the comfort of your own home via Netflix.