Tom Cruise's Risky Business Romance Caused Some Problems Behind The Scenes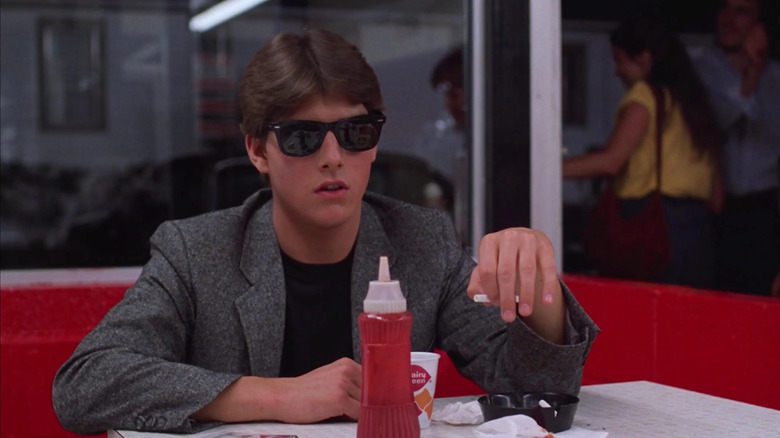 Warner Bros.
Tom Cruise has made a living playing characters that push the envelope, whether it's the brash "Top Gun" pilot Maverick or super spy Ethan Hunt in the "Mission Impossible" series. So it is apropos that his breakout role came by way of the 1983 teen sex comedy "Risky Business." In the film, Cruise played a wealthy teen named Joel Goodsen, left alone for the weekend by his parents. The iconic Ray Ban sunglasses, the chic sports car, and the Bob Seger classic "Old Time Rock & Roll" created just the right mix to make Tom Cruise a superstar.
Long before Will Smith's parents left the keys to the brand new Porsche in "Parents Just Don't Understand," Cruise created trouble of his own, both on and off screen. In "Risky Business" Joel crashes — or rather, rolls — his father's new Porsche 928 into Lake Michigan. This leads to an epic house party to raise enough money to repair the car, all the while he finds himself falling in love with a sex worker.
While he created some unforgettable moments on screen, Cruise participated in his own kind of risky business off screen that caught the attention of a co-star.
A risky affair with De Mornay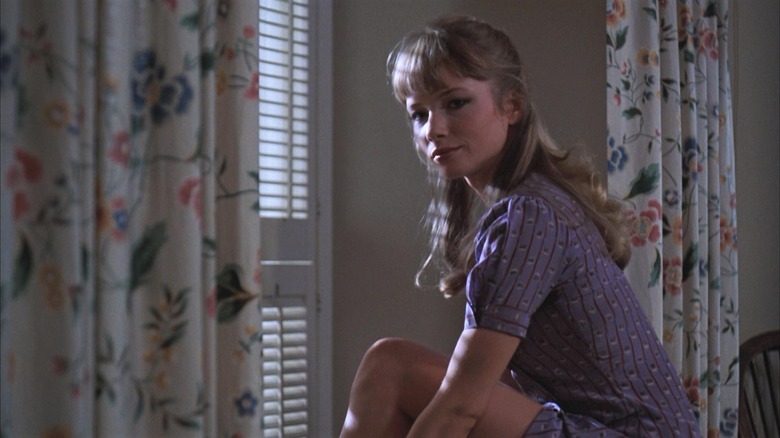 Warner Bros.
"Risky Business" wasn't just a breakout film for Cruise. Co-star Rebecca De Mornay, who played a call girl and Cruise's love interest, also found success in Hollywood thanks to the movie. The pair had chemistry on-screen and began hooking up behind the scenes. But things got awkward when De Mornay's boyfriend, Harry Dean Stanton, showed up on the set.
"Risky Business" co-star Curtis Armstrong detailed Cruise's wild deeds in his memoir, "Revenge of the Nerd." According to an excerpt published in The Hollywood Reporter, one point of tension on set was Cruise's on-again/off-again affair with De Mornay. In a chapter dedicated to the filming of "Risky Business," Armstrong writes:
"It's no secret that Tom engaged in an intense affair during the shooting with De Mornay. Their romance was some time aborning. Part of the delay was caused by the presence of Harry Dean Stanton, who was involved with Rebecca. I suspect that most of Harry Dean's great qualities were lost on Tom, who, I think, was beginning to regard him as a guest overstaying his welcome."
According to Armstrong, when De Mornay was busy with Stanton, Cruise was kept company by girls "lined up in the hall" outside of his dressing room. That is until another young Hollywood hotshot arrived on set.
'Someone had blown up a convention of rising young '80s actors'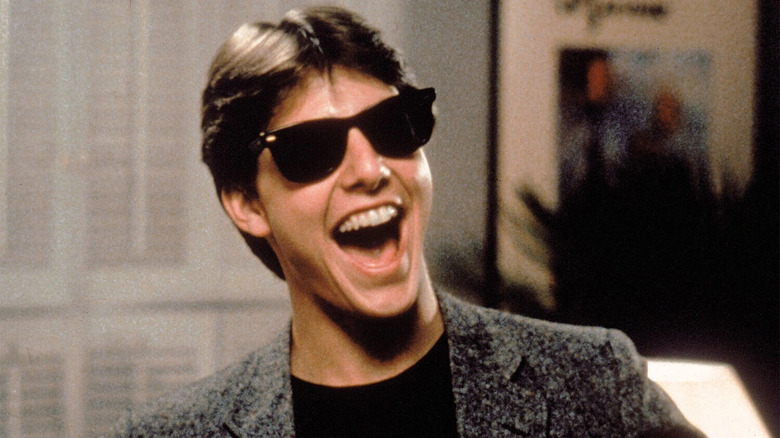 Warner Bros.
In his on-set diary, Armstrong regarded Cruise as an interesting character on the verge of a great career but found it difficult to get a grasp of him. Among his impressions, Armstrong noted how neatly Cruise kept his dressing room.
And then Sean Penn showed up on set. Penn starred with Cruise in "Taps" the prior year, and immediately brought out a different side of the actor. Armstrong noted:
"Going into the room just a couple of days after Sean's arrival was a revelation. It looked like someone had blown up a convention of rising young '80s actors. There were clothes covering the entire floor. There was a heady scent to the place, too. A rich musk of dirty laundry, cigarette smoke, alcohol, and young white male. The curtains were drawn against the light no matter what time it was. The two of them, like as not, would either still be in bed or lounging in underwear. It looked like a Calvin Klein ad."
In the movie, Joel's father tells Cruise's character, "Every once in a while you just got to say, 'what the heck' and take some chances." Apparently, it's advice that the actor himself took to heart. Despite Cruise's behavior while making the film, "Risky Business" was a massive success and the beginning of Cruise's ascent to superstardom in Hollywood. The film grossed $63.5 million, according to Box Office Mojo, and was labeled "one of the smartest, funniest, most perceptive satires in a long time" by film critic Roger Ebert. It was certainly a risk that paid off for everyone involved, especially Cruise.