Harry Dean Stanton, Character Actor Extraordinaire, Has Died At 91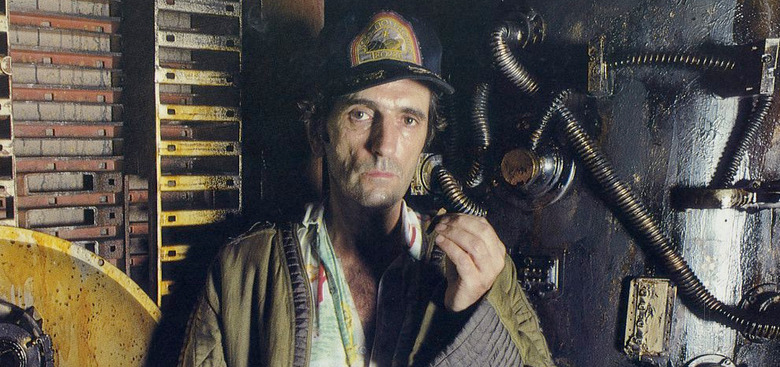 The beginning of the weekend brings sad news as veteran character actor Harry Dean Stanton died at age 91.
Harry Dean Stanton wasn't a name that many audience members would know unless they were huge cinephiles, but he was a welcome presence in any film, often playing bit parts in various movies and TV shows over the years, effortlessly bringing them to life with his signature succinct charm. If you need a better idea of how great Stanton was at his job, film critic Roger Ebert once said, "No movie featuring either Harry Dean Stanton or M. Emmet Walsh in a supporting role can be altogether bad."
We remember the life and career of Harry Dean Stanton below.
The news of Harry Dean Stanton dead comes from Variety, who confirmed the actor passed away of natural causes in his Los Angeles home on Friday.
Stanton was born in Kentucy to a tobacco farmer, living a rural life before heading off to be a cook in the Navy in the Pacific theatre during World War II. After that, he studied journalism, only to drop out and beging acting classes in the Pasadena Playhouse in 1949.
In his early career throughout the late 1950s and 1960s, Stanton appeared in countless television shows such as The Adventures of Tintin, The Rifleman, Johnny Ringo, Alfred Hitchcock Presents, Gunsmoke, The Untouchables, Gunslinger, Have Gun – Will Travel, Bonanza, Rawhide, The Fugitive,The Andy Griffith Show, Mannix, Adam-12, Petticoat Junction and Walt Disney's Wonderful World of Color. But he wasn't limited to the small screen in his work.
Harry Dean Stanton also played small parts in movies like Cool Hand Luke and In the Heat of the Night, the former giving him a chance to show his singing chops with the gospel song "Just a Closer Walk with Thee", the latter role being an uncredited one as a police officer. But it was the 1970s that brought him an influx of film roles and took him away from television for nearly the entire decade.
Stanton appeared as an American soldier in the war comedy Kelly's Heroes in 1970, a gay hitchhiker in Two-Lane Blacktop in 1971 and an outlaw in Dillinger in 1973. Those were his better known movie roles, but he also took parts in cult favorites such as Cockfighter and Farewell My Lovely. Plus, he also appeared in the likes of The Intruders, Cisco Pike, Zandy's Bride and Win, Place or Steal. Stanton even had a thankless role in The Godfather Part II as FBI Man #1, a character he would reprise in The Godfather: A Novel for Television in 1977.
It wasn't until 1979 that Harry Dean Stanton would get one of his most recognizable roles in cinema as the Nostromo crew member Brett in Ridley Scott's Alien. It was just the beginning of a run in the 1980s when Stanton would take more prominent roles in some staple films of the 1980s. Stanton can be seen in John Carpenter's Escape from New York, Alex Cox's Repo Man, John Milius' Red Dawn, Martin Scorsese's The Last Temptation of Christ, and of course, John Hughes' Pretty in Pink as Molly Ringwald's father. But certainly the most prominent was his first lead role in Wim Wenders' Paris, Texas, which won the Palme d'Or at the Cannes Film Festival.
Other notable appearances include Down Periscope, Fire Down Below, The Green Mile, The Pledge, Anger Management, Inland Empire, and Twin Peaks: Firewalk with Me. Stanton would make some sizeable television appearances as well, including that of Roman Grant on HBO's Big Love, not to mention recently reprising his Twin Peaks role as Carl Rodd on the series revival from Showtime this year. But more general audiences will probably recognize Stanton from a brief part where he interacts with Mark Ruffalo as Bruce Banner in The Avengers in 2012.
Stanton is one of the finest character actors, gaining acclaim from some of the most respected actors and always mentioned as a talent to be admired in Hollywood. He even became the namesake for a popular movie trivia game lovingly called Last Man Stanton on the comedy podcast Doug Loves Movies with Doug Benson. You'd be hard-pressed to find a more respected actor in the industry who wasn't lauded with awards and iconic roles. Stanton was a genuinely good man and an actor who put in the work and got the job done with terrific results.