No One Could Tell Tom Cruise 'No' While Making The Latest Mission: Impossible Movies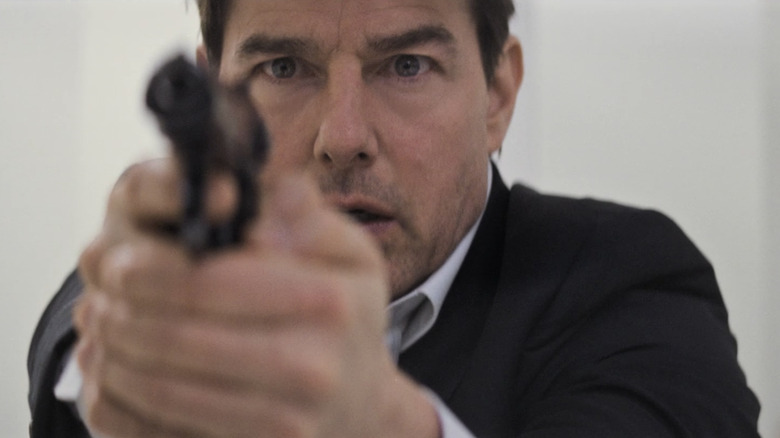 Paramount Pictures
You don't say "no" to Tom Cruise. Executives at Paramount Pictures, some of whom are out the door now, learned that during the making of "Mission: Impossible 7" and "Mission: Impossible 8." Cruise is famous for performing his own stunts, but with the "Mission Impossible" sequels, he pulled a different kind of stunt: lawyering up against Paramount.
According to The Hollywood Reporter, which has published an in-depth feature on the impossible mission of saying no to Cruise, the legal tiff arose over the plan to give "MI: 7" a 45-day theatrical window before sending it to the Paramount+ streaming service. This length of time has become increasingly common for theatrical releases during the pandemic, but it goes against the conventional three-month window.
Cruise, per THR, wasn't down with that at all. The report indicates that the studio was desperate for material to prop up Paramount+, but Cruise put the kibosh on the idea of either a "Days of Thunder" streaming series or a "Mission: Impossible" TV series revival. He can say "no," you just can't say "no" to him.
"MI: 7" wrapped principal photography last September — or so we thought — but the report also indicates that it still isn't finished yet and that Cruise might essentially be holding it hostage until he and director Christopher McQuarrie can finish "MI: 8," which apparently picks up right where the cliffhanger ending of "MI: 7" leaves off. The two films were originally meant to be filmed back-to-back but have since undergone numerous delays, with "MI: 7" now expected to open in July of 2023.
Time, money, and submarines: Cruise gets what he wants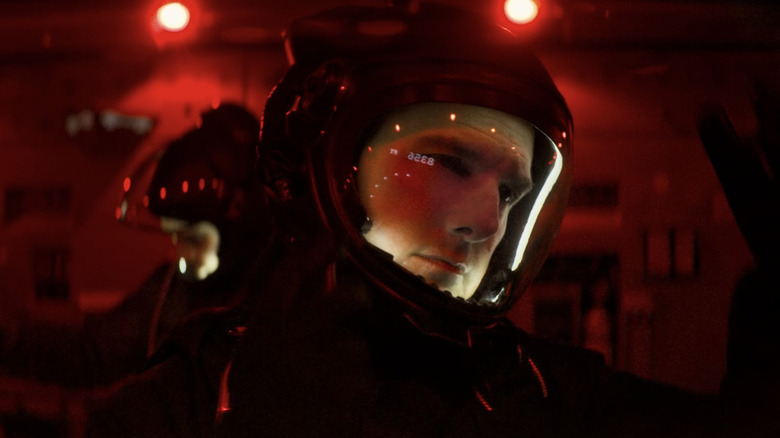 Paramount Pictures
It seems Cruise turned on the charm with that winning smile of his and was able to finagle more money — and an added submarine sequence — out of Paramount for "Mission: Impossible 7" despite the movie already rocking a $290 million budget. At the studio, Cruise has a reputation of being a perfectionist and giving his all to each project he undertakes, but he also knows his own value as a star and executives can only hope to "influence" him as opposed to issuing studio mandates.
Production on the "Mission: Impossible" sequels faced numerous stops and starts, with Cruise and McQuarrie both reportedly contracting COVID-19 and McQuarrie being seriously hospitalized at one point. As production resumed, Cruise even got on the phone with Norway's ministry of culture in order to circumvent the standard 10-day quarantine. It's not just studio execs who can't say "no" to Cruise; it's also the leaders of sovereign countries.
Meanwhile, the standoff over the theatrical window of "MI: 7" continues, with at least one executive producer and even Paramount's CEO having exited the picture in favor of new studio go-betweens, who are now left with the task of resolving the ongoing dispute. Cruise has to do promotion for "Top Gun: Maverick" before they can continue shooting "Mission: Impossible 8," and in the end, it almost seems like "Mission: Impossible 7" is being held so that they can match it up with "MI: 8" the way they would have if they shot the two movies back-to-back like they originally wanted. As one exec put it, "Tom says what he wants and the studio says what it wants. And then Tom gets what he asked for."
"Mission: Impossible 7" has a tentative release date of July 14, 2023.