Hear Will Smith Tell The Amazing Story Of How He Became 'The Fresh Prince Of Bel-Air'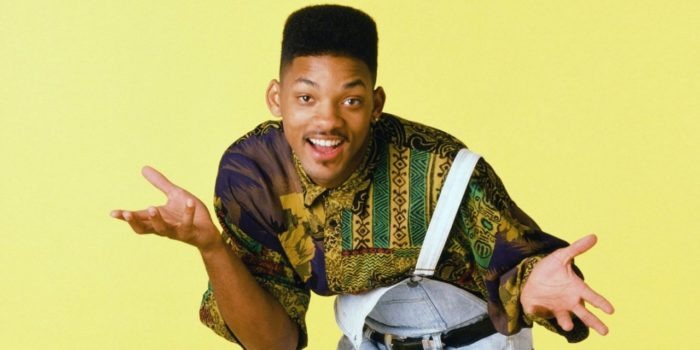 You know all about how the fictional Will Smith's life got flipped, turned upside down in The Fresh Prince of Bel-Air but it's easy to forget that real-life Hollywood superstar Will Smith's life took just as dramatic a turn. Before he became one of the biggest sitcom stars of the '90s — and shortly after, one of the biggest stars in Hollywood —Will Smith was just one-half of a rap duo who had the biggest flop of their short-lived career. Broke, humiliated, and in trouble with the IRS, Smith didn't even consider getting into acting. Until he met the real-life Prince of Bel-Air.
It's easy to forget why we loved Will Smith after a string of box office duds that failed to capitalize on his unending charisma. So it's amazing that a short video of him recounting how he became the Fresh Prince of Bel-Air could instantly remind us.
Charisma overflowing, Will Smith jokes and does a hilarious impression of drunk Quincy Jones in his story about how he landed the starring role in the hugely successful NBC sitcom The Fresh Prince of Bel-Air, which ran for six seasons from 1990-1996. Please, I beg that you watch this entire thing.
Will Smith Fresh Prince of Bel-Air Casting Story
Seriously, this five-minute video of Will Smith doing silly voices and laughing at his youthful idiocy made me laugh more than his last three movies. It's a nice trip down memory lane — both for Smith and for us fans who are reminded why we fell in love with Smith in the first place.
In the video, Smith recounts how he was riding high on the fame of DJ Jazzy Jeff and The Fresh Prince's breakout single "Parents Don't Just Understand," only for it all to come crashing down after their next album flops and he finds himself in trouble with the IRS. Broke and without a Ferrari to his name, Smith was at a loss at what to do next. "Being famous and broke is a shitty combination," Smith said.
So what could he do next? It turns out, a good old-fashioned hustle. At his girlfriend's demands, Smith attended The Arsenio Hall Show where he met "the real-life Fresh Prince of Bel-Air," Benny Medina. Medina instantly took to him, pitching him the idea for the show, but Smith brushed it off, saying, "Yeah, I'm not an actor." But before he knew it, Smith was introduced to the show's producer Quincy Jones and dragged to a party at Jones' house where the very drunk entertainment impresario shoved a "failed Morris Day pilot" into his hands. Suddenly, Smith found himself auditioning to a room full of celebrities, politicians, and head of NBC Brandon Tartikoff.
But Smith said that he almost balked when Jones demanded that he audition on the spot, until Jones told him, "You could wait three weeks. Or you could take 10 minutes right now and you could change your life forever."
"I was like, 'Fuck it then,' Smith said. "Yes, give me 10 minutes.' I said yes, and I let it rip, and I got to the end, and everybody's clapping." Soon, Jones had lawyers signing up contracts, and a few months later, Smith was shooting the pilot.
"The moral of the story is always say yes and I guess listen to your girlfriend," Smith joked.
Honestly, it's an amazing story of sheer luck and gumption on Smith's part – as well as his natural talent. But it is a great and inspiring story for all you hustlers out there.