All It Took Was One Call From Tom Cruise To Get Top Gun: Maverick Off The Ground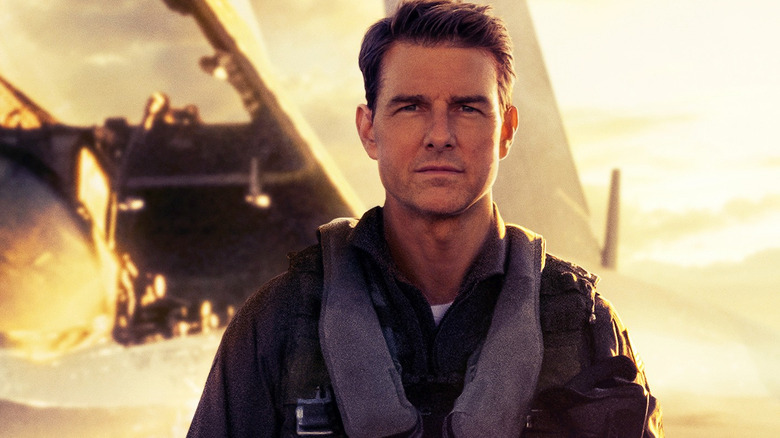 Paramount Pictures
Over three decades after Pete "Maverick" Mitchell first flew into the danger zone, "Top Gun" fans finally get to see Tom Cruise gear up for a sequel to the high-flying action classic. Even before the internet was brimming with rave reviews for "Top Gun: Maverick," it felt pretty clear that Paramount had all the ingredients for a potential blockbuster hit: Tom Cruise, nostalgia, incredibly dangerous action. 
So why did it take so long for Maverick to finally hit the ground running? Jerry Bruckheimer, the prolific producer behind the original "Top Gun," planned to get the sequel off the ground much sooner. The first film was a hit in 1986, raking in $357 million, so a follow-up only seemed natural but got lost in the shuffle of other projects. Two decades later, Bruckheimer and "Top Gun" director Tony Scott revisited the idea once more, until Scott's death in 2012. While Bruckheimer remained committed, progress slowed until Joseph Kosinski ("Tron: Legacy," "Oblivion") stepped up with a pitch for what would eventually become "Top Gun: Maverick." While chatting with The Hollywood Reporter, Bruckheimer explained:
"We always kept the flame alive to get this movie made, but once Joe Kosinski talked to us about his vision of what the movie is and the story he wanted to tell, we were enthralled with it."
Kosinkski's idea jumps into the story thirty years after the events of the original film. Maverick is working as a test pilot for the Navy — continuing to push the envelope and the buttons of everyone in command. His wily high-flying ways nearly get him grounded until an old friend swoops in and helps him secure a new gig, training an elite squad of Top Gun graduates. This job ends up pushing him to his limits in new ways, with Maverick forced to confront the ghosts of his past and consider his very uncertain future. With Kosinski's pitch wowing everyone involved, there was just one more crucial factor to consider: Tom Cruise.
How Tom Cruise worked his movie star magic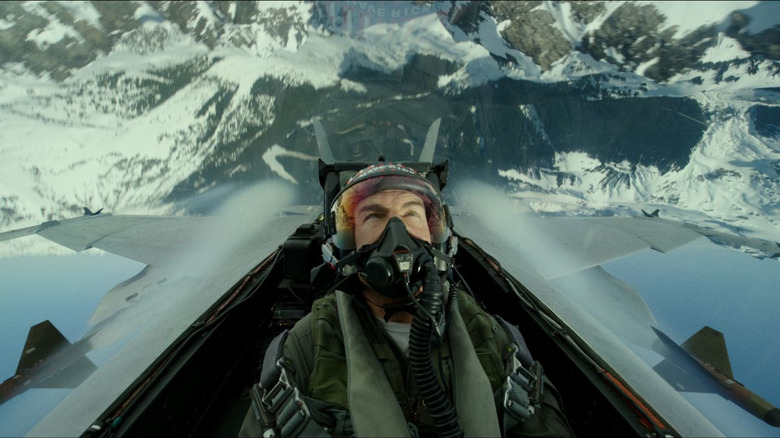 Paramount Pictures
In an anecdote that makes Tom Cruise sounds like the kind of movie star that only exists in, well, movies, Bruckheimer said,
"We took [Koisinski] to Paris where Tom was shooting 'Mission: Impossible – Fallout.' That was five years ago. Joe had a look book, a poster, and the title, 'Top Gun: Maverick,' and then he told Tom the journey of the character and the story he wanted to tell. Tom then looked at him, pulled out his phone, and called the head of Paramount [Jim Gianopulos] at that time and said, "I want to make another Top Gun." And that was it. That's when the wheels really started moving forward."
It took decades, lots of planning, and a killer idea to bring "Top Gun: Maverick" to life — and the final missing piece was something only Tom Cruise could bring to the table: movie star magic. As we learned from the whole "Mission: Impossible 8" debacle, there is no saying 'no' to Tom Cruise. One exec even went as far as to say, "Tom says what he wants and the studio says what it wants. And then Tom gets what he asked for."
It's certainly not hard to see why Cruise wields such power, as one of Hollywood's biggest stars for the past four decades. But even just zeroing in on the case of "Top Gun: Maverick," we've just started seeing the fruits of everyone's labor. While the movie doesn't officially fly into theaters until May 27, 2022, the lead-up has been nonstop. Because of pandemic delays, the first footage hit CinemaCon over a year ago and got one hell of a reaction from the critics in attendance. Even more praise came once the movie was finally screened and now it touts a near-perfect score on Rotten Tomatoes. No wonder Gianopulos was so quick to hit the greenlight.
"Top Gun: Maverick" soars into theaters on May 27, 2022. Select locations are also offering early screenings on May 24, 2022.