Sir Anthony Hopkins Has Joined Zack Snyder's Rebel Moon
UGC
Before you can say "that's no moon!", another massive star joins the cast for Zack Snyder's latest film, "Rebel Moon." The most recent actor to join the already star-studded cast is Sir Anthony Hopkins, the Academy Award-winning star of stage and screen. 
While a sci-fi movie that's billed as Akira Kurosawa's "Seven Samurai" in space, inspired by "Star Wars," might sound a little out of this world for someone of Hopkins' caliber, he's shown fans that he's always willing to try new and bold things with his roles: just look at his time as Dr. Ford on "Westworld" or in the "Transformers" movies! In fact, his experiences with those might help him in his "Rebel Moon" role, as Netflix revealed he will be voicing a robotic character named Jimmy. 
According to Netflix, Jimmy is a "sentient battle robot who once defended a slain king." Hopkins has plenty of experience both voicing robots and working with them, so it will be fun to see him take on a robot character that's quite a bit different from the ones he's approached before. It sounds like he might be playing one of the characters based on the samurai in "Seven Samurai," though the description is vague enough that anything is possible. Jimmy is one heck of a name for a killer robot, though.
Bringing gravitas to low-gravity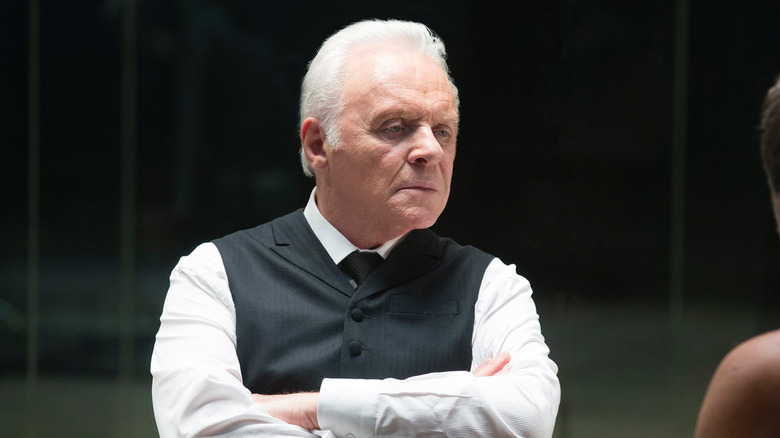 HBO
"Rebel Moon" started production in April and will star Sofia Boutella, Jena Malone, Djimon Hounsou, Charlie Hunnam, Ed Skrein, Michiel Huisman, Doona Bae, Ray Fisher, Cary Elwes, Alfonso Herrara, and more. 
Snyder has said that it's his most audacious project yet, and he wants it to be "bigger and better" than anything that's come before. The film is Snyder's take on the classic film "Seven Samurai," filtered through a science fiction lens that was originally inspired by "Star Wars." (George Lucas himself was inspired by Kurosawa's films, so it's sort of a cycle of inspiration.) "Rebel Moon" will be about a small space colony that requests the aid of intergalactic warriors to protect the colony from an invading, intergalactic empire. 
There's no release date for "Rebel Moon" just yet, though hopefully we can expect to see it on Netflix in the next few years. Until then, we'll just have to keep our eyes peeled on Snyder's Twitter account, where he's been posting frequent updates, and watch "Seven Samurai" again. After all, there's never a bad time to put on some Kurosawa.