Zack Snyder's Rebel Moon Just Started Production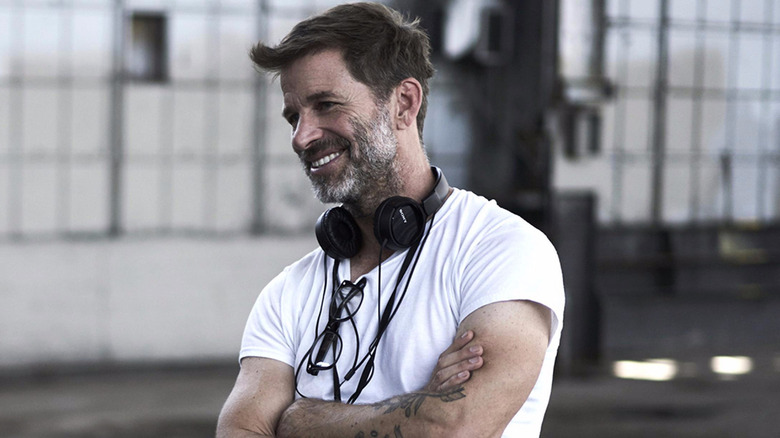 Netflix
Not so long ago, in a galaxy that's not even remotely far away, "Justice League" and "Army of the Dead" director Zack Snyder started production on "Rebel Moon," a sci-fi adventure that began as a pitch he came up with for a "Star Wars" film inspired by "Seven Samurai." Akira Kurosawa's classic 1954 epic was itself a major influence on George Lucas when he was making "Star Wars: A New Hope," so there's something only fitting about Snyder taking inspiration from the movie for his own sci-fi fantasy spectacle.
"Rebel Moon," a title that nods to the movie's "Star Wars" origins, centers on a young woman ("Kingsman" and "Atomic Blonde" star Sofia Boutella) who sets out in search of warriors from neighboring planets to defend her world from a tyrannical figure named Belisarius. Snyder wrote the film's script with Shay Hatten ("Army of the Dead") and Kurt Johnstad ("300"), with his wife and steadfast collaborator Deborah Snyder producing. Among those joining Boutella in the movie's cast are Djimon Hounsou, Charlie Hunnam, Rupert Friend, Jena Malone, Staz Nair, Bae Doona, Ray Fisher, Cary Elwes, Michiel Huisman, Corey Stoll, and Alfonso Herrera.
Go big or go home: the Zack Snyder story
Netflix
"Go really, really big or go home" seems to be Zack Snyder's unofficial philosophy, and "Rebel Moon" is no exception. The film will reportedly be split into two parts, both of which will release on Netflix (Snyder's collaborator on "Army of the Dead") at some point in the future. Snyder himself dusted off his old Twitter account (for those who are not familiar, he's more of a Vero man) to announce that filming has officially begun on the movie(s), posting a first-look photo of Hounsou's character and the set for what appears to be the cargo bay of a spaceship.
Day 1 #RebelMoon. It's begun. pic.twitter.com/1j1RDmYYTM

— Zack Snyder (@ZackSnyder) April 19, 2022
Snyder has described "Rebel Moon" as being "as big as you can make a movie," likening it to the (admittedly, pretty awe-inspiring) opening scenes on Krypton from "Man of Steel," but "on the biggest steroids I can give it." Moreover, he and Netlfix are hoping to use the film(s) to launch a larger universe of projects, similar to what they've got going now with "Army of the Dead" and its many spinoffs, including the prequel movie "Army of Thieves" and the upcoming anime-style series "Army of the Dead: Lost Vegas." It sounds like you can expect yet another Snyder epic that's packed to the gills with mythology and all the flourishes you've come to expect from the filmmaker, for better or for worse. (Translation: Get ready for lots of slow-mo shots.)
"Rebel Moon" Part 1 is expected to reach Netflix in 2023, with Part 2 arriving sometime after.