The Terminal List Trailer: Chris Pratt Is Haunted By A Mission Gone Wrong In Prime Video's New Series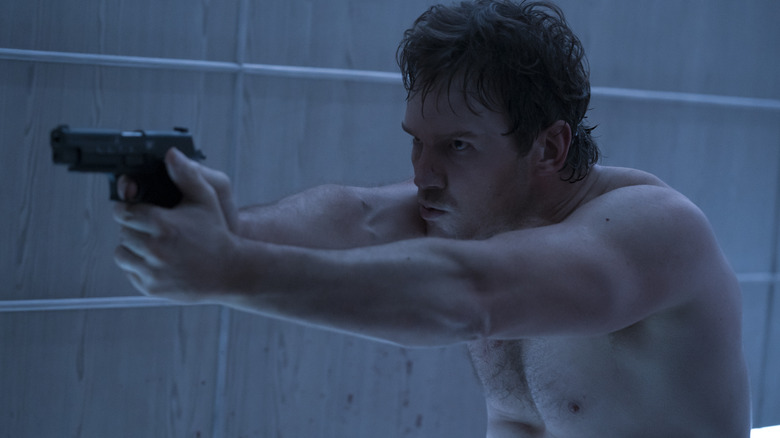 Prime Video
Anyone looking for tips on how to embark on a mid-career transformation, look no further than Chris Pratt. Once known best for his bumbling, low-IQ antics as Andy Dwyer on "Parks and Recreation," the actor has now pivoted 180 degrees towards embracing an unironic version of Andy's fantasy action hero alter-ego, FBI Agent Burt Macklin. Okay, that's maybe a little uncharitable for a guy who's now played a superhero, a dinosaur wrangler, and a soldier tasked with fighting off hordes of aliens ... but I can't help it if, no matter how hard he tries, he'll always be Andy Dwyer in my heart.
Granted, it'll be tough to maintain that illusion in his newest project, the Prime Video series titled "The Terminal List." Here, Pratt plays an armed forces veteran who is still coming to grips with a past mission gone horribly wrong. Was his character solely to blame, or is there something far more unsettling and conspiratorial going on? If you've been paying attention to the footage already released for this new show, you can probably take a wild guess as to which one it is.
Prime Video has released a new trailer for "The Terminal List," which you can watch below.
The Terminal List trailer
So what are, some kind of terminal list?
Fine, you got me, that's not an actual line of dialogue from the trailer, but in a better world it would be! Instead, the trailer is chock-full of lingering PTSD, failures in government oversight, a vaguely Jason Bourne-like storyline, and no shortage of explosions and bone-cracking action. Pretty much what you'd expect from a Chris Pratt-led streaming series about veterans going rogue to find out the truth about the conspiracy at the center of the plot.
"The Terminal List" is based on the novel by author Jack Carr and comes from writer and showrunner David DiGilio. Filmmaker Antoine Fuqua reunites with Pratt after their past work together on "The Magnificent Seven," directing a cast that also includes Constance Wu, Taylor Kitsch, Jeanne Tripplehorn, Riley Keough, Arlo Mertz, Jai Courtney, JD Pardo, Patrick Schwarzenegger, LaMonica Garrett, Stephen Bishop, Sean Gunn, Tyner Rushing, Jared Shaw, Christina Vidal, Nick Chinlund, Matthew Rauch, Warren Kole, Alexis Louder, and more.
The series debuts on Prime Video July 1, 2022.
Based on the best-selling novel by Jack Carr, The Terminal List follows James Reece (Chris Pratt) after his entire platoon of Navy SEALs is ambushed during a high-stakes covert mission. Reece returns home to his family with conflicting memories of the event and questions about his culpability. However, as new evidence comes to light, Reece discovers dark forces working against him, endangering not only his life, but the lives of those he loves.