Jurassic World Dominion's Script Got Help From A Franchise Wishlist By The Film's Stars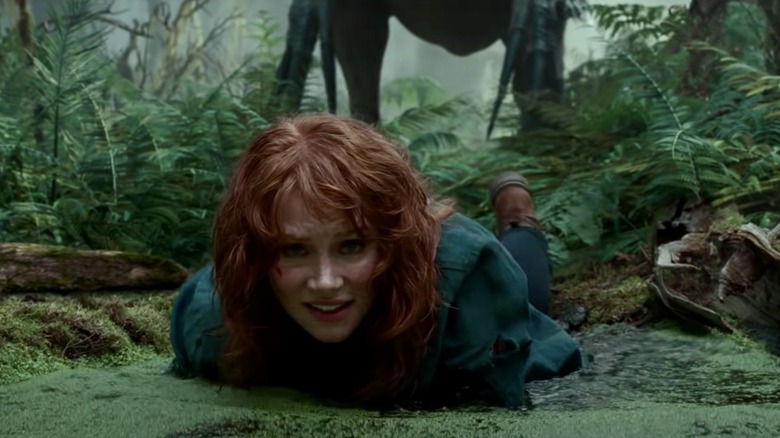 Universal Pictures
"Where do you get your ideas?" It's a question people sometimes ask writers. But for Colin Trevorrow and Emily Carmichael, the co-writers of "Jurassic World Dominion," it's a question perhaps answered a little more easily, since some of their ideas came straight from the film's stars.
For longtime fans, the main selling point with "Jurassic World Dominion" may be seeing Sam Neill, Laura Dern, and Jeff Goldblum — the stars of the first "Jurassic Park" movie — back onscreen together after almost 30 years. However, "Dominion" is also bringing back Bryce Dallas Howard, Chris Pratt, and, of course, Blue, the velociraptor trained by Pratt's character, Owen, so they can close out the blockbuster trilogy they began with "Jurassic World" in 2015.
Shooting the movie and its sequel, "Jurassic World: Fallen Kingdom," and then promoting them left many random ideas percolating among the actors. In an interview with Collider, Howard revealed:
"I like to kind of keep notes when I'm doing a movie because for situations like this with press so that you remember certain things. Pretty early on Chris would say stuff that I would just be like, 'Oh my god, if there's a chance to do another one of these movies, that's such a good idea. That's so fun.' So I just kind of kept that running document and Colin asked me for it as he was writing the script with Emily. I'm really happy, something that was definitely on that document was Blue having a baby. That was something that was very important. The underground scene in Malta. That was something that we talked about really wanting to see. There was a few really fun things in there."
'Wait. These are my ideas!'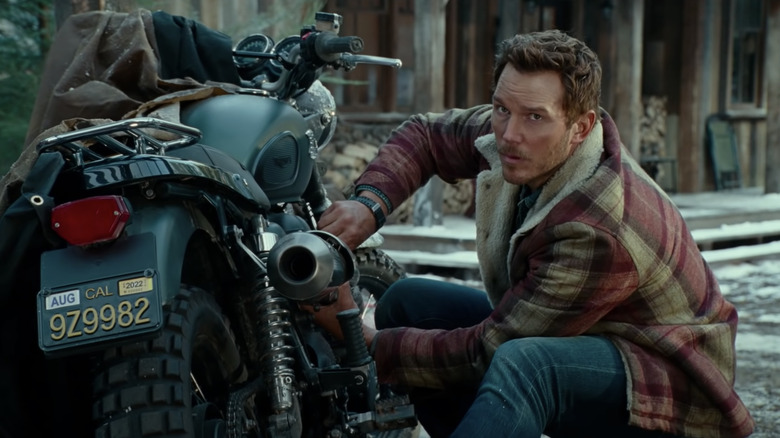 Universal Pictures
The give-Blue-a-baby suggestion appears to have become a significant plot point in "Jurassic World Dominion," with the second official trailer framing it as though the baby's kidnapping by dinosaur poachers is what sets the whole story in motion. Owen makes Blue a promise to get the baby back, and Blue even takes his hand by the tail, as if to shake on it — and we're off to the races. What's more, raptors are chasing us, threatening to jump on the back of our motorcycle. Still, everyone from Owen's daughter to Ian Malcolm himself seems incredulous about the story, saying things like, "Blue had a baby? That's impossible!" and, "A baby raptor?!" and, "You made a promise ... to a dinosaur?"
As for Chris Pratt, he could barely remember making such suggestions in the first place. During their Collider interview, he said to Bryce Dallas Howard:
"I remember you sending that [wishlist] to me and I was like, 'These are all great ideas. Wait. These are my ideas!' You're like, 'I literally just told you that I wrote down your ideas.' 'Right, right. They're really good though!' I have about a four-second window of clarity around the moment that I'm in and she does a really great job of capturing [it]. We're a good team, I think."
It's kind of funny to think that some of the ideas in "Jurassic World Dominion" came from a gent who couldn't remember them four seconds later. Ultimately, though, it fell to Colin Trevorrow and Emily Carmichael to write an actual script where those creative, albeit scatterbrained ideas might come into play.
You can see for yourself how well it all came together when "Jurassic World Dominion" stomps into U.S. theaters on June 10, 2022.