The Terminal List Trailer: Chris Pratt Stars In Antoine Fuqua's Conspiracy Thriller Series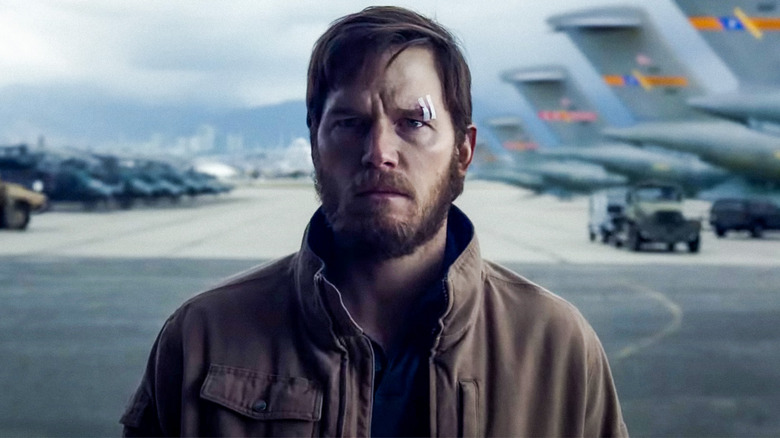 Prime Video
Apparently it's the Summer of Dads. Not only are barbecue-lovin', lawn-mowin' American dads everywhere getting a brand new "Top Gun" movie this summer in the form of "Top Gun: Maverick," they're also getting a series from Prime Video that looks like a mix of Jack Ryan and Jason Bourne: "The Terminal List." 
Chris Pratt stars as James Reece, a Navy SEAL whose team gets ambushed and ultimately destroyed. He's the only survivor, and the experience left him more than a little shaken. Stories about how serving in the military can really mess with people's heads have been becoming more popular, and "The Terminal List" definitely looks like it follows the same vein as "The Contractor," the 2022 film starring a different Hollywood Chris (Pine) as he works in the sketchy world of mercenary contracting. 
Prime Video has released a teaser trailer for the upcoming series, which reunites Pratt with director Antoine Fuqua for the first time since they worked together on dad favorite "The Magnificent Seven" in 2016. Check out the trailer below.
The Terminal List trailer
"The Terminal List" is based on the best-selling novel by Jack Carr, and it follows Reece after his entire platoon is wiped out — except for him. He tries to leave the horrible event in the past, but his muddled memories and nagging questions about his own guilt force him to dig deeper. The further down the rabbit hole he goes, the more horror and conspiracy is uncovered. 
Joining Pratt in the cast are Constance Wu, Jeanne Tripplehorn, Riley Keough, LaMonica Garrett, Christina Vidal, Alexis Louder, Sean Gunn, Taylor Kitsch, Arlo Mertz, Jai Courtney, JD Pardo, Patrick Schwarzenegger, Stephen Bishop, Tyner Rushing, Jared Shaw, Nick Chinlund, Matthew Rauch, and Warren Kole. The series is executive produced by Pratt, Fuqua, Jon Schumacher, and writer/showrunner David DiGilio. Carr and writer Daniel Shattuck also serve as executive producers. 
The series looks like total American dad-nip, complete with a government conspiracy, some vigilante justice, and lots of Pratt looking badass in military gear. Look, the trailer even has a weird remix of the Black Sabbath song "War Pigs." If that's not going to get dads watching, nothing will. 
Dads and the dad-adjacent can check out "The Terminal List" when all eight episodes hit Prime Video on July 1, 2022, and fans of Pratt can also check out any one of the major blockbusters he's starring in this summer — because the only thing getting more love this summer than dads is Pratt himself.