Tom Cruise Explains Why This Version Of Top Gun: Maverick Was The One He Wanted To Make [Interview]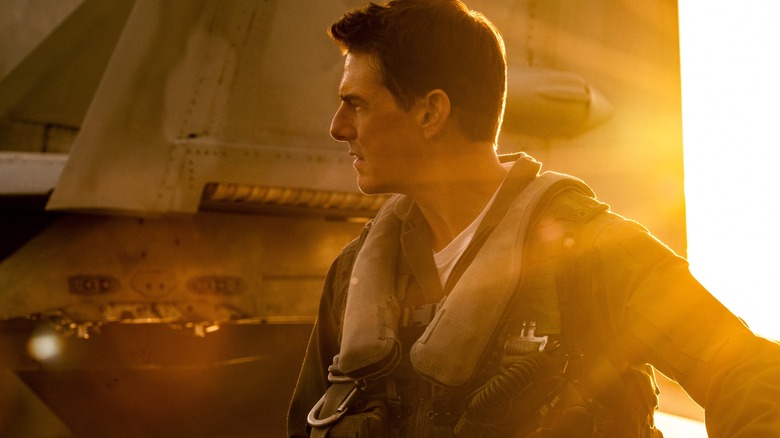 Paramount Pictures
This is it, folks. It's no exaggeration to say that this has been 36 years in the making. Ever since the moment when Tom Cruise first strapped on those aviators and climbed behind the cockpit of an F-18 in the original Tony Scott classic "Top Gun," few would argue that it has all been leading to this. I'm referring, of course, to Lady Gaga officially unveiling her new single "Hold My Hand" that will feature prominently in the soundtrack of the long-awaited sequel, "Top Gun: Maverick." We're truly back in the Danger Zone!
In all seriousness, the early reactions from the film's screening at CinemaCon all seemed to point unanimously towards a worthy follow-up from director Joseph Kosinski — to absolutely nobody's surprise. After all, why would anyone expect anything less from an actor as motivated and driven to deliver excellence as Tom Cruise has been over the last few decades? Not only has he successfully guided the action-heavy "Mission: Impossible" franchise through several years of franchise reinvention and consistent success (lasting longer than Daniel Craig's run as James Bond, in fact!), but he's left an indelible mark on American cinema in general ever since he first arrived on the scene in the 1980s. If that doesn't automatically make him one of our last remaining movie stars, then I don't know what does.
Which is why it's so thrilling that /Film's Jenna Busch was able to speak face-to-face with the man himself, Tom Cruise, at a recent press junket for "Top Gun: Maverick" in San Diego.
'You see the emotional journey of the characters'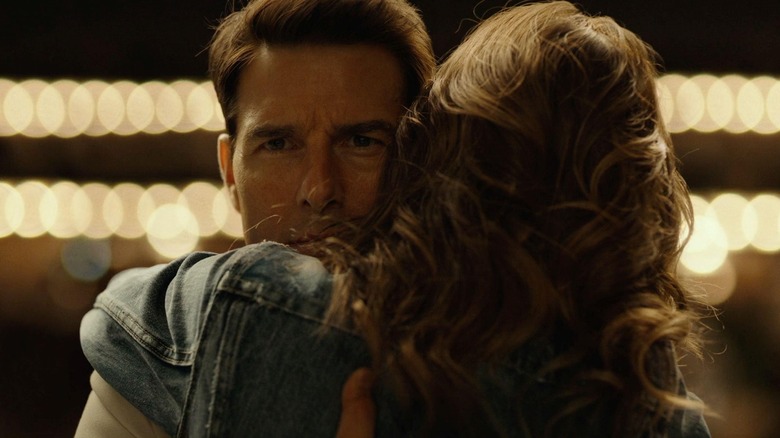 Paramount Pictures
It's no secret that the production of this "Top Gun" sequel has endured a long and unexpectedly challenging development process, with years of rumors preceding a pandemic which threw a massive wrench in the plans to release the film. Cruise has been excited about this one for years, and after an incredibly long wait, the actor is once again back on the press tour and hyping up the film with all the ferocity of the jet wash from an outgoing fighter jet.
While speaking to /Film's Jenna Busch, Cruise shed some light on the many script revisions involved on the long road to making "Top Gun: Maverick" into what it ultimately is. To hear him tell it, the process was far more involved than simply reading a screenplay and giving his approval or not. The actor, who also has a producer credit, went many steps further than that. As he put it with his usual brand of forthright (and refreshing) honesty:
"Listen, we developed this script. So it wasn't like ... I didn't just read the script. It was the concepts and ideas. And it wasn't just the script. It was a moment where, quite frankly, they didn't work. None of the stories worked. And films, it's not like you just have the script. You have an idea and you start to know that we're onto something emotional and what effects we want to create for the audience. And then we just started delving into it and became very interested in these concepts.
I think you see it. You see the emotional journey of the characters. You see the world is incredibly fascinating. That was always there. But what's the drama? What's the story? The story is king. Always. So those things you have to develop as you're going on."
It certainly sounds as if "Top Gun: Maverick" will truly be tailor-made for the big screen, in accordance with the actor's well-established history of putting his body on the line for the sake of the art. We'll find out for sure whether all the backbreaking effort was worth it when the sequel flies into theaters on May 27, 2022.