Superhero Bits: The Black Adam Poster, Blade Apparently Begins Filming Soon & More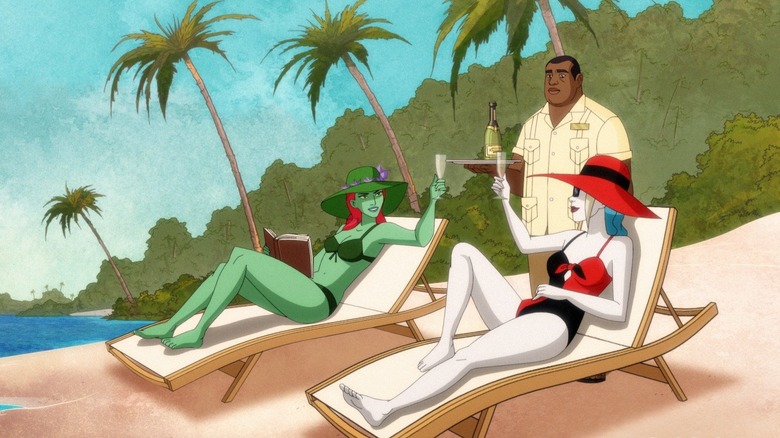 HBO Max
(Superhero Bits is a collection of stories, updates, and videos about anything and everything inspired by the comics of Marvel, DC, and more. For comic book movies, TV shows, merchandise, events, and whatever catches our eye, this is the place to find anything that falls through the cracks.)
In this edition of Superhero Bits:
"Harley Quinn" season 3 finally arrives this summer.
The "Blade" reboot may finally start filming very soon.
Marvel's "Daredevil" reboot could take on a lighter tone.
The "Black Adam" movie gets a new poster. 
Check out the Fortnite x Marvel: Zero War Spider-Man suit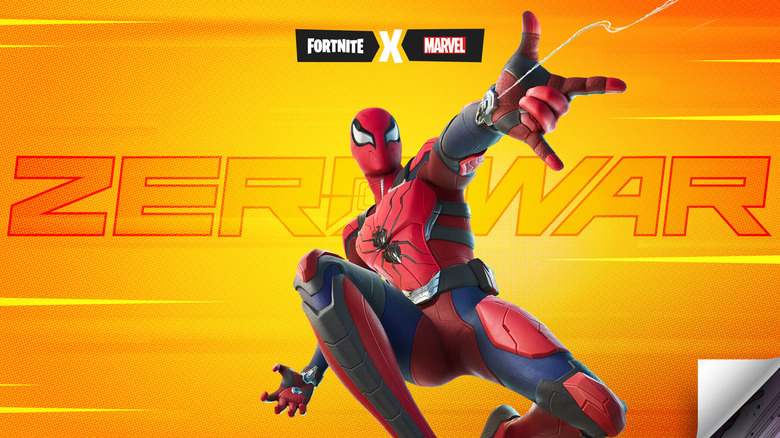 Epic Games
Marvel Comics is partnering with Epic Games for "Fortnite x Marvel: Zero War," a new comic book miniseries that will see the superheroes crossing over with the wildly popular video game. Each issue of the comic will come with a code for an in-game cosmetic item and the first issue will give players the above Spider-Man outfit. So those who like comics and "Fortnite" might do well to pick the issue up. "Fortnite x Marvel: Zero War" #1 hits shelves tomorrow.
Patrick O'Keefe shares unpublished Spider-Man Noir comic cover art
Sticking on the Spider-Man train for a moment, artist Patrick O'Keefe recently shared the above artwork that was originally intended as a cover for an issue of Marvel's "Spider-Man Noir" series that was initially published in 2020. The character gained a great deal of popularity thanks to his appearance in "Spider-Man: Into the Spider-Verse," as voiced by none other than Nic Cage. Unfortunately, the pandemic got in the way of so many things and, per O'Keefe's caption, this cover never saw the light of day due to the pandemic. So, he opted to share it for his followers so it at least made it out into the world in some way. It's just a shame we didn't get to see it on the cover of an actual book.
The rest of the Marvel Netflix shows get 4K and Dolby upgrades on Disney+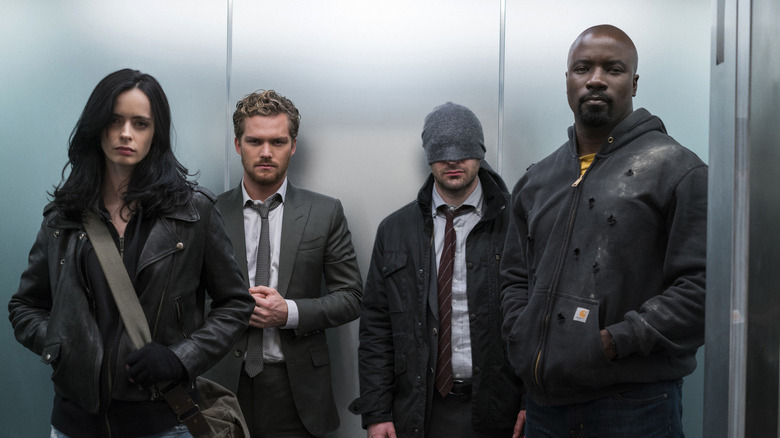 Marvel Studios
Last week, we reported that several of the former Marvel Netflix shows had been given a quiet upgrade on Disney+ in the form of 4K and a Dolby soundtrack. Now, Disney has went ahead and finished the job. Per Comicbook.com, "The Punisher," "Iron Fist," and "The Defenders" have all been given the same upgrades on the streaming service. So the entire catalog of Marvel shows that were originally produced by Netflix can now be viewed in Ultra HD with upgraded sound. Now is as good of a time as any to revisit these shows or perhaps fill in any blank spots that may have existed. Go forth and stream.
A tourists' guide to Wakanda video
Marvel has released a new video that offers an overview of Wakanda, the fictional nation from "Black Panther," albeit from an interesting point of view. The video, which features some pretty great animation, presents the nation as though it is a tourist destination, even though it is pretty fiercely guarded against the outside world. It starts out pretty standard before casually going over the more unique elements of the technologically advanced land. It is both nice to look at and pretty amusing. Check it out for yourself above.
Could the Daredevil reboot be lighter in tone? Maybe!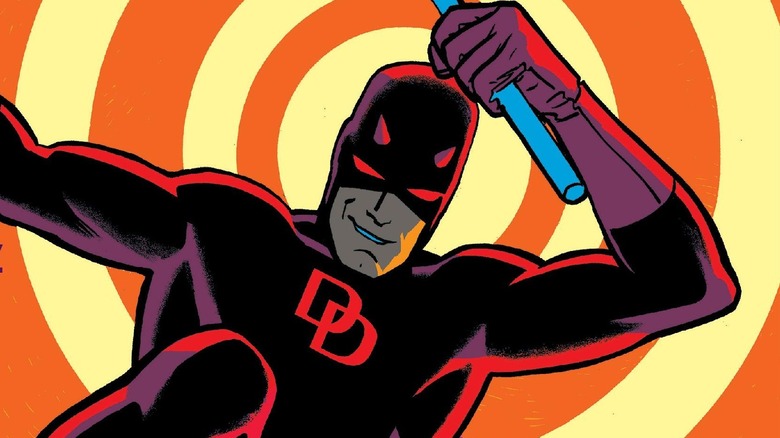 Marvel Comics
While Frank Miller's run on "Daredevil," including the all-timer storyline "Born Again," will probably always top the list of creators who have ever touched the character, Mark Waid's run on the Man Without Fear isn't all that far behind. What is noteworthy though is that Waid's run was a bit more lighthearted in tone, generally speaking. Recently, in speaking with Murphy's Multiverse ahead of the release of "Ms. Marvel" on Disney+, Sana Amanat, who co-created Kamala Khan and edited Waid's "Daredevil" run, discussed the prospect of using that source material to inspire the upcoming reboot of the show.
"I don't see why not! Mark Waid's run was pretty seminal. We've never seen that kind of story and I love the spin on that and it was such an unexpected take on the character. In the same way, I wouldn't be surprised if they did something like that in the MCU. Why not? We like to take risks and this is the fun part of exploring multiple stories. So maybe."
It's worth noting that Amanat is not known to be involved in the recently revealed "Daredevil" reboot. Netflix's "Daredevil" was quite dark and it is, quite frankly, tough to imagine the MCU going that hard on Disney+. So, doing something like this might make sense. That said, people are very attached to Charlie Cox's Matt Murdock as he existed, so this could be risky. We'll see what comes of it.
Is this when the Blade reboot begins filming?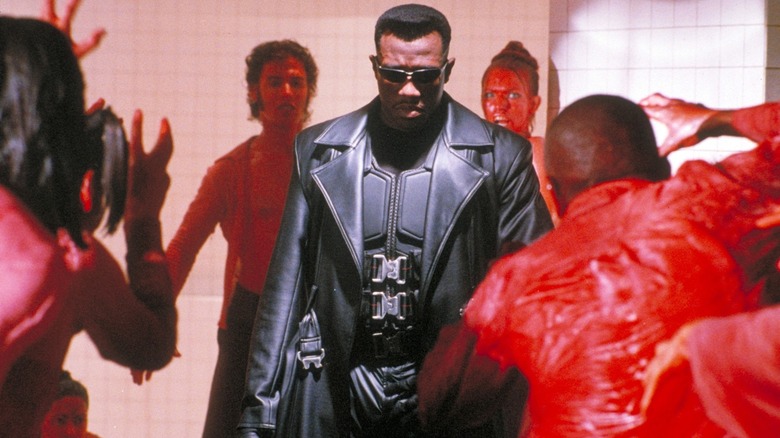 New Line Cinema
What's the time? It's rumor time! While this has yet to be confirmed by Marvel Studios or Disney, it appears as though the long-awaited "Blade" reboot is finally getting underway in just a matter of weeks. According to ProductionList.com, which tracks official listings for major movie and TV productions, "Blade" is set to begin filming on July 4, 2022, in Atlanta, Georgia. It should be noted that Marvel Studios has a gigantic campus set up in Atlanta and most of their movies at least do some (if not an awful lot) of filming there. And, given how long this movie has been in the works with so many key pieces already in place, this would make sense. Mahershala Ali was brought out as the star of the film way back in the summer of 2019 during SDCC. That feels like forever ago but the time for the Daywalker to return may finally be upon us.
The Black Adam poster is here, the trailer drops tomorrow
The Rock has been hyping up the arrival of the first trailer for "Black Adam," his long-awaited DC superhero movie, all week. The trailer drops tomorrow and we'll be certain to bring that your way as soon as it arrives. In the meantime, we have the official poster which, as expected, features Dwayne Johnson in his very form-fitting superhero suit with an angry grin on his face. We also get the tagline, "The world needed a hero. It got Black Adam." Ominous! We'll see what The Rock has in store for us with the trailer.
James Gunn has discussed Suicide Squad 2 but has no idea what he's doing next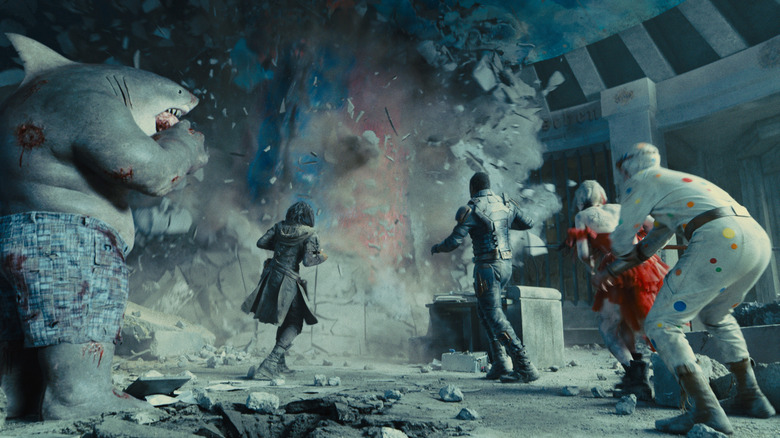 Warner Bros.
So, are we going to get a sequel to "The Suicide Squad?" James Gunn is busy with "Guardians of the Galaxy Vol. 3" but he has at least put some thought into his next movie. In a recent conversation with The Playlist, the filmmaker explained that he has discussed the prospect of another film centered on Task Force X, however, he currently wants to keep doing TV after his experience making "Peacemaker."
"Yeah, we've talked about it. But the honest truth is, I just have so many hours in a day to work on stuff. And I had such a fun time working in television that I really think that's what I'm going to spend the next year of my life doing."
Okay, but what about the next movie when the time comes? Gunn seems very undecided on what shape that will take, be it another DC movie or something else entirely.
"I'm thinking about what that next movie will be. And is that next movie going to be— if first of all, it could be something completely different than [the world of DC]. And I'm excited about Mike De Luca coming in to [Warner Bros.], frankly, because I've known him for a long time and I love Toby [Emmerich], but I've also known De Luca he's been a friend of mine for many, many years."
Either way, "The Suicide Squad 2" seems at best a long time away or, at worst, unlikely to happen at all. Gunn is a busy man.
Here's a new image from Harley Queen season 3, coming this summer
Lastly, today brings a brand new image from the much-anticipated "Harley Quinn" season 3, which will be arriving on HBO Max a little later this summer, as indicated by the caption. The photo itself sees Harley and Poison Ivy enjoying some quality time with one another on the beach. There is no official indication here but with the image hitting the interwebs, we can reasonably expect to see a trailer sooner rather than later, so be on the lookout for that.