Fantastic Four 3 Could Have Been Black Panther's Big Screen Debut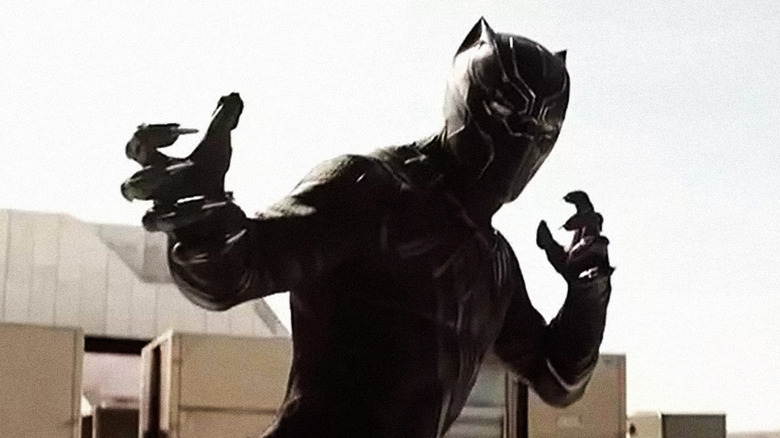 Marvel Studios
It's hard to forget Black Panther's Marvel Cinematic Universe debut in "Captain America: Civil War." The hype and mystery surrounding Marvel's first mainstream Black superhero — not to mention his afrofuturistic homeland, Wakanda — was but one of the many incredible draws to the 2016 film, and it built even more hype for the hero's solo film in 2018. Ryan Coogler's "Black Panther" was nothing short of a cultural phenomenon, and will remain as much for years to come. But in another reality, it might not have been Chadwick Boseman gracing the big screen as prince-turned-king T'Challa for the first time.
Wesley Snipes famously attempted to get a Black Panther film off the ground before his turn as Blade in the 1998 film of the same name. But creatives working with 20 Century Fox on their own hit-or-miss Marvel Universe were also keen to bring the hero to the big screen — and in a Fantastic Four film.
Fantastic Four: Wakanda Forever?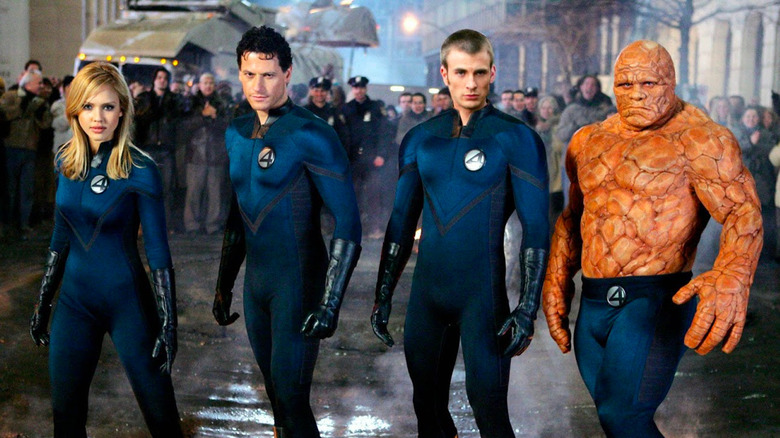 20th Century Fox
Long before Marvel Studios began to chart their own path with films like "Iron Man" and "The Incredible Hulk," 20th Century Fox was building its own catalog of superhero adaptations. Apart from their delightfully campy "X-Men" films, Fox had also managed to bring the Fantastic Four to the big screen. The first "Fantastic Four" and its sequel, "Rise of the Silver Surfer," didn't get the best reception from fans or critics, but that didn't stop director Tim Story from planning the next adventure for Marvel's first family.
It's no secret that Story boarded "Fantastic Four" in order to finesse a Silver Surfer team-up out of the whole affair, and he planned to keep that same energy for at least one of the two other films he had planned. In an interview, Story expressed hopes of bringing Black Panther into a future Fantastic Four project — and getting Djimon Hounsou, of "Blood Diamond" and "Amistad" fame, to don the all-black vibranium-infused suit.
Though Black Panther had made his first appearance in the Fantastic Four comics, Fox hadn't yet secured the rights to the Wakandan hero. Marvel was also gearing up to reacquire the characters that they'd previously loaned to studios like Universal and New Line Cinema, dimming the chances of a Black Panther cameo significantly. More than that, the Fantastic Four movies weren't exactly making bank — "Silver Surfer" grossed a little over $300 million at the worldwide box office, less than expected for a movie that cost $100 million to make. And despite the fact that the "Fantastic Four" cast had signed on for three potential films, a third was never announced. Fox instead opted to revisit the characters eight years later, with Josh Trank's famously-troubled 2015 reboot.
Whatever's meant to be
Marvel Studios
After Story's plans for a third film were eventually scrapped, Black Panther wouldn't be seen on the big screen for some time — but that did give Marvel Comics a chance to bring the character into the 21st century. Writer Reginald Hudlin and artist Ken Lashley relaunched the Black Panther comic book series in 2009, passing the mantle to a woman (T'challa's sister, Shuri) for the very first time. And, of course, there was Ta-Nehisi Coates' and Brian Stelfreeze's acclaimed Black Panther run, which ran pretty much parallel to the hero's first years in the MCU.
In short, good things — or really great things — can take time. As amazing as Djimon Hounsou might have been as T'challa, it's hard to imagine anyone but the late, great Chadwick Boseman in the role. That kind of casting happens but once in a lifetime, and though it didn't last forever, it was certainly magic while we had it.
Now that the Fantastic Four are set to make their own MCU debut very soon, there's a chance that the new Black Panther — whoever they are — will have a role to play in their adventures as well. All's fair in an interconnected movie franchise, after all.