Moon Knight Head Writer Explains What Went Wrong With The 2015 Fantastic Four Movie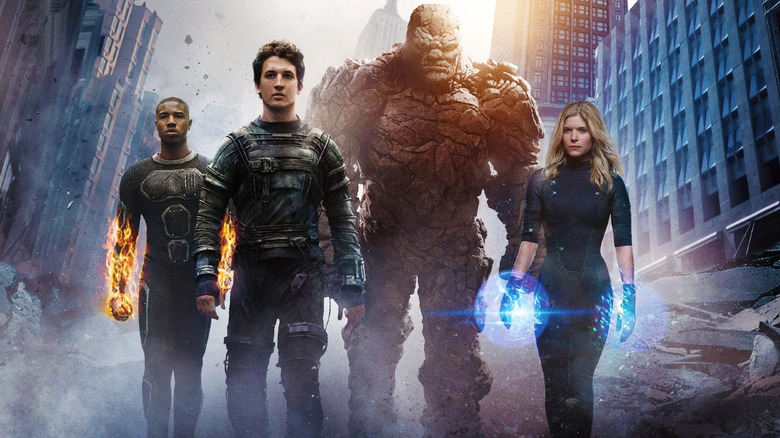 20th Century Studios
On paper, there was a lot to like about the 2015 "Fantastic Four" movie reboot (Or, as its poster calls it, "Fant4stic"). It was arriving on the heels of director Tim Story's not-so-adored "Fantastic Four" films from the 2000s, with then-up-and-coming director Josh Trank calling the shots and his "Chronicle" star Michael B. Jordan playing Johnny Storm, aka the Human Torch. Toss in an intriguing approach to the Marvel property — with Trank describing his vision for the movie as "a Cronenberg-ian science fiction tale" — and it certainly sounded like a unique take that would at least try and do something fresh with the classic superhero family. Of course, that was before the reports of behind-the-scenes turmoil and reshoots, culminating with Trank's film getting blasted by critics and bombing at the box office.
Luckily for "Fantastic Four" co-writer Jeremy Slater, his career has gone a lot smoother since then. After creating the well-received "Exorcist" TV show and developing Netflix's hit comic book-based series "The Umbrella Academy," Slater was hired to serve as the head writer on Marvel's "Moon Knight" show, with Oscar Isaac starring as the titular superhero. Responding to a question on Twitter, Slater talked about the lessons he took away from "Fantastic Four" and how his experience making "Moon Knight" differed:
"Well, most of my problems with FANTASTIC FOUR stemmed from the fact that I was trying to write it like an MCU movie, which wasn't what the director wanted. I didn't have that problem here."
Could Trank's original vision for Fant4stic have worked?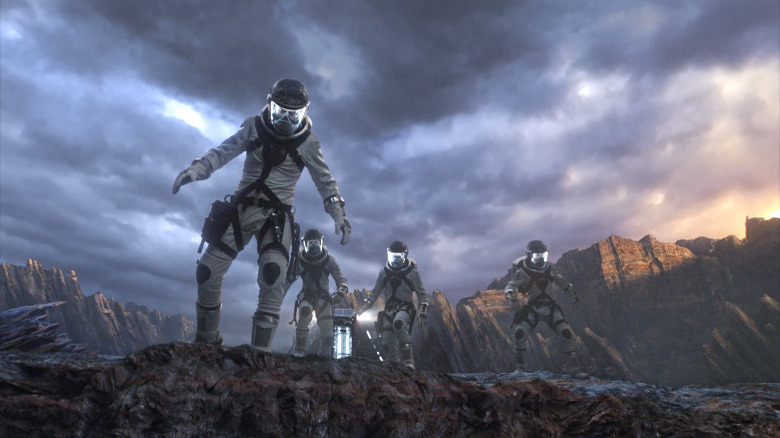 20th Century Studios
It's no secret that Trank's original plan for "Fantastic Four" was a far cry from the finished version that released in theaters, nor is it surprising to hear Slater admit that he and Trank had differing ideas about what the film should be. From what I recall, the first half of the movie's theatrical cut unfolds like the downbeat, body horror-driven, David Cronenberg homage that Trank described it as being prior to the reshoots. It then noticeably — and jarringly — shifts gears entirely in its second half, evolving into a far more light-hearted, yet very rushed, origin story for the titular superhero team, complete with a barely-coherent showdown between the Fantastic Four and the evil Victor Von Doom (Toby Kebbell).
Could Trank's original idea for "Fantastic Four" have worked? Maybe, maybe not. There are certainly superhero properties that can be seamlessly merged with elements of horror, but even then, that's easier said than done (see also: "The New Mutants," a movie that's honestly better than you might've heard), and characters like the super-stretchy Mr. Fantastic and Invisible Woman might be a little too inherently cheeky to work within the context of a full-blown, po-faced horror film. At the same time, I actually kind of dug the dark, weird vibe of Trank's "Fantastic Four" in its first half and would have preferred to see his original vision left intact, if only for the sake of artistic integrity. Sure, it might've still been a misfire overall, but at least then it would have been an interesting and daring one along the lines of Ang Lee's "Hulk."
Marvel's "Moon Knight" episode 1 is now streaming on Disney+. Elsewhere, "Fantastic Four" is actively being re-imagined as a Marvel Cinematic Universe film, with "Spider-Man: No Way Home" director Jon Watts attached to call the shots.