Harley Quinn Season 3 Sizzle Reel Shows Off Harley And Ivy's Unfinished Adventures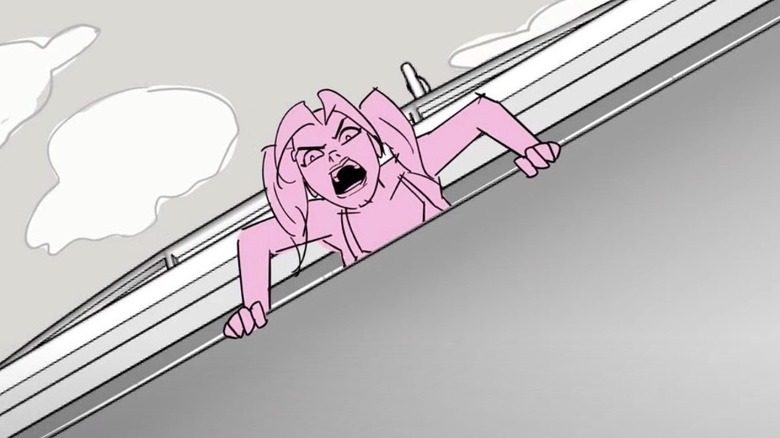 Warner Bros
"Harley Quinn" is violent, delightful, villainously chaotic — and it's coming back for a third season. DC FanDome just unveiled our first (slightly unpolished) look at "Harley Quinn" season 3, because who needs Comic-Con when we can get a virtual event solely dedicated to exciting DC projects? "Harley Quinn" season 3 is still in production, but the trailer creatively makes do with storyboards to build hype for Harley's next set of adventures.
The online convention is back for its second installment, offering exclusive first looks and exciting reveals for everything from the ongoing cinematic universe to the upcoming slate of DC Comics-based video games. This includes the latest in DC TV series, which is great news for us impatient "Harley Quinn" fans dying to get a peek at our favorite antiheroine.
The second season of the hilarious animated series concluded on a high note, kickstarting a promising romance between best friends Harley (Kaley Cuoco) and Ivy (Lake Bell). The feelings have been simmering beneath the surface for quite a while but with everything finally out in the open, they get to tackle the thrills of actually making a relationship work.
You can check out this first look at "Harley Quinn" season 3 below!
Harley Quinn Season 3 Trailer
A show that began with Harley breaking out of her tortured relationship with Joker, "Harley Quinn" has never really been about romance. The series has tracked Harley's emotional growth, as she learned to define herself on her own terms and carve out her own space in the world of Gotham villainy. Her friendship with Ivy has been a key part of that progress, so the emotional evolution of their relationship came naturally. 
When "Harley Quinn" season 2 ended over a year ago it was a relief to see the duo finally realize their feelings for one another — the biggest relief of all coming when Ivy doesn't actually marry D-List villain and actual nice guy, Kite Man. And this left a big question hanging: what's next for Harley and Ivy? According to showrunner Justin Halper, a lot of figuring things out.
However much we love them, we have to admit, Harley and Ivy haven't had the best of luck with relationships. Halpern told Entertainment Weekly that this will loom large over season 3:
"The thing we have discussed preliminarily is the idea that these two characters have had a lot of toxic relationships in their past. Although Ivy and Kite Man weren't toxic, it also wasn't an equal relationship, you know? He loved her a lot more than she loved him. So this is the first time they're both going to be in a relationship where they really and truly have affection towards one another. They have a lot of responsibility. So I think, 'what is it like to be in a good relationship after you've only ever been in bad relationships with abusive people?' is a big theme we want to play with."
What Else To Expect From Season 3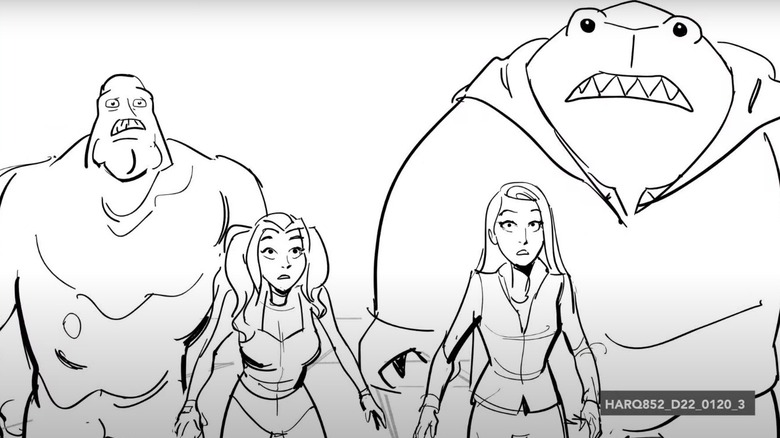 Warner Bros
While relationship problems are certainly a biggie for season 3, it's not the only thing Ivy and Harley need to worry about. Their former crew member Doctor Psycho (Tony Hale) just went big on his bid for power and failed hard. He put plenty of energy into destroying their relationship and probably won't be happy to learn he failed. The duo also made a grand escape from Commissioner Gordon (Christopher Meloni), who may hold a grudge. And then there's the newly inspired Barbara (Briana Cuoco), now decked out in a full Batgirl costume and determined to be a hero. Also, Joker is a suburban dad. This probably won't be a major problem going forward, but it's still pretty wild.
Expect to see much more of the immense rogues gallery of "Harley Quinn," because whether or not Alfred allows Batman back on the streets, crime never sleeps. Pretty much all of them are in danger of a sudden, extremely graphic deaths, except for the three Halper will always protect, as he previously promised: "We'll kill almost any character that's not Harley or Ivy, but we'll never kill Bane."
In addition to the return of Cuoco and Bell, expect to hear Matt Oberg as Kite Man, Tony Hale as Doctor Psycho, Ron Funches as King Shark, J. B. Smoove as Frank the Plant, Diedrich Bader as Batman, James Adomian as Bane, Giancarlo Esposito as Lex Luthor, Sanaa Lathan as Catwoman, Christopher Meloni as Commissioner James Gordon, Jacob Tremblay as Robin and Alan Tudyk as Clayface, Joker and more.