Superhero Bits: Black Adam Funko Pop! Figures, A Fantastic Four Update & More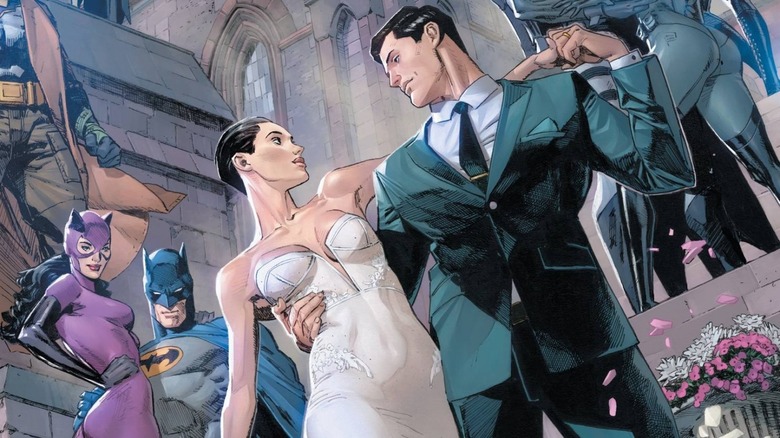 DC Comics
(Superhero Bits is a collection of stories, updates, and videos about anything and everything inspired by the comics of Marvel, DC, and more. For comic book movies, TV shows, merchandise, events, and whatever catches our eye, this is the place to find anything that falls through the cracks.)
In this edition of Superhero Bits:
The "Fantastic Four" movie gets an update.
"Black Adam" gets a wave of Funko Pop! figures.
The Marvel Netflix shows were quietly upgraded on Disney+.
"The Flash" remains a headache for Warner Bros.
Colton Haynes left Arrow due to one of his co-stars, but who was it?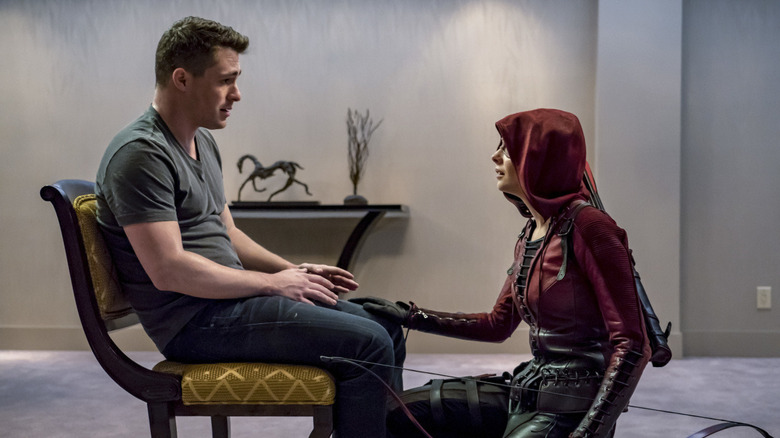 The CW
At one point, Colton Haynes had a full-time gig as a cast member of "Arrow," recurring as Roy Harper/Arsenal, a job that he surprisingly departed. Now, in his new memoir titled "Miss Memory Lane" (via E News), the actor has revealed that his departure was actually due to one of his co-stars. Writes Haynes:
"I had walked away from my full-time job on Arrow at the beginning of the year, supposedly because my contract had ended, but it was really because I was too depressed and I couldn't stand working with one of my cast mates."
So, who was it? That, for the time being, remains a mystery.
Ms. Marvel arrives in Marvel Puzzle Quest
With "Ms. Marvel" set to debut on Disney+ next week, Kamala Khan's presence in the larger Marvel landscape is about to increase in a big way. Case in point, a version of the character inspired by the show has now arrived in "Marvel Puzzle Quest," the popular free-to-play mobile game. So, those who are either huge fans of Kamala Khan or who really enjoy puzzle games, you know what to do.
Luke Cage, Daredevil, and Jessica Jones get a 4K upgrade on Disney+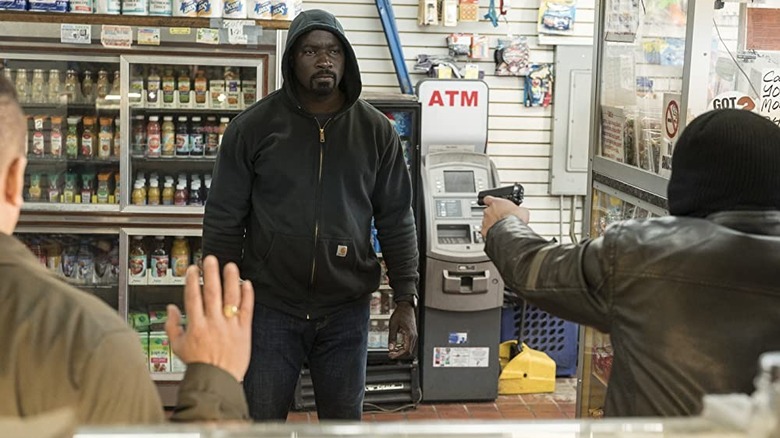 Marvel Studios
The former Marvel Netflix shows arrived on Disney+ earlier this year, providing fans a bit of an easy option to get their Marvel fix all under one roof. Now, the streaming service is aiming to improve that experience. As noted by The Direct, "Daredevil," "Luke Cage", and "Jessica Jones" have all been quietly been updated in 4K Ultra HD, in addition to getting a Dolby Atmos soundtrack. Now, why haven't "The Defenders," "Punisher," and "Iron Fist" been offered that same upgrade? A good question, but it wouldn't seem out of line to expect those upgrades will happen at some point in the near future as well.
DC Pride Q&A
It's Pride Month! DC Comics is celebrating with a new edition of "DC Pride," which will include some of the biggest LGBTQ heroes from the publisher's lineup. The creators involved have participated in a little Q&A about the book and their experiences with the universe in general. The first part of the Q&A has been published (above), and since this is billed as a "part 1," we can expect a "part 2" later.
Ghost Rider statue from Premium Collectibles Studio
The folks at Premium Collectibles Studio have revealed a very fancy Ghost Rider statue that is squarely aimed at hardcore fans. But those hardcore fans who have some cash burning a hole in their pockets might want to pay attention. The 1:6 scale statue captures a particularly metal version of Johnny Blaze from the pages of Marvel Comics, as we can see in the above Instagram post. But all of this doesn't come cheap, as the statue goes for $875. Those interested in getting more details or ordering one can do so by clicking here.
Ezra Miller literally can't be replaced in The Flash movie, Warner Bros. presses on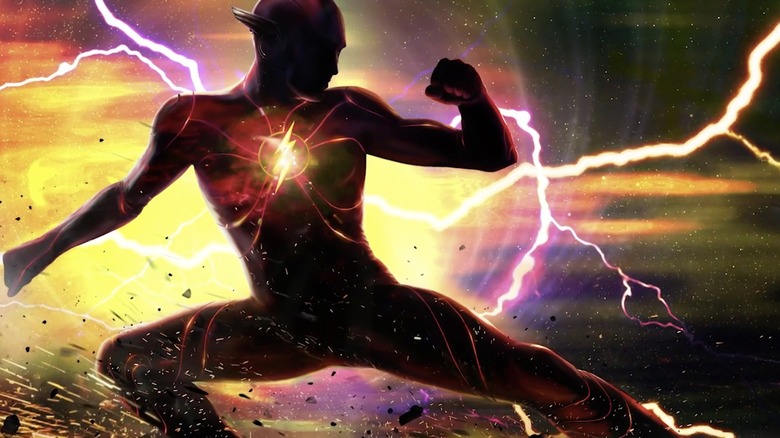 Warner Bros.
"The Flash" movie has been in the works for years at this point and it is currently slated to arrive next summer. The problem is, star Ezra Miller has been getting into a lot of trouble as of late, both with the law and through bizarre social media activity. This has left Warner Bros. in a bit of a pickle when it comes to the mega-budget blockbuster. A new piece from Variety goes over the whole situation in detail and, as has been pointed out by many in the industry, it is confirmed that replacing Miller at this point would be impossible. Despite plenty of suggestions on that front, it would essentially mean reshooting the entire film from top to bottom, which simply isn't an option. The article also notes that to make back the budget, it essentially needs a theatrical release. So, even though Miller has become a problematic figure, the movie will press forward as is — for now anyway.
DC and Funko team for huge line of Black Adam Pop! figures
It appears that DC and Warner Bros. are not f****** around when it comes to "Black Adam." This is, after all, a movie that has been in the works for over a decade with Dwayne "The Rock" Johnson finally entering the superhero realm. Not that it takes a lot to get a Funko Pop! made these days, but the toy company is going all-out for this movie in particular. The above Instagram post showcases the many figures that will be hitting shelves in anticipation of the DC Comics adaptation. Aside from the titular anti-hero, we have members of the Justice Society, such as Hawkman, on deck as well. Those interested can pre-order the figures by clicking here.
Here's what's going on with Marvel's Fantastic Four reboot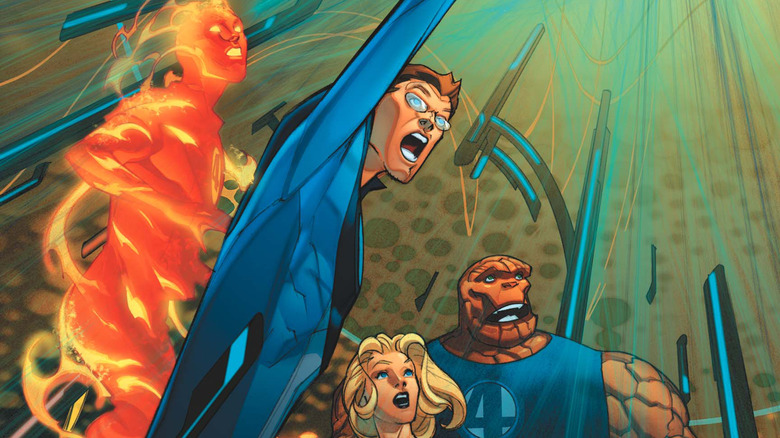 Marvel Comics
Marvel's "Fantastic Four" reboot needs a new director, what with Jon Watts making a "Star Wars" show now. So, what's the deal with finding his replacement? Deadline's Justin Kroll took to Twitter to offer some insight into what is going on. Here's what he had to offer:
1. While it's easily Marvel's top ODA, one source says don't expect it to be filled anytime soon as they are not even close to cutting down long list of candidates, 'I'd be shocked if a choice is made before labor day.' 2. While no names have surfaced, multiple sources say while it's a large mix of candidates, Feige and company are taking a lot of shots at some big names. One source close to process, 'Kevin doesn't want oversee [the] entire shoot and after not having to worry about that with Raimi, he is very game to same outcome with this shoot.'"
So, it appears we're not going to find out who is taking over for Watts any time soon. However, it also seems like Marvel is aiming high this time around, given how good the experience of working with Sam Raimi on "Doctor Strange in the Multiverse of Madness" was. Place your bets, please.
Batman and Catwoman are getting married this month
Lastly, writer Tom King has revealed that he has put the finishing touches on "Batman/Catwoman" #12, which is set to conclude the miniseries later this month. The book has focused heavily on the relationship between the two characters, and as the above artwork implies, this issue is going to be a huge deal: It will finally see Bruce Wayne and Selina Kyle tie the knot. The synopsis for the issue reads as follows:
Wedding bells are finally ringing for Batman and Catwoman! As our story concludes, the lovers prepare to take the next steps in their lives together by trading everlasting vows. The Bat/Cat wedding is here, and knowing Bruce and Selina, it'll be anything but conventional. You won't want to miss this final chapter of Tom King's Batman epic!
"Batman/Catwoman" #12 hits shelves on June 28, 2022.