Here's Where You Can Stream Or Buy Every Season Of Arrow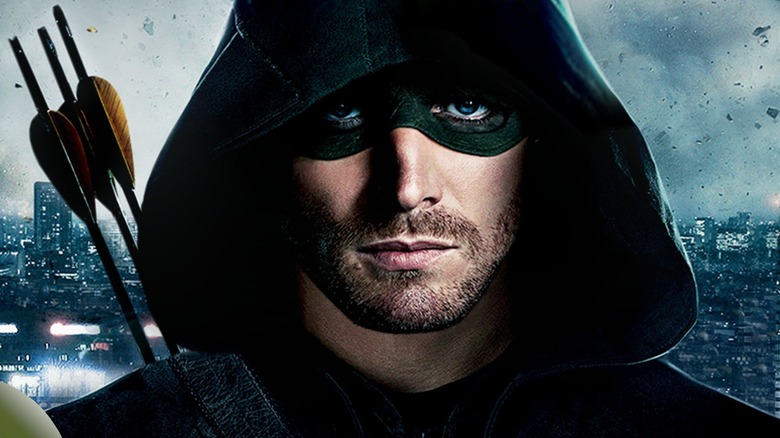 The CW
We may receive a commission on purchases made from links.
(Welcome to Where to Watch, which provides a clear and simple answer to the question, "Hey, where can I watch this thing?")
Before the Arrowverse exploded into an expansive multiverse with a thousand different costumed heroes smoldering at the camera, there was just one: The CW's "Arrow." Inspired by DC Comics' Green Arrow, this dark and gritty superhero adaptation is responsible for turning the CW into the network it is today — a playground for comic-inspired crusaders, saving their own cities and occasionally crossing over into other parts of their shared TV universe. At this point, entering into the Arrowverse requires the time commitment of a full-time job. Overall, it spans nearly 700 episodes across 41 seasons of TV. Where would you even start?
Well, if your 2022 resolution is to finally venture into the dark, gritty, action-packed and enjoyably schlocky Arrowverse, then look no further than its humble beginnings. For at least the first few seasons of "Arrow," you'll only need to wrap your mind around a single universe and the hero at its center: Oliver Queen. Stephen Amell stars as the billionaire playboy turned superhero, who we learn via flashbacks was shipwrecked on a mysterious island called Lian Yu. He claims to have spent five years there before finally making his way home to Starling City, where years of training and contemplation lead him to fight crime as a vigilante. Can you guess his weapon of choice? You betcha: a bow and arrow. And even before all the multiversal, TV criss-crossing occurs, the show dips into DC comic lore to bring on familiar foes like Huntress, Deathstroke, and Ra's Al Ghul.
The CW's interest in spandex-clad action can be traced back to "Smallville," but "Arrow" is where it truly kicks into gear. In its second season, the series introduced Barry Allen in a backdoor pilot that eventually leads to the development of other Arrowverse entries, including "Supergirl," "Legends of Tomorrow," "Black Lightning" and more. But don't overextend yourself just yet — stick to "Arrow" and start small. And by small, I mean get ready for this 8-season-long saga!
Where You Can Stream Arrow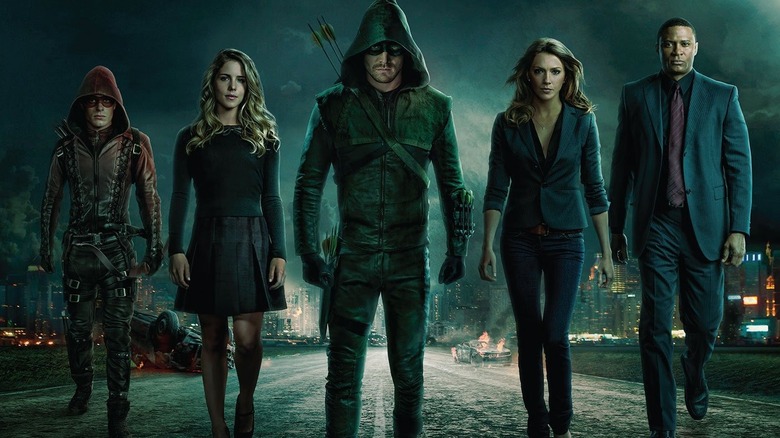 The CW
All eight seasons of "Arrow" are currently streaming on Netflix. You'd best prepare yourself for an especially lengthy binge though, because this isn't one of those Netflix originals with 12 episodes or less per season — this is a network TV show bonanza. Seasons are generally 23 episodes long, with each episode spanning 45 minutes, save for the final two seasons, which air on the shorter side. Season 7 only lobs off a single episode, adding up to 22 while the eighth and final season is a bite-sized 10.
As you can imagine from its length, "Arrow" is a roller-coaster ride, especially as Oliver's past catches up to his present. For the first five seasons, time is split between the past and present day, with Oliver flashing back to his five years on the island. As he reconciles with his dark past, people remerge and the events continue haunting him. By season 7, this is flipped on its head: the show instead includes flash-forwards to the lives of Oliver's grown-up children, played by Ben Lewis and Katherine McNamara.
Where You Can Buy Arrow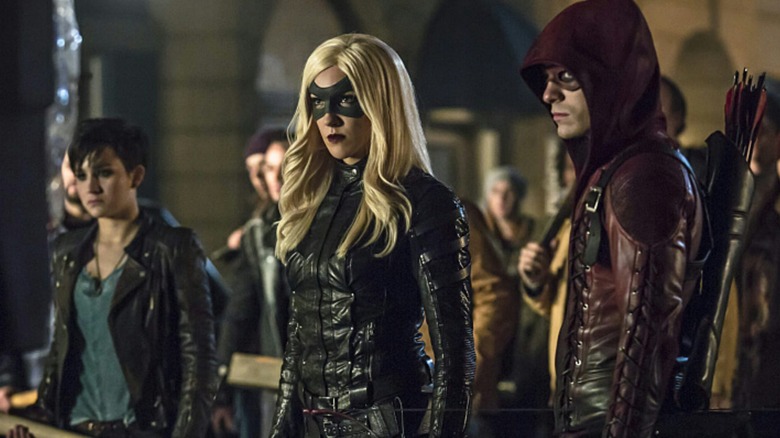 The CW
You can find individual seasons and episodes of "Arrow" available for purchase at all the usual haunts: Prime Video, Vudu, and Google Play. Entire seasons round out to around $24.99 while individual episodes are also available for purchase at $1.99. If you're in the physical media camp, there's good news — this might be the cheaper way to go when it comes to owning the expansive series. Though prices vary by season, the DVDs are available for anywhere between $11.99 to $18.99 and the complete series Blu-ray is $85.99.