Black Adam Director Says The Movie Will Change How Superhero Films Are Made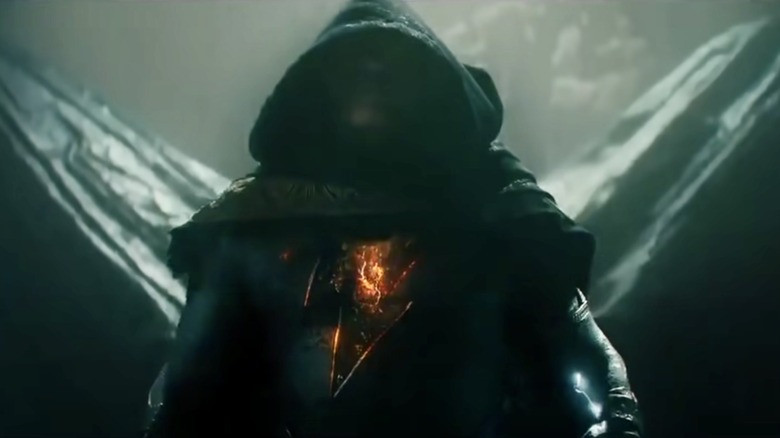 Warner Bros.
Dwayne Johnson don't need no stinkin' fake muscle padding on his superhero costume, and that's just one way that he and "Black Adam" are looking to shake things up. Technically, Black Adam is a supervillain, and in fact, this new DC movie will feature a whole team of heroes, the Justice Society of America, "coming together to try to defeat someone who's undefeatable."
That someone is Johnson's character. For "Black Adam," the actor is reuniting with his "Jungle Cruise" director, Jaume Collet-Serra. We got a glimpse of Johnson as Black Adam, his face concealed under a shadowy hood, in a DC FanDome teaser back in October. Now, however, he's gracing the cover of the new issue of Total Film magazine, which has published some behind-the-scenes images, giving us our best look yet at Johnson in costume.
"There was always something unique about #BlackAdam" â€" we spoke to the @TheRock about @BlackAdamMovie for the new issue. Plus, check out three exclusive new images from the set of next year's massive DC movie https://t.co/VnOxLerrYc pic.twitter.com/lrxXdXGHRz

— Total Film (@totalfilm) December 7, 2021
Disruption is the order of the day for Black Adam. On his personal Twitter account, Johnson has been tweeting and retweeting images of himself as "the Khandaq disrupter," Black Adam, saying, "Disruption is needed." Collet-Serra, meanwhile, used the same word to describe Black Adam within the context of the DC Extended Universe (DCEU) and the superhero film genre as a whole. He said:
"Black Adam is a disruptor in the DC Comics world, and it has to be a disruptor in the way that we make a superhero movie. I like to be challenged, and I wanted to create new technology, so we developed the way that [Adam] moves, the way that he flies, his costume. And then it trickled down to every other character and the movie itself. But there was always the goal – to be new and unique in the storytelling and in every aspect of it."
Black Adam vs. the JSA vs. Shazam vs. Superman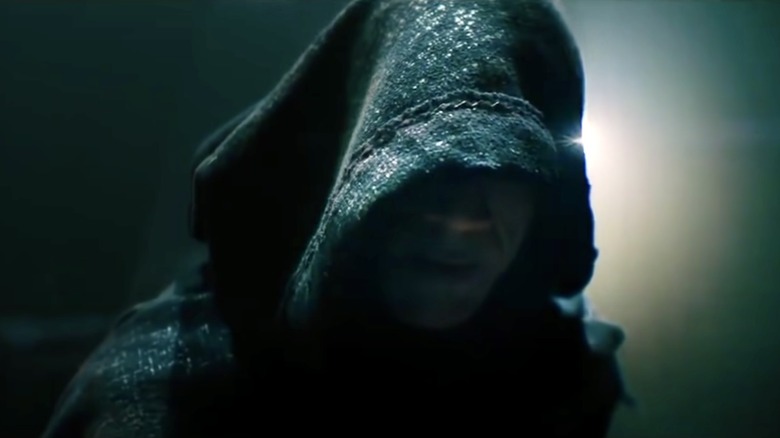 Warner Bros.
In DC Comics, before there was the JLA, or Justice League of America, there was the JSA, or Justice Society of America. "Black Adam" will introduce Pierce Brosnan as Dr. Fate, Aldis Hodge as Hawkman, Noah Centineo as Atom Smasher, and Quintessa Swindell as Cyclone, all members of the JSA. We learned previously that Brosnan's Dr. Fate costume would be brought to life with motion capture, and from what Collet-Serra says, it sounds like "Black Adam" is pushing the envelope in terms of technology.
Black Adam also has comics history with Shazam, Zachary Levi's character in the DCEU, who has the sequel, "Shazam: Fury of the Gods," coming up in 2023. They derive their superpowers from the same wizardly source, hence their similar costumes, each with a lightning bolt on the chest. It's a safe bet we'll see them meet (and fight) onscreen sometime, and who knows, we might even see them crossover in a credits scene as early as next year, when "Black Adam" hits theaters, or 2023, when "Fury of the Gods" hits theaters. Johnson has also been teasing (via IGN) that he wants to see his character fight Superman.
"Black Adam" flies into theaters on July 29, 2022.