Horror Shows To Watch Next If You Love iZombie
The CW
Created by writer Chris Roberson and artist Michael Allred, the comic book series "iZombie" from DC Comics' Vertigo quickly became a hit amongst comic readers. In 2011, the comic earned an Eisner Award nomination for Best New Series, notably for its unique balance of dark comedy and brain-eating adventures. "iZombie" ran for 28 issues, following a gravedigger named Gwen Dylan, who needs to eat one brain per month to survive. However, Gwen inherits some of the deceased's thoughts and traits each time she snacks on a brain. Roberson and Allred's concept put an inventive and otherwordly spin on the adage, "You are what you eat." 
In 2015, The CW debuted a loose adaptation of their work with "iZombie," starring Rose McIver. Instead of sticking with the comic series' gravedigger setup, The CW show focused on a medical resident-turned-zombie named Liv, who used her brain-inherited skills to help solve the deceased's murders. While the early part of the Rob Thomas-created series revolved around Liv keeping her zombie nature secret, "iZombie" later embraced expanding its horror concept and built its storyline towards an all-out war pitting humans against mobs of zombies. By the end of its five-season run, Liv not only saved the world from collapse but finally got her happy ending, too, living on Zombie Island married to Major. For fans thirsting for some more supernatural mayhem with similar amounts of charm, drama, and zombie players, look no further than the list below featuring hit-horror television shows to add to your watch list. 
Ash vs Evil Dead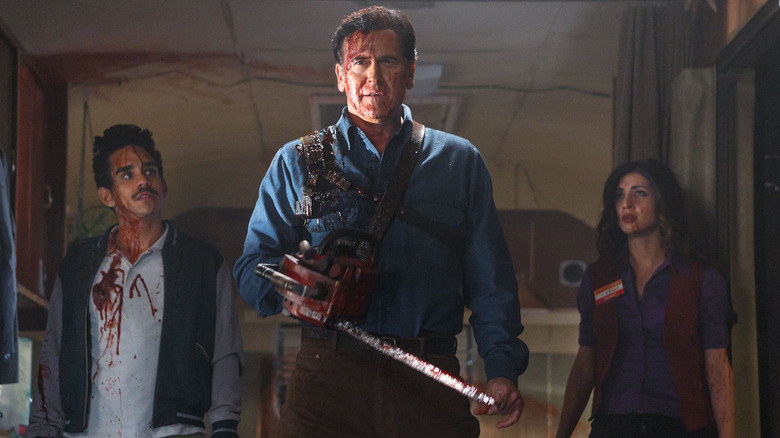 Starz
In 2015, Ash Williams (and his boomstick) returned for more bumbling undead adventures in Starz's "Ash vs Evil Dead" series. Although Starz's horror-comedy series was unfortunately canceled after three seasons, "Ash vs Evil Dead" delighted many Sam Raimi fans who wondered what happened to Ash after he left his skeleton battles in the Middle Ages. Turns out, Ash, in some ways, never changed. After three decades of focusing on fighting demons, Ash's way of life is mundane. He works as a stock boy at a Value Stop and just wants to crack open a beer and sit in a comfy chair. While the audience knows that Ash has saved the world several times (and is rightfully tired and traumatized), locals see him as a lonely man drinking alone at a bar and avoiding responsibilities.
Of course, it doesn't take too long for Deadites to return to Ash's world. But this time, Ash isn't fighting demonic forces alone. He teams up with Pablo and Kelly, teammates who consistently challenge Ash to take accountability for his actions and to not be afraid to care for others. Although the series erupts with way more gore than "iZombie" ever did, "Ash vs Evil Dead" embraces a similar throughline to The CW show. Like Liv Moore, Ash can't save the world alone anymore. He too has to learn how and who to trust. Expect tons of bloody slapstick comedy and Campbell-esque sexual innuendos to boot.
BBC's Being Human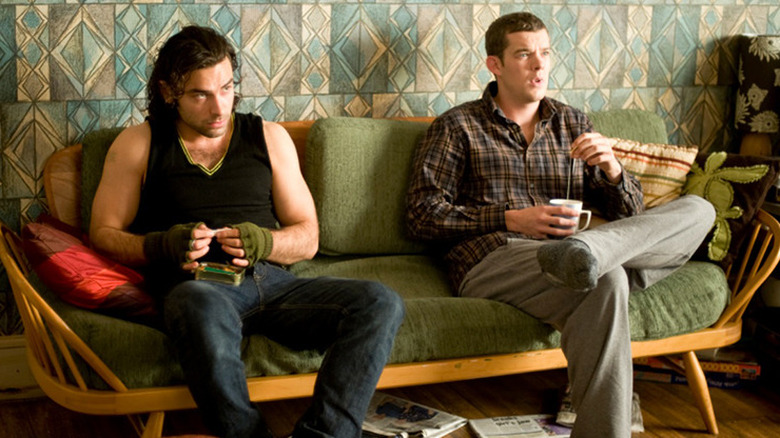 BBC
A vampire, a werewolf, and a ghost walk into a flat. No, this is not the start of a bad joke. It's the setup for one of BBC's beloved horror-comedy series. "Being Human" takes a comedic approach to the afterlife in the BAFTA-nominated series, following three supernatural beings attempting to cohabitate and live a "normal" life. But as you might imagine, a ghost, a vampire, and a werewolf have vastly different needs, which leads to several comedic and dramatic turns throughout the show's five seasons. Similar to "iZombie," Annie (a ghost), George (a werewolf), and Mitchell (a vampire), want to keep their natures secret to avoid persecution. The series mostly follows the trio doing their best to hide their identities from humans.
"iZombie" fans will delight in the series' charmingly comical approach to its creatures and their conflicting lifestyles. "Being Human" addresses fun moral quandaries like, "Can you date a ghost? If so, what does that look like?" Since the series uses its disagreeable flatmates as its central premise, "Being Human" brings a ton of interpersonal (and romantic) drama to the screen. As an added bonus, it's lighter on the gore and will be an easier watch for fans who love the otherworldly aspects of "iZombie," but prefer to keep bloodshed to a bare minimum. In 2011, there was an American remake of the series, but it lacks the undeniable cast chemistry of the original series.
Penny Dreadful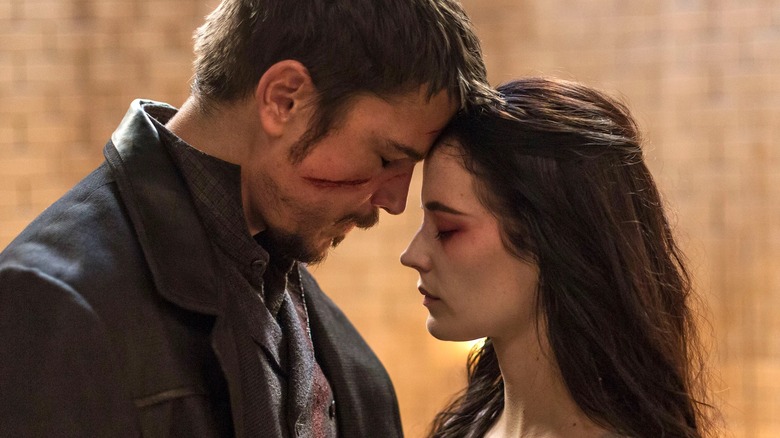 Showtime
Created by John Logan, Showtime's "Penny Dreadful" is now a cult classic amongst horror critics who argue the series got the ax too soon. Even "Penny Dreadful" co-writer Krysty Wilson-Cairns agreed that the ill-fated series never quite got a chance to stand on its own two feet. Cairns told /Film's Jacob Hall, "We were just too soon ... John Logan, you were too ahead of the times."
"Penny Dreadful" debuted within the same era "Game of Thrones," "Outlander, and "True Detective" hit the scene, making it a hard time to stand apart in the landscape of murder mysteries and fantasy-themed television shows. To its credit, "Penny Dreadful" admirably fused both subgenres to craft a Victorian-era tale exploring the darker sides of the often over-romanticized (and historically brutal) time period. The series featured cameos from some of horror's most iconic creatures, such as Dracula and Frankenstein's monster, but weaved them into a story that challenged who wields power in society and why. Eva Green's Vanessa Ives compellingly wrestles with her fate to damn or save the world.
"iZombie" fans who love an underdog fight led by a complex leading lady will find a lot to admire in "Penny Dreadful." As Cairns said best, "Ultimately all of us can sometimes feel completely on the outside and completely adrift ... So it's very easy to then understand Frankenstein and Frankenstein's monster." Minus its gut-punch of a series finale, "Penny Dreadful" holds up as a fiercely feminist series that celebrates outsiders and outcasts.
Stranger Things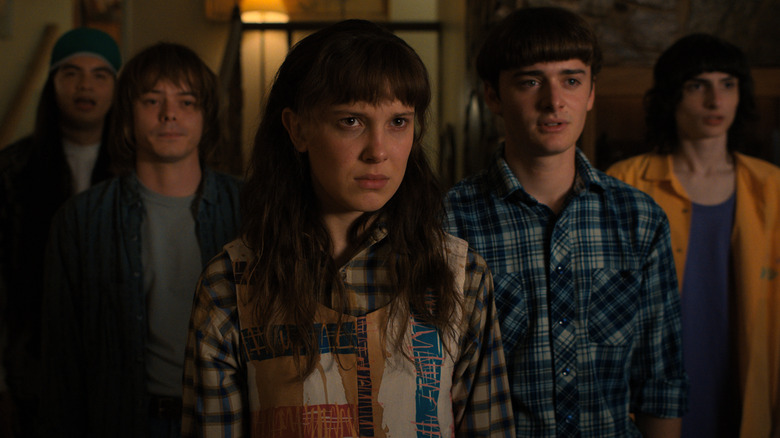 Netflix
Although Netflix's "Stranger Things" focuses its creepy series on the lives of young adults living in the small town of Hawkins, Indiana, it doesn't skimp on depicting bloody monsters with world-ending stakes. If the latter half of the ongoing zombie vs. human battles of "iZombie" was more your style, then "Stranger Things" is a show to watch. After a handful of episodes, it'll be hard not to become completely invested in the lives of the young characters, who are often in way over their heads as they aim to save the day.
Created by the Duffer Brothers, "Stranger Things" often uses its Big Bad each season to underline and symbolize the emotional issues its coming-of-age characters face. Fans of character-driven stories with a lot of heart will find a lot to admire in the battles of "Stranger Things." Similar to Liv's overall arc in "iZombie," each otherwordly fight ends up teaching Eleven and the crew something deeper about humanity. In February 2022, the Duffer Brothers confirmed that Season 5 will be the last season of "Stranger Things." There's no better time than now to catch up on what plagues Hawkins and how these young heroes got wrapped up in its sinister grasp.
All of Us Are Dead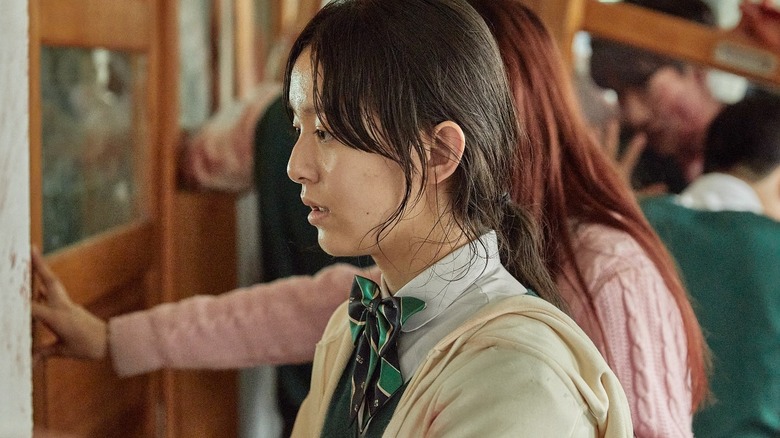 Netflix
Directed by Lee Jae-Kyu and Kim Nam-soo, Netflix's "All of Us Are Dead" tells a claustrophobic tale about a zombie invasion unexpectantly hitting a local high school. Led by Park Ji-hu's Nam On-jo, "All of Us Are Dead" brings one of the most tragic and realistic interpretations of a zombie outbreak to hit the small screen. Similar to 1996's "Scream," the students in "All of Us Are Dead" are well-aware of zombie tropes, referencing movies like 2016's zombie survival thriller "Train to Busan" for information on how to battle the undead. 
The series' self-awareness around what's happening to these teens makes their quest to survive harrowing. Each episode of Season 1 carefully plots the outbreak's incidental spread and how high school loyalties can spell life or death for its students. Following its stellar release, "All of Us Are Dead" has often been referred to as the streamer's next "Squid Game," due to how quickly the South Korean series became a global hit for the streaming service. 
Unlike "iZombie," this zombie series leans more into realistic flesh-tearing stakes. This pick is not for the squeamish viewer — though if you can stomach its gore, its emotional beats will pay off in dividends. Despite its violent depiction of zombies, fans of The CW series will get hooked on how the drama of high school (rumors, secrets, coolness) factor into survival. 
Chilling Adventures of Sabrina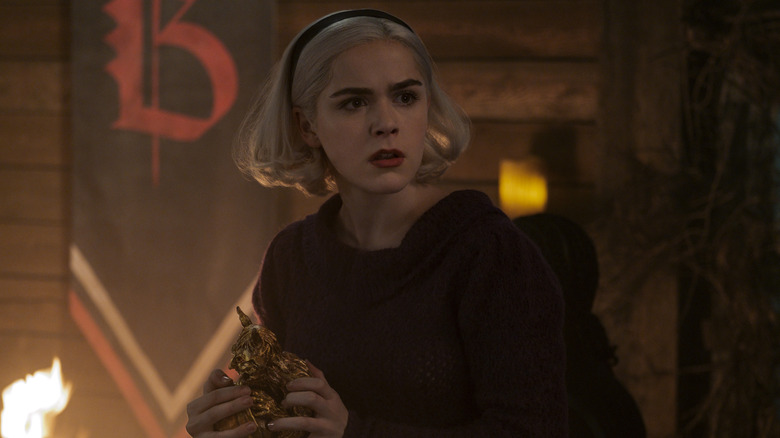 Netflix
Of all the horror shows on this list, Netflix's "Chilling Adventures of Sabrina" embodies the go-big-or-go-home mantra. After creating the 2014 Archie Horror comic "Chilling Adventures of Sabrina," writer Roberto Aguirre-Sacasa adapted his macabre teenage-led tale for television. Unlike the '70s-era Archie Comic "Sabrina the Teenage Witch," Aguirre-Sacasa's vision delighted in ratcheting up its terror. Similar to the Sabrina readers met in his comic pages, the television adaptation of Sabrina Spellman dives headfirst into satanic trouble, armed with sassy one-liners and dark magic. 
Fans of Liv's quippy one-liners will find a kindred spirit in Sabrina Spellman, although it's worth noting that this half-witch doesn't play nearly as nice as Liv Moore does. When it comes to saving the lives of those she loves most, Sabrina will often throw logic and care out the window. A majority of Sabrina's trouble comes from her impulsive approach to living both a mortal and a human life. Watching Sabrina attempt to bridge the gap between these two very different worlds will delight "iZombie" fans who miss Liv's similar motivation. 
Though, fair warning, this horror series doesn't wrap up its loose ends nearly as neatly nor as happily as the Rob Thomas-created series did. Regardless, its unique visual style — fusing the modern world with Gothic and '50s-era Archie Comics flair — and outlandish plot twists are incredibly entertaining to watch. "Chilling Adventures of Sabrina" isn't afraid to take storytelling risks, which makes it compellingly unpredictable.
The Haunting of Bly Manor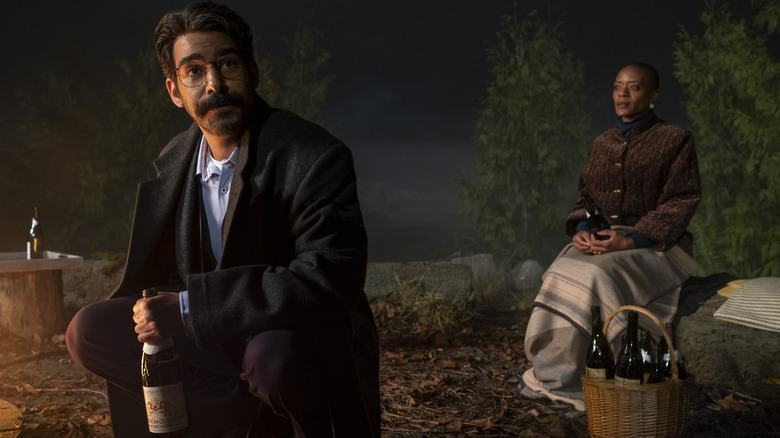 Netflix
"iZombie" fans who already miss Rahul Kohli's Dr. Ravi can delight in knowing that Kohli has been making quite a name for himself in the world of horror television. Following his leading role in The CW series, Kohli has starred in several meaty roles, including Mike Flanagan's "The Haunting of Hill House," "Midnight Mass," and "The Haunting of Bly Manor." Recently, Kohli joined the cast of Flanagan's upcoming adaptation of Edgar Allan Poe's "The Fall of the House of Usher." Due to COVID-19-related filming delays, "The Fall of the House of Usher" didn't begin filming until January 2022.
While fans await Kohli's latest horror role, it's worth visiting (or revisiting) his take on Owen in "The House of Bly Manor." Of all the characters he's portrayed thus far in Flanagan's universe of horror, Owen most closely embodies the same charming and curious energy as Dr. Ravi. Similarly, the series is filled with a tremendous amount of heart that will appeal to "iZombie" fans who love the power of a solid (even if seemingly ill-fated) love story. Overall, the horror in this series is more character-driven than gore-related, so it will be easy for blood-adverse "iZombie" fans to watch. At the end of the day, "The Haunting of Bly Manor" is more interested in exploring the monsters that people can become if they don't learn how to authentically connect to others. Be prepared for a heart-wrenchingly tragic ride.
Buffy the Vampire Slayer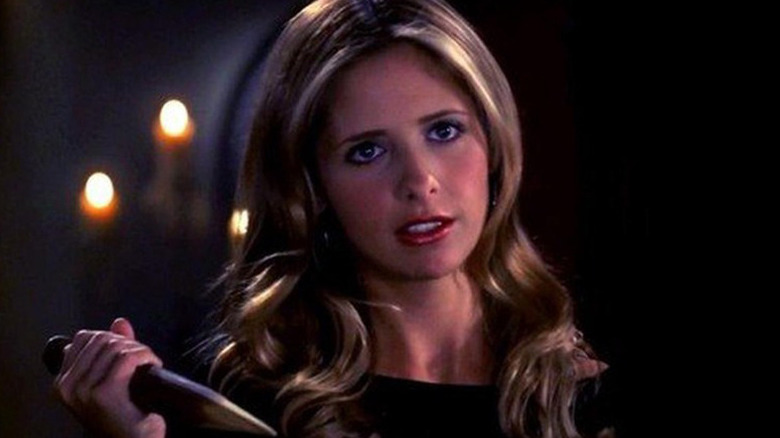 The WB Television Network
Before Liv Moore, Buffy Summers was the reigning queen of supernatural-inspired sarcasm. Debuting on The WB in 1997, the Sarah Michelle Gellar-led series explored the horrors of being a teenager while conquering (real and metaphorical) demons, vampires, and magical spells gone awry. Sadly, "Buffy the Vampire Slayer" creator Joss Whedon sullied several fans' fond memories of the series, following alleged accounts of Whedon's predatory and abusive behavior on the series coming to light. Confoundingly, Whedon made the exposure of his behavior worse when he failed to hold himself accountable in a New York Magazine interview, framing himself as the victim.
But "Buffy the Vampire Slayer," at its heart, is about overcoming impossible odds to justly serve humanity. Buffy Summers wouldn't stand for Whedon taking away the power this show gave viewers; notably its queer viewers. "Buffy" showcased one of television's first on-screen romantic kiss between two women. Tara and Willow's kiss was a landmark moment for queer representation on-screen. Furthermore, "Buffy" turned the "dumb blonde" trope of horror on its head by showcasing a capable and badass femme who can easily save the world but needs her friends to emotionally support her.
Throughout its seven-season run, "Buffy the Vampire Slayer" fought to dismantle the unfair standards slayers (aka women forced to be warriors without their consent) face as individuals charged to fight vampires. While their powers are certainly different, "iZombie" fans who loved Liv's journey to accepting her fate will enjoy watching Buffy come to terms with hers.
The Vampire Diaries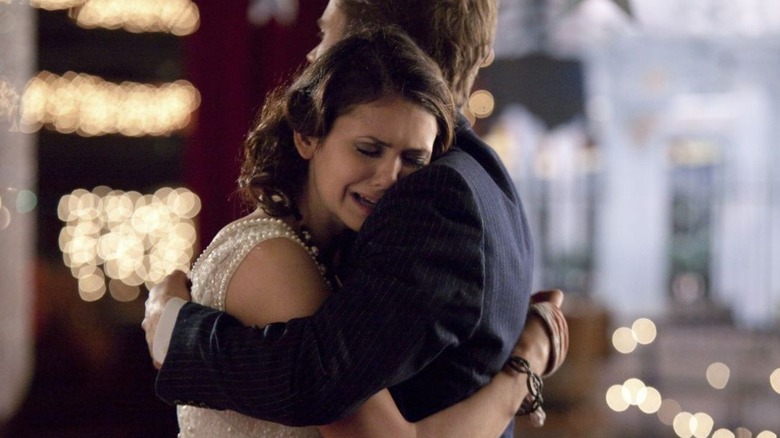 The CW
Developed by horror icon Kevin Williamson and Julie Plec, "The Vampire Diaries" was a huge hit for The CW Network, bringing in over 5.7 million viewers for its series premiere. The hit supernatural series ran for eight seasons and amassed a massive fanbase, dying to know how Nina Dobrev's Elena would survive the vampire hijinks of Mystic Falls. Based on the novel series of the same name by L.J. Smith, "The Vampire Diaries" is known for dialing up its dramatic stakes and delivering a love triangle plotline for the ages.
While The CW series is initially focused on vampires, "The Vampire Diaries" eventually opens up its creature-filled world to explore werewolves, ghosts, witches, and other magical creatures. Fans who loved watching the will-they-won't-they plotline between Liv and Major play out over five seasons are in store for plenty of romantic hand-wringing in "The Vampire Diaries." Relationships change as fast as musical chairs, and, to its credit, the show makes its final romantic pairings emotionally satisfying. "The Vampire Diaries" consistently delivered cliffhanging drama similar to "iZombie," with a little bit more blood, thanks to Williamson's keen slasher eye.
Following the end of "The Vampire Diaries," The CW debuted its hit spinoff "The Originals," which then opened the Tribrid doorway for The CW's "Legacies." Both spin-off series are great picks for fans more curious about the other creatures living in Mystic Falls and the town's sinister history.
Goosebumps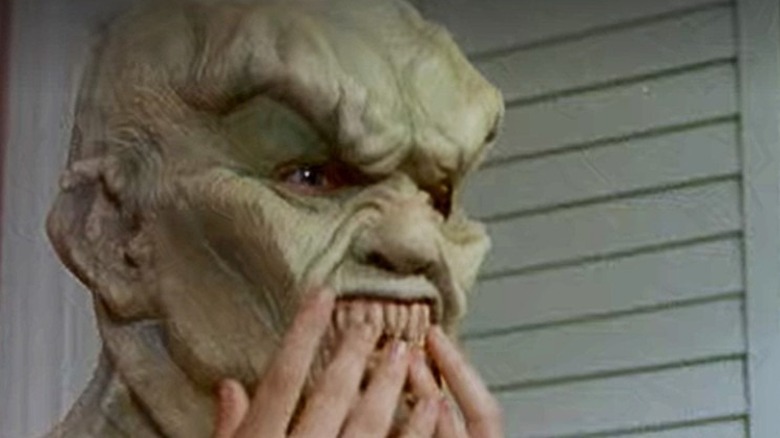 20th Century Fox Television
Known as the gateway horror show for most '90s kids, "Goosebumps" weaved spine-tingling storylines for all ages that still hold up to this day. Created by R.L. Stine and developed for television by Deborah Forte, "Goosebumps" is a solid pick for horror fans who love the supernatural hijinks of "iZombie" but aren't a huge fan of gore. Each episode earned a PG rating, so it's also a great choice to watch with younger viewers who want to dip their toes into creepier tales, but might not be ready for chainsaw-swinging action. 
The series debuted in 1995 with a pilot titled "The Haunted Mask." The episode follows an 11-year-old named Carly Beth, who finds a scary mask that seems like the perfect choice to get revenge on her prankster classmates. However, the Halloween mask soon takes on a life of its own. 14.1 million households tuned in to watch Carly's revenge plan gone wrong. In 1996, more than 2.5 million fans bought VHS tapes of the two-part episode. Of all the episodes, "The Haunted Mask" might be the most terrifying.
Similar to "iZombie," "Goosebumps" leans into its unique horror concepts, like what happens when children uncover a man-eating plant or a cursed clock. If you loved watching how Liv could push and play with the idea of what or who a zombie was, "Goosebumps" will scratch that "what if?" side of your brain that's curious for dreaded answers.
Santa Clarita Diet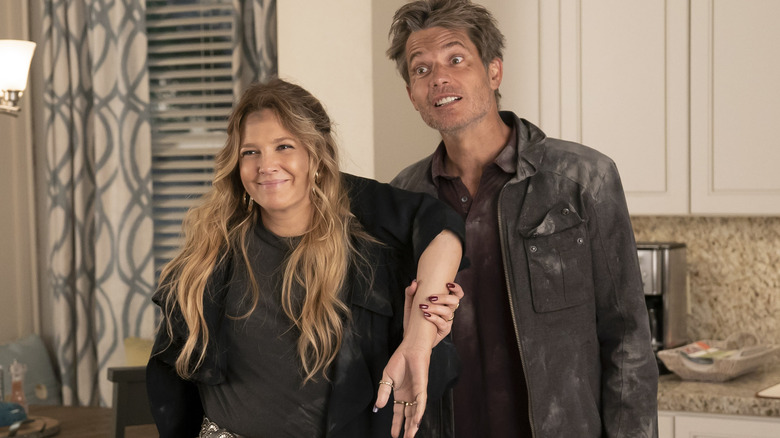 Netflix
While Liv was a charming zombie, it's hard to match the undeniable charisma of Drew Barrymore's Sheila. If "iZombie" fans are looking for a strangely heartwarming horror-comedy series that focuses on the undead, look no further than Netflix's "Santa Clarita Diet." Like Liv, Sheila is a zombie and needs to eat people to survive. Similarly, Sheila maintains her personality — with some key and hilarious changes — and tries to navigate her sudden change in mortal circumstances while being a mom and a realtor. The Netflix series uses Sheila's transformation as a metaphor for her awakening to truly taste life ... and its entrails. Paired with her bumbling husband Joel, portrayed by a pitch-perfect Timothy Olyphant, Sheila gets into plenty of trouble that threatens her once quiet suburban life. However, she wouldn't have it any other way and loves her newfound power, not unlike Liv Moore.
Sadly, after three seasons "Santa Clarita Diet" was canceled, so try not to get too attached to the Hammond family. Fair warning, though, it'll be hard not to wish for a revival after watching how Sheila meal-preps her fridge full of limbs and fingers. However, it's fair to say Sheila never makes her brain recipes as inventive as Liv, and often can get by on a chewy thumb for dinner. On that note, it's worth mentioning for any queasy stomachs out there that there are several blood and bile vomiting scenes played for slapstick laughs.
True Blood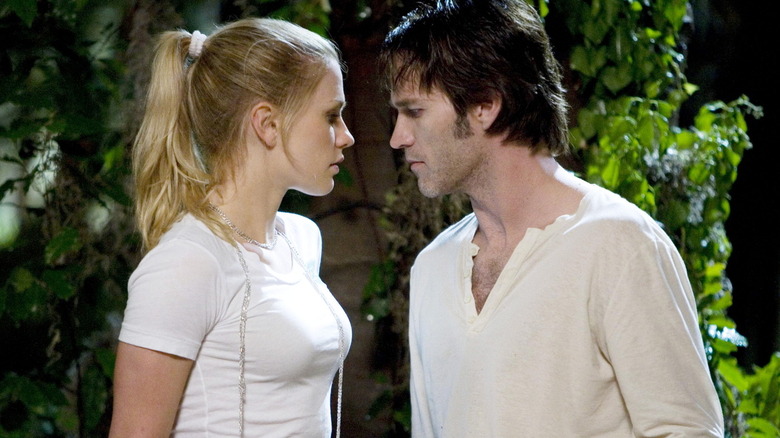 HBO
If you sank your teeth into "iZombie" and are craving a more adult-oriented series, strap in for the sex-filled bloodbath that is HBO's "True Blood." Of all the shows on this list, this one contains the most graphic scenes of just about any horror or romantic plotline one can imagine. There are vampires, werewolves, fairies, witches, werepanthers, and more! Some of the episodes' most jaw-dropping reveals happen when its characters are entirely naked. While "True Blood" fans lament the series' later fairy reveals, its first couple of seasons crafted a magical world filled with intrigue, compelling romances, and fantastic performances from its core cast while providing tons of social commentary. 
The 2008 hit drama ran for seven seasons on HBO and was nominated for 16 Emmys. Inspired by Charlaine Harris' fantasy novels, "True Blood" also follows a sexual and self-awakening with southern telepathic waitress Sookie Stackhouse. Of course, Sookie's fascination with the occult brings her and her Bon Temps friends into life-ending situations on the regular. As an added incentive for fans debating a watch (or rewatch), it's been reported that "True Blood" might receive a revival or reboot in the near future. In February 2022, HBO's Chief Content Officer Casey Bloys confirmed to TVLine that something in the "True Blood" universe is still in the works. "There's been multiple versions of it," Bloys said. "I don't know that we've landed on the one." Fingers crossed they retcon Sookie's ending character arc.
Supernatural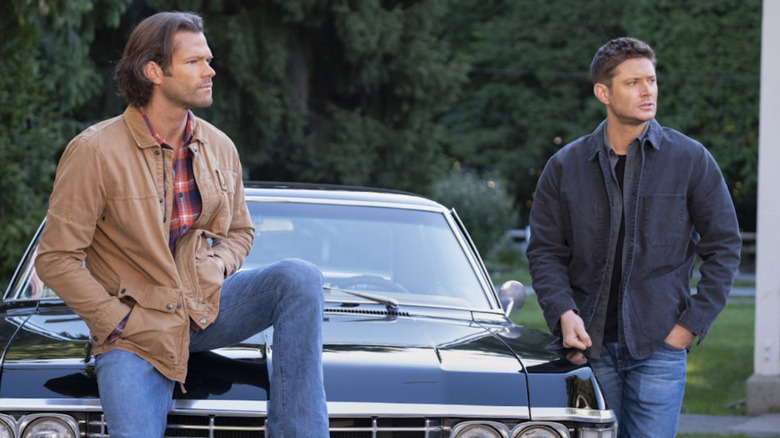 The CW
When The CW series ended in 2020, "Supernatural" reigned as the longest-running genre television show in the U.S. Filled with plenty of moral problems, exciting special effects, and not too much gore, this 15-season run will give "iZombie" fans tons of time — and heartwrenching moments — to fall in love with the Winchester brothers. Similar to Liv Moore, the Winchesters never chose to live a life of demon-hunting and fighting the occult. However, Sam and Dean decide that they'll follow in their father's footsteps to make the world a safer place. What starts out as a monster of the week format eventually ends in a battle between Heaven and Hell.
Developed by "The Boys" showrunner Eric Kripke, "Supernatural" isn't afraid to show some gore in its character-driven series that delves into urban legends, myths, and religious lore. According to Kripke, the show was meant as a way to explore urban legends. "A lot of these stories are cautionary tales," Kripke shared with The Age in 2006. "They reflect what our culture was afraid of at a particular time." The CW is currently working on a "Supernatural" prequel series, focusing on John and Mary Winchester's love story, so there's no better time to catch up with their hunter children.
Resident Alien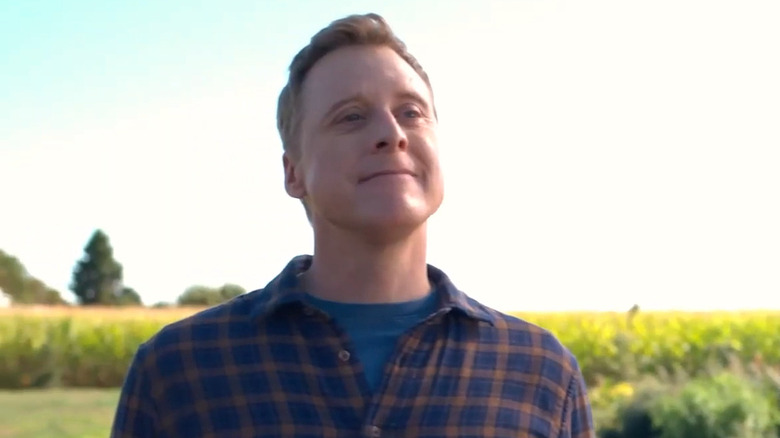 Syfy
Syfy's "Resident Alien" so far doesn't have any zombies in its two-season run. However, its storylines love keeping secrets in the say way "iZombie" did in its earlier seasons. Similar to Liv, Alan Tudyk's Harry is hiding a huge secret. Except, he's not the undead. He's an alien sent to destroy Earth. But his mission changes when he starts making friends with earthlings while living amongst them. Even though the show leans more into sci-fi than horror, it has no shortage of dead bodies and similarly puts humanity at the forefront of its story. "Resident Alien" shows Harry wrestling with life-ending decisions that puts pressure on anyone who gets too close to him — a problem Liv Moore knows too well. The longer Harry keeps his secret, the more inevitable it feels that an alien battle will hit the small town of Patience, Colorado.
What's most compelling about this Syfy series is how it indulges in how unlikable Harry is. He's impatient and dreams of killing children who annoy him. However, the more he opens up to humans, the more audiences see Harry (and the show) tackle what humanity means and deeper themes around marginalization. Notably, "Resident Alien" also features several Indigenous actors in lead roles and develops their characters' storylines — especially Sara Tomko's Asta Twelvetrees, the heart of the series — in a way that similarly asks what it means to live amongst others who take their land and people for granted.
Kingdom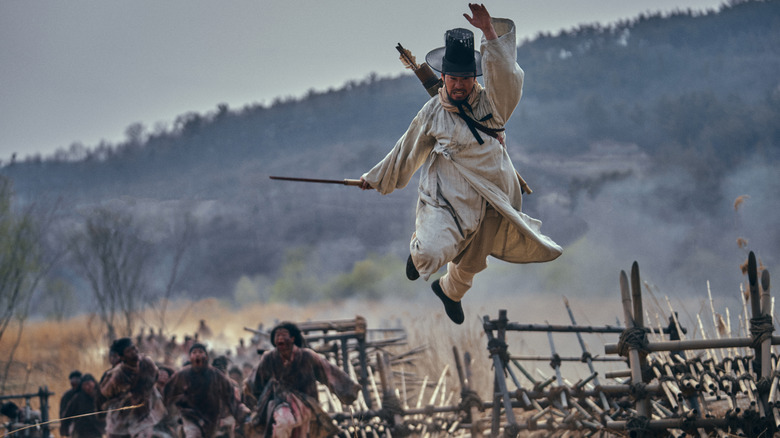 Netflix
Netflix's "Kingdom" is the most unique zombie tale on this list. The South Korean television series fuses the best parts of a zombie survival thriller with a high-stakes political drama. Any "iZombie" fans searching for an inventive take on the zombie trope need to look no further than this 2019 gem. "Kingdom" is set during the Joseon Dynasty, the last dynasty that Korea had. Although the time period is rooted in some historical truth, the tale, of course, is purely fictional. "Kingdom" follows Crown Prince Lee Chang (Ju Ji-hoon), who is on a mission to help his father, the King of Joseon, with his strange illness. However, Lee Chang soon discovers a kingdom-wide epidemic that's plaguing his people and sets out to save them. Like "Game of Thrones," the Prince has to juggle the world-ending stakes of these undead invaders with political opponents vying for his throne and power.
"Kingdom" ran for two seasons and it's currently unclear if it'll be renewed for a third. "iZombie" fans who loved watching Liv battle zombie-exploiting factions and plot out her next plan to save zombies and humans will easily be wrapped up in the intrigue "Kingdom" has to offer. Similar to "iZombie," this Netflix series offers plenty of backstabbing reveals for the drama-craving viewer. And, of course, "Kingdom" is crawling with terrifying takes on the ravenous undead — perfect for fans looking for more realistic gore.