Stranger Things Season 4's Big Bad Is A 'Wink To The Great Horror Baddies Of The Past'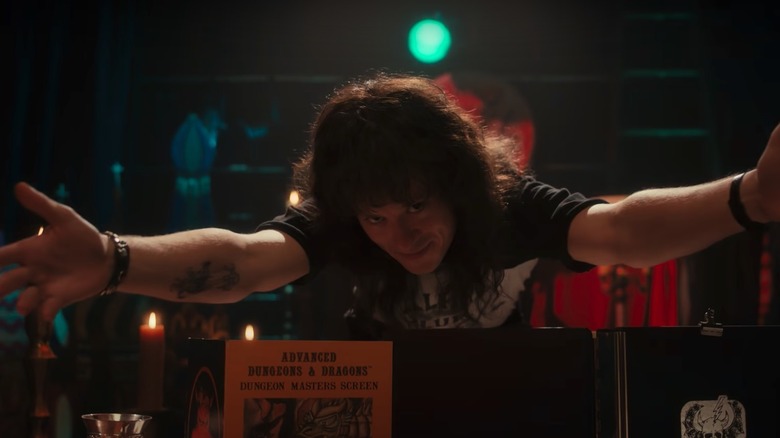 Netflix
We're tiptoeing ever closer to "Stranger Things" season 4 (because we don't want to let Vecna know we're here), and today we're learning that a certain creepy skull-headed character is connected to some past horror creatures. If you've seen the trailer, you know that the big bad for this season is Vecna, the creature who is speaking at the beginning and the end, and whose shriveled face and body we see at the end of the trailer. He tells us, "You've broken everything. Your suffering is almost at an end. It's time. You have lost." 
Vecna in the series is based on the character of the same name in the board game "Dungeons & Dragons," a pattern from earlier seasons with the Demogorgon and other creatures. "D&D" is such a big part of "Stranger Things," so it's no surprise. 
Joe Quinn ("Game of Thrones") plays Eddie Munson, a metalhead (meaning that I'm automatically a fan), and the leader of the Hellfire Club, the "D&D" gang with Mike and Dustin. Quinn spoke to EW about the new season and gave us all a tease about the creepy things we're going to see. He describes the supernatural threat in Hawkins as, "David Cronenberg genre horror and 'Scooby-Doo." Though he can't give details, he did say, 
"The big threat in this season is a real wink to the great horror baddies of the past. I think people will really respond to it."
They'd better at $30 million an episode, at a time when Netflix is having some financial issues.
'You've broken everything'
Though we don't learn which horror baddies Quinn is talking about (and I hesitate to speculate because he looks pretty unique, and it will likely be his actions that are the "wink"), he's certainly skeeving me out. 
So who is Vecna? In the game, he's a human wizard that turned into a lich, and then got so powerful that he became a god. Talk about job advancement! I've never run into him in my own "D&D" adventures, but I've certainly faced liches (undead creatures) in "World of Warcraft." They aren't easy to beat, and this guy seems pretty powerful. From the trailer, it appears that the kids are heading into the Upside Down on purpose to fight him. 
Considering that the Duffer brothers have spoken (via Netflix TUDUM) about this show, mentioning classic horror like "Nightmare on Elm Street," and "Halloween," "great horror baddies" being winked at is pretty great, especially because Robert Englund from "Elm Street" is in the season as Victor Creel, a family annihilator.
"Stranger Things" stars Millie Bobby Brown (Eleven), David Harbour (Jim Hopper), Finn Wolfhard (Mike Wheeler), Gaten Matarazzo (Dustin Henderson), Caleb McLaughlin (Lucas Sinclair), Noah Schnapp (Will Byers), Winona Ryder (Joyce Byers), Sadie Sink (Max Mayfield), Natalia Dyer (Nancy Wheeler), Charlie Heaton (Jonathan Byers), Joe Keery (Steve Harrington), Priah Ferguson (Erica Sinclair), Maya Hawke (Robin Buckley), Cara Buono (Karen Wheeler(, and Brett Gelman (Murray Bauman). 
New actors include Amybeth McNulty, Jamie Campbell Bower, Eduardo Franco, Regina Ting Chen, Myles Truitt, Grace Van Dien, Joseph Quinn, Sherman Augustus, Mason Dye, Tom Wlaschiha, Nikola Djuricko, and Robert Englund.
I'm going to have nightmares from looking at that pic of Vecna. Anyone else?
Volume 1 of "Stranger Things" season 4 will hit Netflix on May 27, 2022, with Volume 2 premiering on July 1, 2022.